Research builds our communities
Research builds our communities
A collection of stories showcasing the transformative impact of research on Canadians and their communities
Community is the place we live, the shared experiences that bind us to other people. It's where we come from, it shapes where we are headed. And community is built of many things: the physical spaces around us, the roads and communication lines that connect us, the beliefs and policies that guide us, and above all, that intrinsically human desire to reach out, to be supported by others, to understand our neighbours, to help. Research, ultimately, is one way we do all of these things better. In the social sciences and humanities, we delve into who we are, what makes us human, what drives us, so we can know ourselves better. In the physical sciences, we query the rules of nature that govern us and ask "How can we put these to use for the good of us all?" We make things better for each other.
For 20 years, the CFI has been putting in place the tools and facilities researchers need to think big, and the fruits of those investments are evident in communities across Canada. In this collection of stories, we present just some examples of how research builds communities.
View the collection "Innovation: a desire to make things better"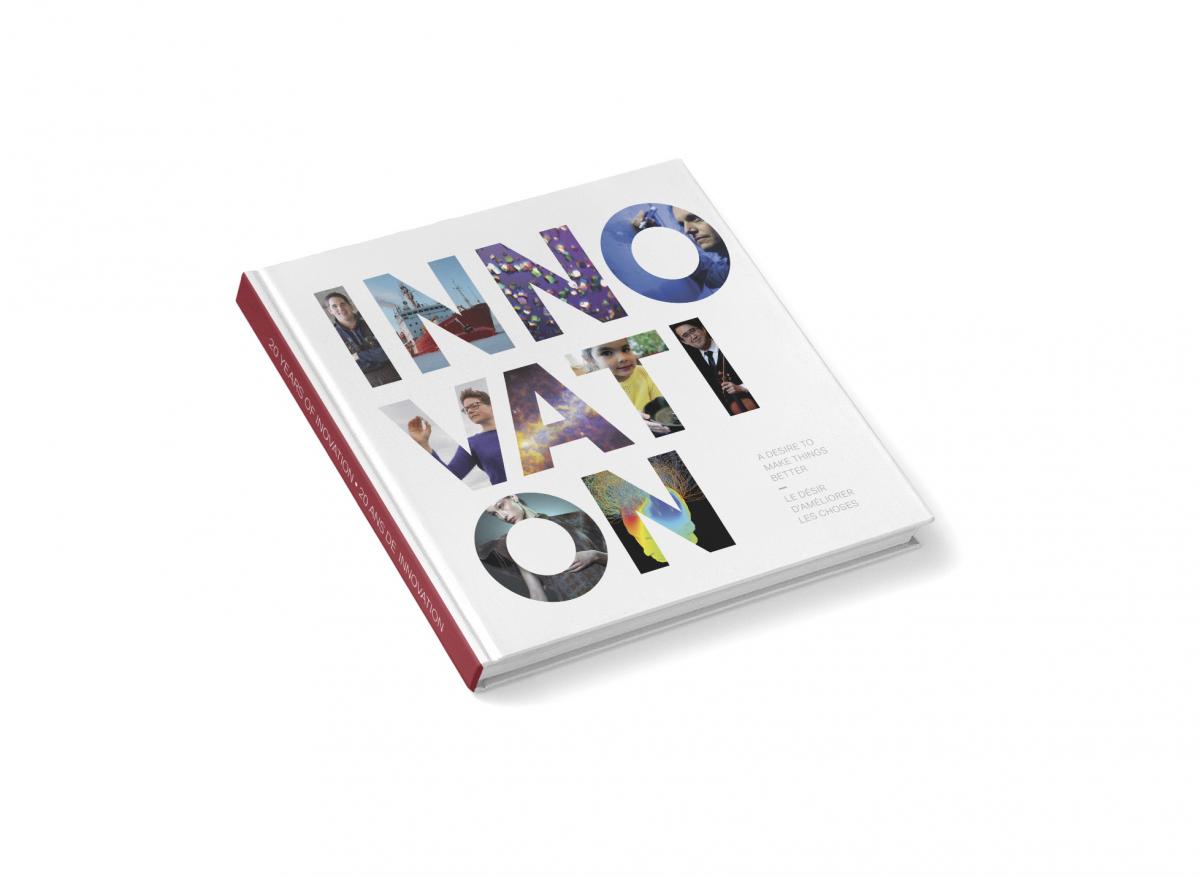 INNOVATION: A DESIRE TO MAKE THINGS BETTER
A commemorative book to mark 20 years of the Canada Foundation for Innovation
Having a sick child, and not knowing the cause of her illness was a frightening and isolating experience for Samantha Knapp, who has six children, two of whom have a rare genetic disorder that causes severe seizures in newborns and infants. Nearly twenty years ago, when Knapp's eldest daughter Asia started having seizures as a baby, very little was known about this condition. With the help of many doctors, including Kym Boycott at the Children's Hospital of Eastern Ontario Research Institute in Ottawa, the Knapp family was able to find a diagnosis for both Asia, and her little sister Sienna...

Albert Leyenhorst and his son, Logan, are second- and third-generation dairy and cash crop farmers in Dalmeny, Sask. The navy blue silos and red roofs of their farm can be spotted from a great distance; their purebred Holstein herd, and producing quality milk and strong, healthy cows, is their shared passion. To stay ahead of the curve, the Leyenhorsts have teamed up with the University of Saskatchewan's Canadian Feed Research Centre in nearby North Battleford. The unique research facility is developing new ways of processing grain by-products to make feedstocks that are better for milk...

When we turn on the tap or flush the toilet, we don't usually give much thought to where the water comes from or where it's going. But municipal wastewater treatment can be extremely expensive, and the higher the level of treatment, the cleaner the effluent and the smaller the impact on the environment. Even so, Calgary treats its wastewater three times —more than many Canadian cities— before returning it to the Bow River. The Bow is the city's primary source of drinking water, which also feeds into the water sources of several communities downstream. To further its commitment to...

Music is a way to connect to the people around us, and understanding how musicians interact with each other and with their audience is the foundation for finding new ways to perform and making those connections stronger. The Centre for Interdisciplinary Research in Music Media and Technology is a cutting-edge music and sound research centre that does just that. Located in downtown Montreal and run by McGill University, Université de Montréal  and Université de Sherbrooke, the centre is equipped with high-tech recording studios, audio laboratories, and a state-of-the-art music hall...

Crop scientist Simon Bonin and cranberry farmer Olivier Pilotte stand knee-deep in a flooded field in the rural municipality of Lourdes, on the south shore of the St. Lawrence near Quebec City. It's the heartland of a cranberry-growing district that has grown spectacularly in the last 15 years with research carried out at the Université Laval and the establishment of the Fruit d'Or processing company at Notre-Dame-de-Lourdes. Cranberry shrubs themselves grow best in poor, dry soils, but in fall, the fields are flooded to facilitate harvesting. Modern cranberry harvesting uses tractors...

Franziska Broell displays a wildlife tagging device she developed as a doctoral student while working with Dalhousie University's Ocean Tracking Network (OTN), a global research platform that tracks the movement of marine creatures through the world's oceans. Broell co-founded Maritime bioLoggers, a company in Halifax, to commercialize the device; the enterprise is one of many serving Atlantic Canada's vibrant oceanographic research community. Broell's partner in Maritime bioLoggers is Andre Bezanson, a doctoral candidate in biomedical engineering at Dalhousie, and an expert in the...

Jacqueline Mboko came to Canada from the Democratic Republic of the Congo with her family when she was 13 years old. Personally aware of the challenges facing new arrivals, she now works as an interpreter for other Swahili- and French-speaking newcomers at London's Cross Cultural Learner Centre. Pathways to Prosperity, a research partnership led by nearby Western University, looks at ways of providing services to immigrant families like Mboko's that will help them more easily settle into their new home. Victoria Esses is a professor in the psychology department at Western University,...

It's not a fitness regime these Vancouver women would have chosen to be in. They were all battling breast cancer, and their doctors suggested, even prescribed, that they join a special exercise program, designed by researchers at the University of British Columbia, for women undergoing chemotherapy and radiation treatments. They did. And they found that they felt stronger and fitter after even a few classes, and better able to get through their ordeal. What they also found, and this surprises them now, even a year or two later, is that they became friends. They stayed in touch long after the...

Sheyenne Spence (left) is Métis and was a research assistant at the Indigenous Health Law Centre at Brandon University in Brandon, Man. The Centre gathers traditional healing knowledge to inform better health policy for and with Indigenous Peoples in Canada. Grace Godmaire is an honourary Elder within the Brandon community and with the Ojibwa/Cree Nation.   Frank Tacan, an Elder from the Sioux Valley Dakota Nation serves Elder Godmaire in a smudging ceremony at the Brandon Friendship Centre, where he has worked as a cultural worker for nearly a decade.  The Friendship Centre is a...

Trevor Lucas, ashore here in Inuvik, Northwest Territories, has made nine voyages through Canadian Arctic waters as a Marine Wildlife Observer aboard the Canadian research icebreaker CCGS Amundsen. His notes and photos of bowheads and belugas, of seals and polar bears and birds, are part of a wide range of activities carried out annually on the Amundsen, among the best equipped research vessels in the world. Photo: Keith Levesque/ArcticNet   The Amundsen is shown here on duty in the Beaufort Sea, in the western Arctic. The decks are loaded with supplies and equipment for a months-long...

The Canadian Light Source in Saskatoon, Sask., provides scientists with a brilliant light that reveals information about the structural and chemical properties of materials at the molecular level. This kind of knowledge can be used in numerous ways, such as building smaller, more effective computer chips, designing new drugs, creating better materials for safer medical implants or helping clean up mining waste. With such fascinating research being conducted right in the heart of the city, Bill Baker, a certified tour guide and cab driver with United Cabs Saskatoon, saw an opportunity. Now,...
You may also be interested in:
Stay connected
Keep updated on:
Funding programs
Stories on cutting-edge research
Events ... and more.
Stay connected
You're all set!
Just keep an eye on your inbox for a confirmation email.