Image Galleries
Research builds my business community
Dalhousie University's Ocean Tracking Network has given rise to enterprises serving Atlantic Canada's vibrant oceanographic research community
By
Photos Dale Wilson with text Dane Lanken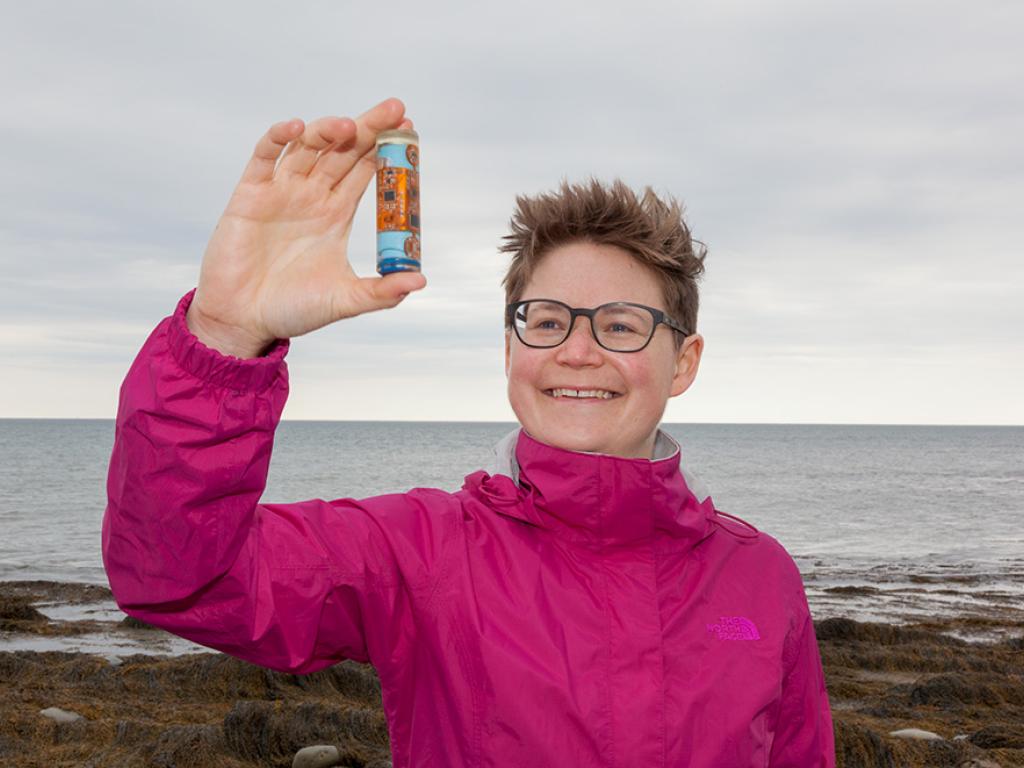 Franziska Broell displays a wildlife tagging device she developed as a doctoral student while working with Dalhousie University's Ocean Tracking Network (OTN), a global research platform that tracks the movement of marine creatures through the world's oceans. Broell co-founded Maritime bioLoggers, a company in Halifax, to commercialize the device; the enterprise is one of many serving Atlantic Canada's vibrant oceanographic research community.
---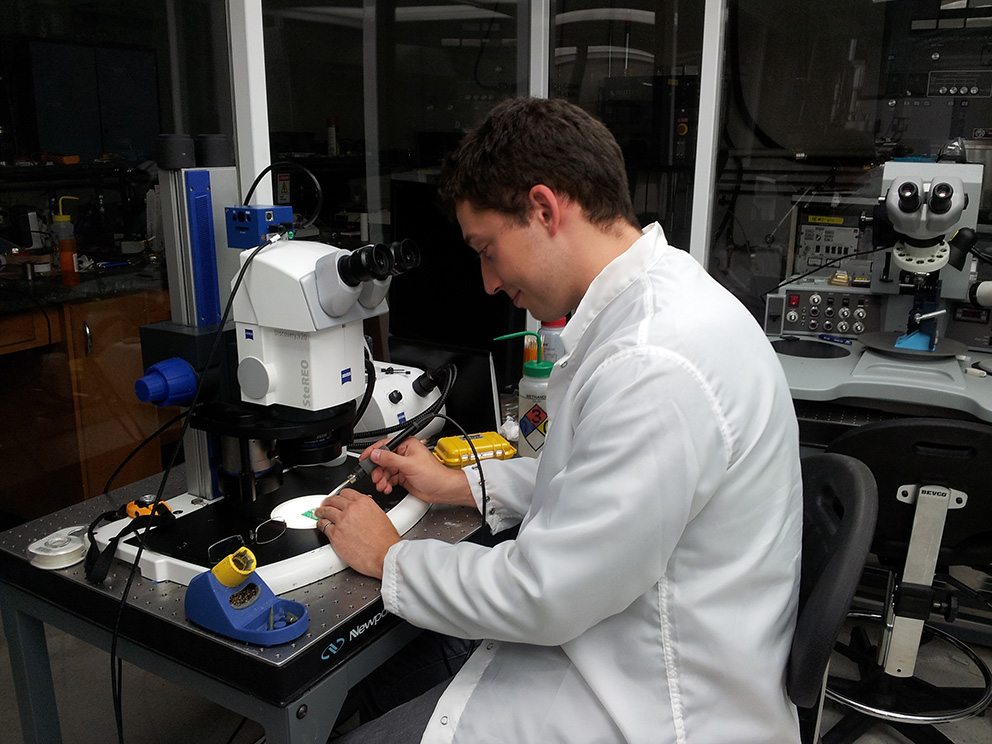 Broell's partner in Maritime bioLoggers is Andre Bezanson, a doctoral candidate in biomedical engineering at Dalhousie, and an expert in the miniaturization required in making effective bio-logging tags.
The tagging devices the company has commercialized are valuable tools in studying the travels and habits of seagoing creatures by finding and tracking them electronically.
Once attached or implanted on individual animals, the tags store information —behaviour, energy expenditure, even growth rates — which is collected when the animal is recaptured.
OTN's worldwide system of seabed monitors tracks more than 100 species of aquatic animal in 16 ocean regions around the world and transmits the information to researchers in their land-based laboratories. In helping to get Maritime bioLoggers up and running, it fostered the expansion of the oceanographic research community in Atlantic Canada, and established a source of vital high-tech products and services.
Photo: Elise Bezanson
---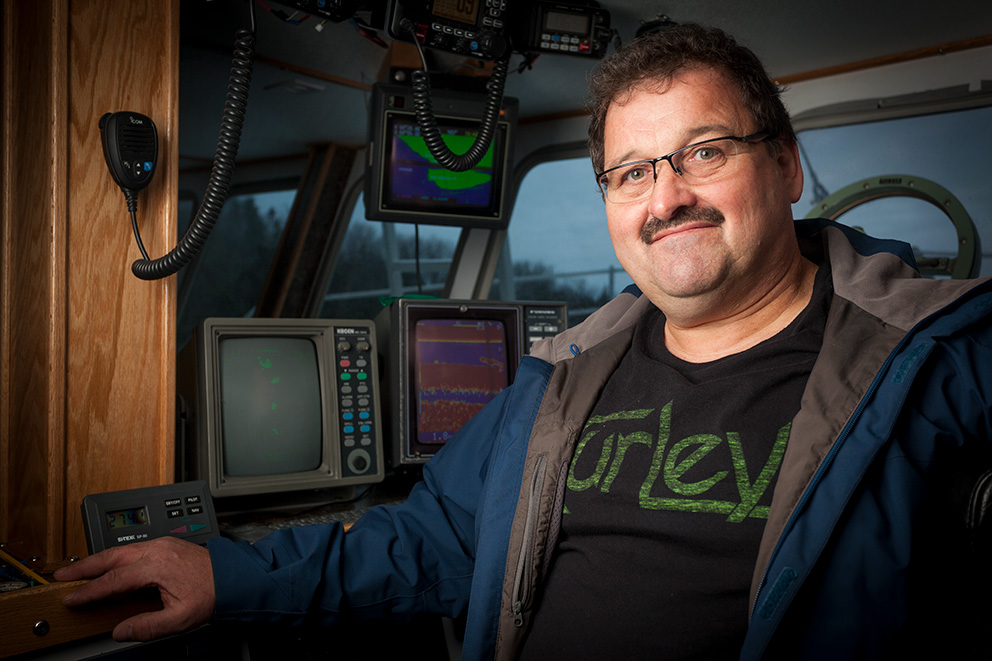 Darrin Baker on the bridge of his ship, the Island Venture 1, the host vessel of many of OTN's tagging expeditions and other scientific outings in Atlantic Canada in recent years. Indeed, Baker founded his company, Baker Blue Ocean, in response to the needs of OTN and other area scientists to rent qualified ships for research purposes. And as with Maritime bioLoggers, Baker Blue Ocean's creation enhanced and expanded the region's combined scientific and seafaring community.
---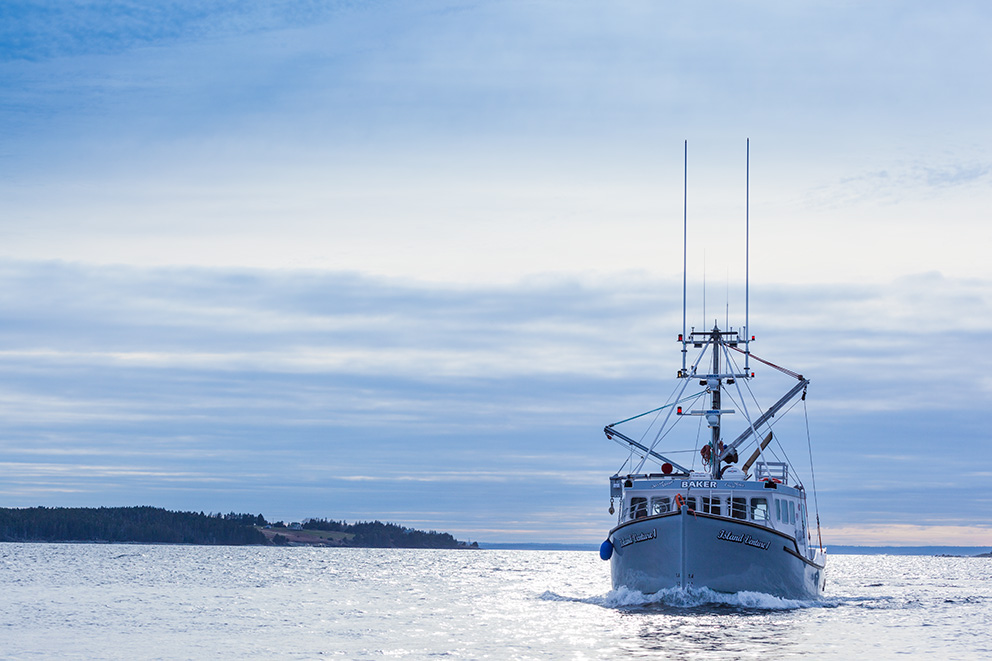 The Island Venture 1 steams home after another day of research in Atlantic waters. Knowledge of the populations, feeding habits and migratory paths of fish, aquatic mammals and other sea creatures, gained in recent years through the rise of sophisticated tagging and tracking techniques, is of fundamental importance in establishing sustainable catches and otherwise safeguarding the health and viability of ocean life.
---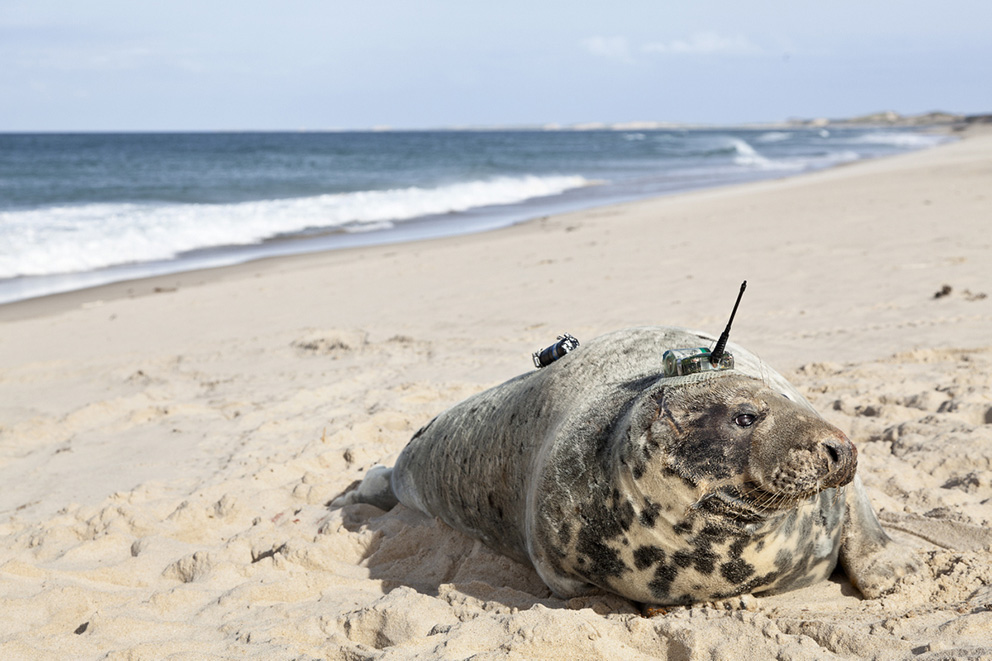 A double-tagged grey seal lounges on the sunny shore of Sable Island, indifferent, it seems, to the GPS unit on its head and the VEMCO mobile transceiver on its back. The units give researchers real-time information on the seal's location and interactions with other tagged animals. The tags are attached in July and recovered during mating season on Sable Island in January. Grey seals are found on both the North American and European Atlantic coasts, with the largest colony anywhere on Sable Island.
Photo: Damian Lidgard
---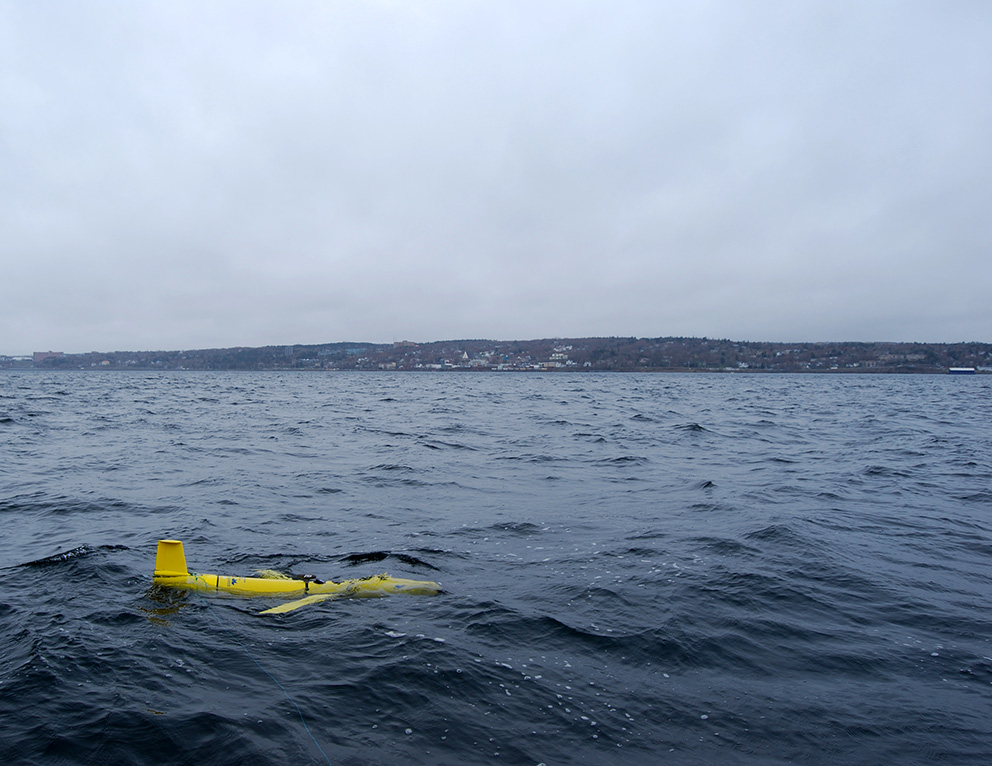 Not a downed mini-jet, but an Ocean Tracking Network Slocum glider, a remote-controlled, remotely-programmable diving device designed to measure diverse ocean conditions, plies the ocean. It is valuable in providing context for the activities of tagged and tracked species.
Photo: Richard Davis
---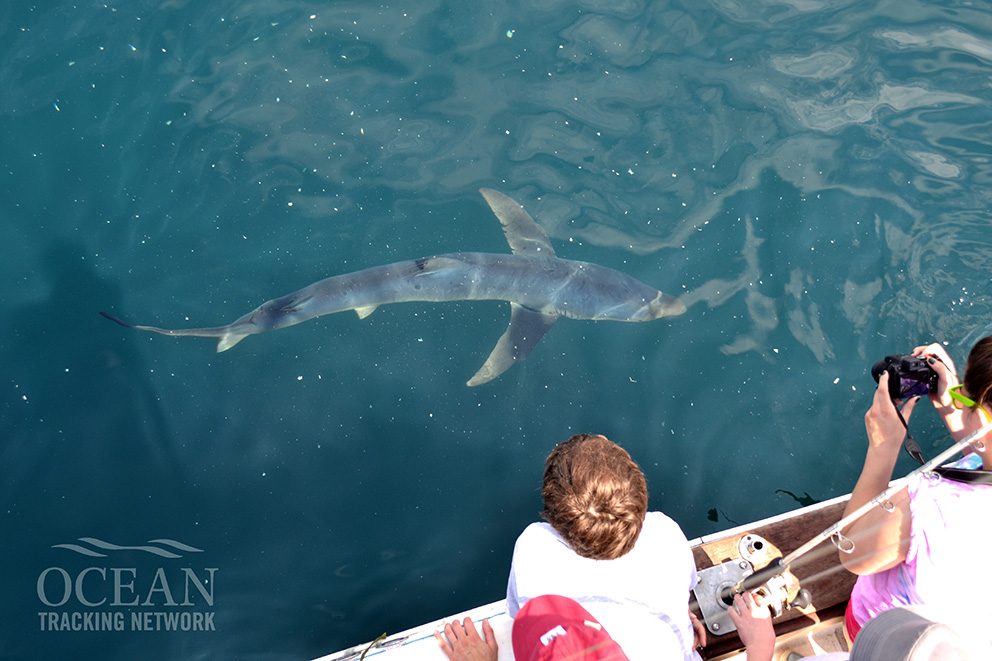 A research vessel on a tagging expedition cruises close to a blue shark in waters off Nova Scotia.  Scientists were seeking data on the sharks' preferred hangouts, as well as their marathon migration patterns, commonly from Canadian waters to those off South America. The information could help gauge the blue shark's capacity to survive human predation: millions are killed annually for meat, leather and sport.
Photo: Nikki Beauchamp
---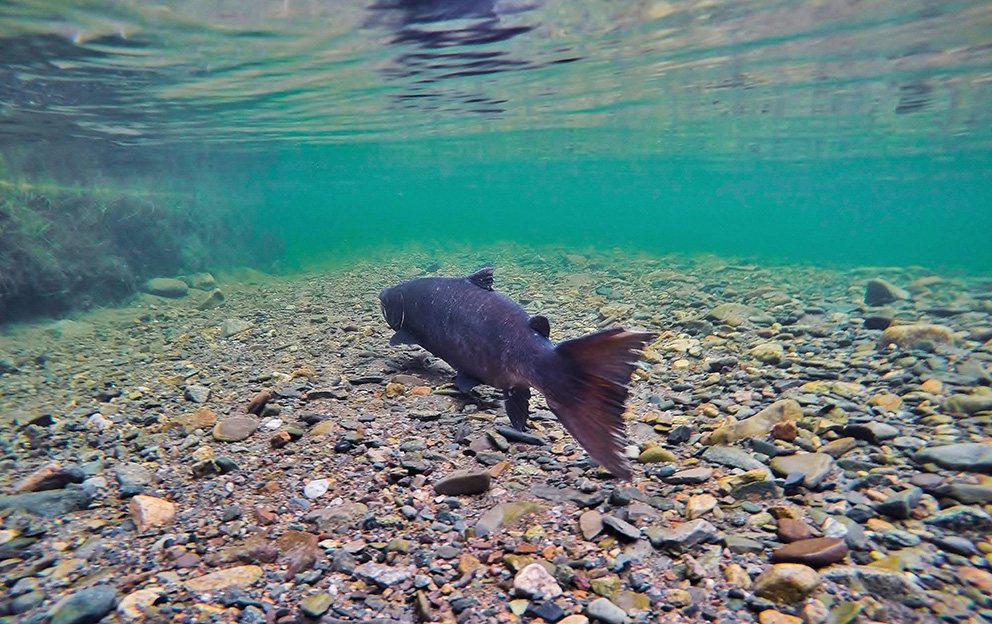 An Atlantic salmon kelt — a kelt is a salmon after spawning — plays out its last days on the gravelly bed of its natal stream. The fish had been tagged in the Bras d'Or Lakes UNESCO Biosphere Reserve — the entire watershed of Cape Breton's celebrated inland saltwater sea — and later identified by a monitoring system set up at the stream mouth.
Photo: Xavier Bordeleau
---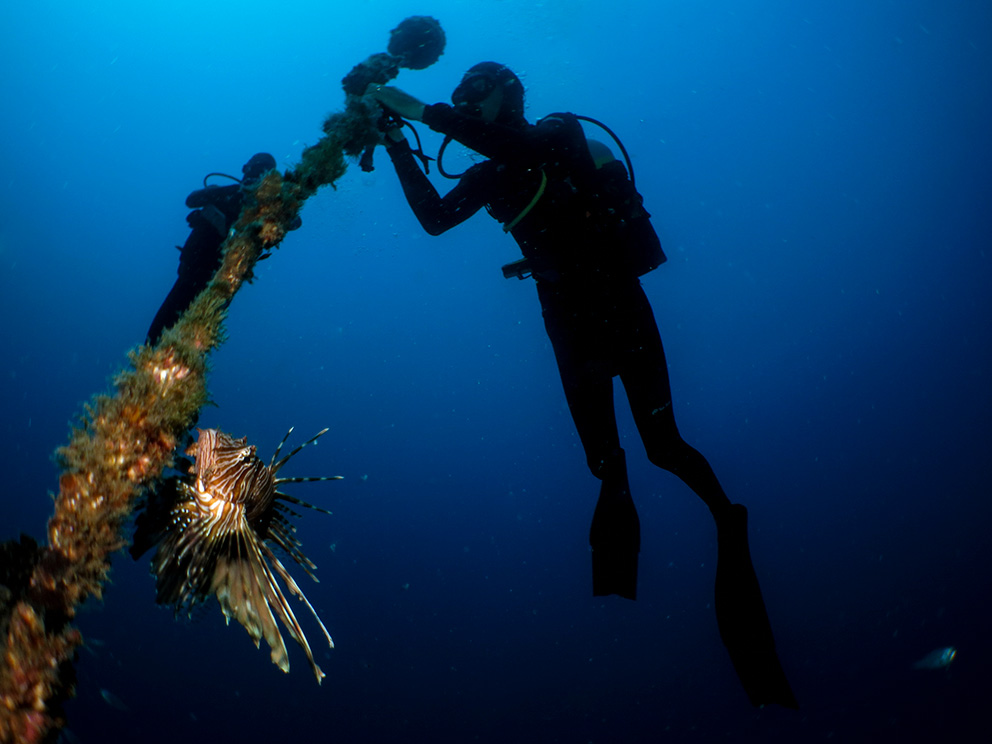 A pair of human technicians secures a monitor on the seabed off the coast of South Africa, part of an Ocean Tracking Network array of monitoring devices. A lionfish keeps a careful eye on the proceedings. In this commonly used tracking system, a long line of monitors is installed on the sea floor, capable of identifying every tagged creature that passes overhead.
Photo: Jenny Stromvol