2017 Major Science Initiatives Fund
Note: This competition is now closed. The CFI is no longer accepting proposals.
We contribute to the ongoing operating and maintenance (O&M) needs of national research facilities through the Major Science Initiatives (MSI) Fund. 
In 2010, the CFI was mandated by the Government of Canada to design a systematic approach to evaluate and address the operating and maintenance (O&M) funding needs and the scientific performance of national research facilities. The purpose would be to ensure that these facilities have solid management and governance policies and practices in place. In response, we created the Major Science Initiatives (MSI) Fund. Held in 2012, the first competition under this new mechanism sought to support large-scale research facilities that had received a one-time contribution of at least $25 million in infrastructure funding from the CFI. For the 2014 special competition, eligibility was broadened and a special competition was launched to include a greater range of national facilities, both in size and complexity, across all research disciplines. Through the 2017 competition, the CFI continues to contribute to the ongoing O&M needs of national research facilities for which the loss or absence of support would represent a serious setback for Canada. CFI support through this competition is intended to:
Secure and strengthen state-of-the-art national research facilities that enable Canadian  researchers to undertake world-class research and technology development that leads to social, health, economic, or environmental benefits to Canadians;
Enable funded facilities to operate at an optimal level and to have their scientific and technical capabilities fully exploited; and,
Promote the adoption of best practices in governance and management, including long-term strategic and operational planning in keeping with the scale and complexity of the facility.

How does the CFI define "National Research Facility?"
We define a national research facility as one that addresses the needs of a community of Canadian researchers representing a critical mass of users distributed across the country. This is done by providing shared access to substantial and advanced specialized equipment, services, resources, and scientific and technical personnel. The facility supports leading-edge research and technology development, and promotes the mobilization of knowledge and transfer of technology to society. A national research facility requires resource commitments well beyond the capacity of any one institution. A national research facility, whether single-sited, distributed or virtual, is specifically identified or recognized as serving pan-Canadian needs and its governance and management structures reflect this mandate. 
| | |
| --- | --- |
| Dates | Activities |
| Summer-Fall 2019 | Midterm review |
Notices of intent
Applicants were required to submit a notice of intent (NOI) by December 21, 2015. The NOIs were reviewed by a Multidisciplinary Assessment Committee (MAC) to identify those facilities that meet all seven eligibility criteria of the fund. Institutions were subsequently advised whether or not they were invited to submit a proposal.
List of eligible notices of intent  (received December 21, 2015)

Proposals
The submission deadline for proposals was April 21, 2016. 
Assessment criteria
Proposals were assessed on the basis of:
Scientific excellence
International competitiveness
Need for CFI funding
Excellence in governance
Excellence in management and operations

Merit review process
The assessment process was tailored to the nature and complexity of the proposal and included two stages:
1.    Expert committee review
Expert committees were tasked with assessing each proposal in relation to the established assessment criteria and with recommending to the MAC those proposals that met the standard of excellence for the competition and the amount to be awarded to each proposal.
2.    Multidisciplinary assessment committee (MAC)
This committee was tasked with providing the final funding recommendations and funding amounts to the CFI Board of Directors.

Decisions
Funding decisions were made by the CFI Board of Directors at its September 2016 meeting. Refer to the funding announcement for information about the CFI-funded national research facilities.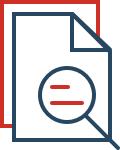 Report highlights the impact of the program to fund Canada's nationally significant research facilities