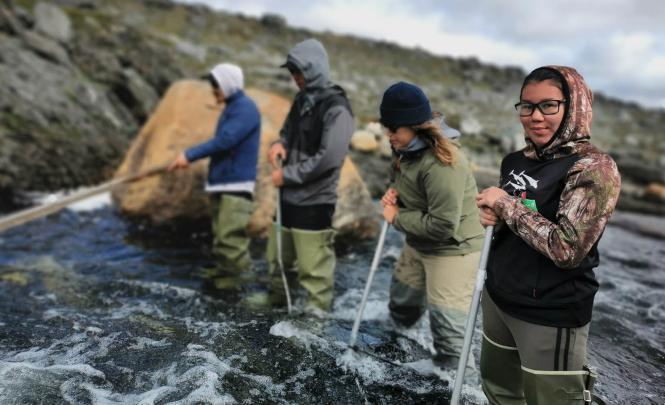 Northern Fund
The Northern Fund will provide Northern researchers and communities in Northern Canada with access to research equipment for projects that address the priorities of Northern communities. These research projects will be conceived, developed, led and managed by Northern institutions, researchers and communities.
For the purposes of this funding program, the North comprises Yukon, Northwest Territories, Nunavut, Nunavik and Nunatsiavut. The Northern Fund augments the Government of Canada's strategic investments made in Northern research and aims to strengthen Northern research capacity. 
The Northern Fund is open for proposals from all research disciplines that can clearly demonstrate how the research directly engages and serves the needs of Northern communities, including First Nations, Métis and Inuit communities in the North. 
Status: We are accepting feedback on the draft call for proposals until October 31, 2023.
Key document: Northern Fund draft call for proposals
Fund overview
What is this funding program meant to do?
Support research led by Northern organizations and First Nations, Métis and Inuit communities
Augment research capacity in the North for the North
Generate health, environmental, sociocultural or economic benefits to Canada's North including the training of highly qualified personnel.
What institutions are eligible to apply to this fund?
Canadian universities, colleges, research hospitals and non-profit research institutions located in Yukon, Northwest Territories, Nunavut, Nunavik or Nunatsiavut recognized as eligible to receive funding from the CFI can apply to the Northern Fund. Note that the CFI funds institutions and does not fund individual researchers.
Check our list of eligible institutions to see if yours is already eligible. If your institution is not yet eligible, email us at eligibility [at] innovation.ca for information about how to apply for eligibility.
What research infrastructure projects are eligible?
An eligible research infrastructure project involves acquiring or developing research infrastructure to augment research capacity and conduct research activities that are highly relevant to Northern communities. To be considered for funding, the requested research infrastructure must be essential for the institution's planned research activities and, in most cases, located in Yukon, Northwest Territories, Nunavut, Nunavik or Nunatsiavut.
How much funding can an institution request for the cost of the research infrastructure?
Eligible institutions can submit proposals with total CFI requests between $250,000 and $2.5 million to cover research infrastructure costs.
The CFI will fund up to 50 percent of the eligible costs of an infrastructure project. The remainder of the funds (50 percent or more) must be provided by the institution and other eligible funding partners.
Over five years, the CFI will invest up to $25 million in research infrastructure through this funding program, as well as funding to operate and maintain it. 
What are the deadlines?
Feedback on this draft call for proposals can be emailed to the CFI at northern.fund [at] innovation.ca between July 1 and October 31, 2023.
| | |
| --- | --- |
| Activity | Deadline |
| The CFI issues the draft call for proposals | June 28, 2023 |
| Feedback on the draft call for proposals accepted by the CFI | July 1 to October 31, 2023 |
| The CFI issues the call for proposals | December 18, 2023 |