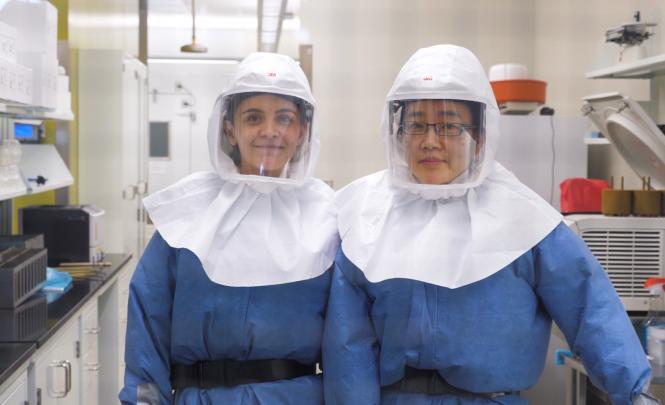 Responding to COVID-19
The COVID-19 pandemic underlined the important role Canadian labs play in helping researchers tackle global crises as they arise. Not only were health researchers equipped and ready to contribute to the global effort to develop and test vaccines, but those with expertise in many other disciplines were positioned to share their knowledge on the social measures and policies needed to contain the spread of COVID-19. 
Researchers in psychology offered innovative ways to maintain mental health as stress levels rose; leaders in education technologies extended new options to parents and schoolboards scrambling to teach virtually; material scientists and engineers retooled laboratory equipment and worked with the private sector to produce much-needed medical supplies. 
For more than 20 years, Canada has invested in establishing a strong foundation of cutting-edge labs, equipment and facilities at universities and colleges across the country. That these laboratories were ready to perform under the most urgent circumstances reflects Canada's foresight and dedication to research that benefits everyone.
#GoResearch
Hear how researchers working in CFI-funded labs are answering the call to help during the COVID-19 pandemic. Produced in collaboration with CFI-funded research institutions, these vignettes delve into how the expertise and insights of bright minds across the country are offering hope. Here are a few examples:
Canadian COVID-19 research gives us new tools to tackle a pandemic
The research projects supported through our Exceptional Opportunities Fund – COVID-19 competitions are on the frontlines of developing solutions to the economic turmoil, altered lifestyles and human health costs that have resulted from the pandemic. Here are five examples:
Canada's national facilities at work
Many of Canada's large, complex research facilities, supported through the CFI's Major Science Initiatives Fund, pivoted their research to take on the challenges posed by the global pandemic. Here are a few examples of how:
As the COVID-19 pandemic took hold, the CFI took action to ensure Canadian research labs would remain at the forefront
Late February
CFI's programs staff begin to reconfigure 91 expert committee meetings involving 349 experts from 23 countries for the 2020 Innovation Fund competition, keeping the 400-million-dollar competition on track for November 2020 Board decisions, while maintaining the integrity of the review process.
March 16
The CFI's downtown Ottawa office closes and CFI staff begin working remotely.
March 20
The CFI makes provisions to allow salary support for research personnel who were temporarily redeployed from CFI-funded infrastructure to support COVID-19 research.
March 23
Prime Minister Justin Trudeau announces more than $11 million from the Major Science Initiatives Fund to support the operation of VIDO–InterVac in their effort to find a vaccine for the novel coronavirus.
April 3
The CFI provides up to $5 million to optimize the research services offered by VIDO-InterVac to the national research community working against COVID-19.
May 7
The CFI launches the #GoResearch campaign.
June 8
The CFI launches a competition to invest up to $25 million from the Exceptional Opportunities Fund to support COVID-19-related research from all disciplines at Canadian universities and research hospitals.
July 15
A second Exceptional Opportunities Fund competition launches to invest $2 million in research related to COVID-19 at colleges, polytechnics and Cégeps.
November 6
Close to $28 million in funding from our Exceptional Opportunities Fund is announced for 79 projects at 52 universities, research hospitals, colleges, polytechnics and Cégeps to support COVID-19-related research.