Innovation: A desire to make things better
Innovation: A desire to make things better
A collection of stories to illustrate the breadth of ways in which innovation changes our world
Innovation can perhaps be defined; but how it touches our lives can hardly be confined. In the broadest sense, innovation is the desire to make things better. This innately human drive changes our world and transforms us in ways we sometimes are not even aware — from our health, our economy and our planet, to how we understand our past and how we envision our future.
In this knowledge era, innovation is integral to nation building and there is almost no limit to what research can teach us. This audacious vision is what inspired the Canada Foundation for Innovation in 1997, and this collection of stories recalls the resolute spirit of our origins.
Two decades ago, the CFI was itself an experiment — a way to encourage researchers to reach higher, think bigger, and a moment in time when political and research leaders came together to create a turning point in Canadian research by building world-class facilities and stocking them with state-of-the-art equipment. The results have been transformative. In this collection, we present just a handful of the thousands of research projects supported by the CFI since its inception, and aim to illustrate the breadth of ways in which innovation changes our world.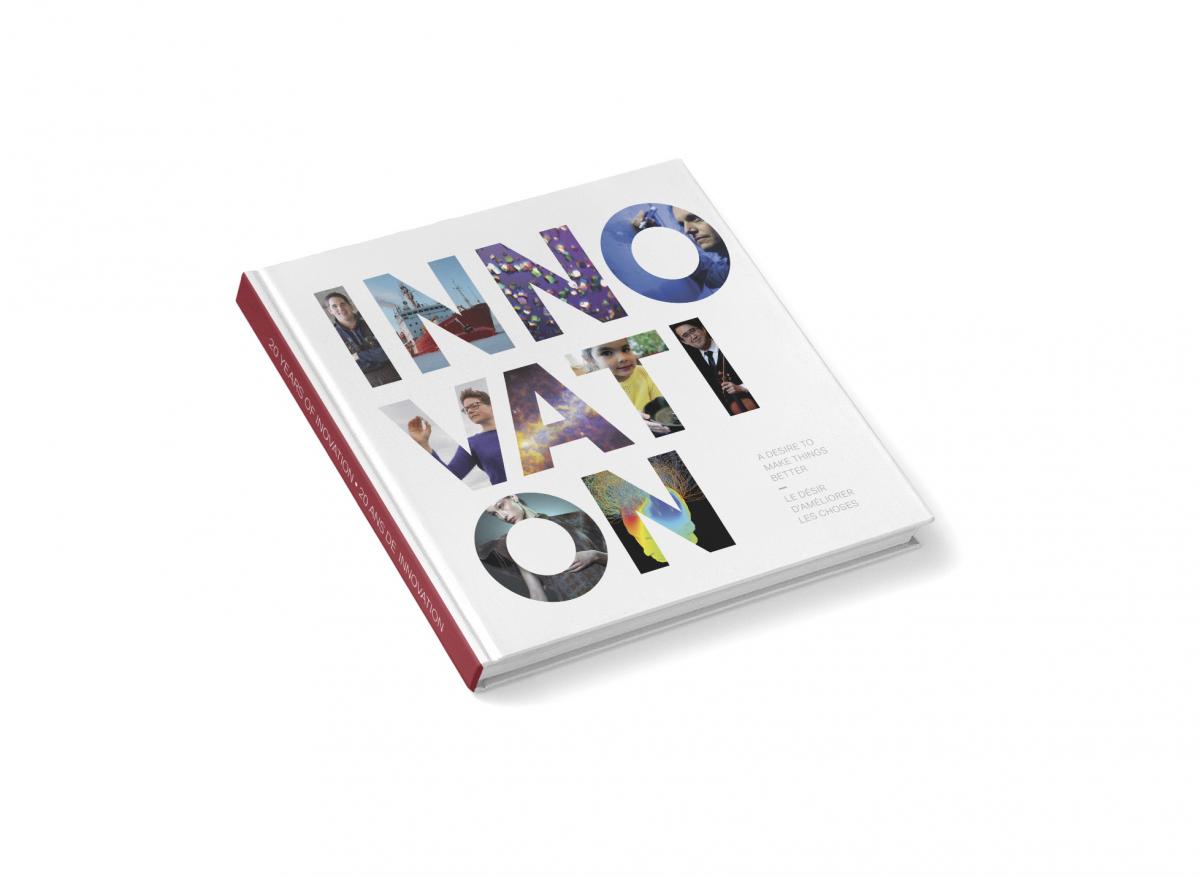 INNOVATION: A DESIRE TO MAKE THINGS BETTER
A commemorative book to mark 20 years of the Canada Foundation for Innovation
A tornado rushes from the ceiling in a 3D wind chamber at Western University's WindEEE Research Institute. The founding director's "napkin drawing" (overlay) was the genesis of the next generation of wind science technology. WindEEE is not a conventional wind tunnel with long, straight rooms and fans blowing in a single direction. It is six-sided, has fans in the ceiling and walls, and blows air in changing directions. This more accurately simulates thunderstorm downbursts, tornadoes and low-level jets, which together cause more than half the structural damage to infrastructure in...

Inside the Canadian Light Source's ring-like structure at the University of Saskatchewan, electrons zip along at great speed. The resulting electromagnetic radiation creates a light millions of times brighter than the sun. Researchers select specific wavelengths to make observations at the atomic level. Mapping more than 750 protein crystals — like those at right — builds a worldwide repository describing the biological molecules that might unlock new treatments for diseases from viral infections to cancer. Image: Canadian Light Source Inc. Understanding the universe: humankind's...

An unusual mineral inclusion in this diamond turned out to be ringwoodite. For 40 years, scientists speculated that ringwoodite makes up a major fraction of the Earth's mantle and contains much of the planet's deep water. An international team led by University of Alberta's Graham Pearson discovered the Brazilian diamond, inside which was nestled the first ever crystal of ringwoodite from Earth. The discovery was one of the most important of 2014, and had the scientific community abuzz. The ringwoodite's high proportion of water confirms scientific theories about vast volumes of water...

"Smart garments" of the future will include hospital gowns that record vital signs, military clothing that harnesses a soldier's body heat for energy, turning it into power to charge her equipment, or dresses that change colour and shape to impress party guests. The Karma Chameleon project at Concordia University's XS Labs is developing new kinds of electronic fibres and investigating better methods to weave them into clothing. Interactive garments of the future, like the one shown here, will harness kinetic energy from the wearer's body and use it to change colour and shape in...

Kwakwaka'wakw masks from the Pacific Northwest Coast are seen on display at the University of British Columbia's Museum of Anthropology. Since its founding more than 60 years ago, the museum has been building relationships with indigenous communities and working with them on cultural renewal projects. It features spaces where people can examine artifacts up close and an online collection that allows communities to restore and strengthen their cultural identity. Image: Museum of Anthropology, UBC Shielding our power grid from brutal winters. Université du Québec à Chicoutimi. A...

The Canadian Coast Guard Ship Amundsen, Canada's research icebreaker, prepares to overwinter in the Beaufort Sea. Carrying state-of-the-art scientific equipment, the ship provides researchers with unprecedented access to the High Arctic. Spanning the natural, health and social sciences, international teams explore climate change, sea ice regime shifts, the opening of new sea-lanes, the challenges of mineral resource extraction, the fate of marine life from viruses to whales, and the health of Inuit. Coordinated out of Université Laval, the operations of the Amundsen document what the future...

This jellyfish and octopus are just two of the sea animals researchers can spy on with the help of Ocean Networks Canada, an initiative of the University of Victoria. The network operates the world's first interactive portal into the ocean, broadcasting data and images in real-time that are used to analyze earthquakes, research fish populations and predict the movement of tsunamis. At right, a yellow node containing a power source and internet hub is loaded onto a ship in Victoria, B.C. The hub is part of a system of hundreds of kilometres of cable, attached to a raft of instruments and...

This steel sphere, deep underground at SNOLAB in Sudbury, Ont., contains ultra-cold liquid argon and is part of one of the most sensitive experiments ever for the direct detection of dark matter. We can't see dark matter because it emits no detectable radiation, but its existence can be inferred by its gravitational effects on stars and galaxies. While scientists believe there is far more dark matter in the universe than there is visible matter, no one has yet directly observed it. Image: Courtesy of SNOLAB and the DEAP Collaboration View "PART VII: To the depths of the ocean" View...

One in five people with severe brain injuries who are in a vegetative state have some level of consciousness. The two heads on the left — generated from electroencephalogram (EEG) data that measures electrical activity in the brain — show brain networks in two people diagnosed as vegetative. The difference is that the one in the middle can imagine playing tennis when asked to do so. (On the far right, a healthy adult's brain network while at rest is shown.) Researchers at Western University have been able to elicit "yes" or "no" answers from such patients by asking them to...

Astronomers from around the world are peering into the Milky Way, pictured here, and far out into the cosmos with the help of a sophisticated camera, parts of which were designed at the University of British Columbia. Called SCUBA-2 (Submillimetre Common-User Bolometer Array-2, blue box at right), the camera produces images of the distant universe at far-infrared wavelengths. Located on the James Clerk Maxwell Telescope, in Hawaii (centre), SCUBA-2's precision is allowing scientists to survey large areas of the sky with unprecedented sensitivity to help us better understand how galaxies,...

Should a woman prescribed antidepressants continue taking them while pregnant? The question is fraught — her health and that of her unborn child is at stake. Yet research to help her and her doctor make that decision is incomplete. Scientists at the Université de Montréal are filling in the blanks. They are building the world's only super-database, the Quebec Pregnancy Cohort, which matches drug exposure to gestational age, providing crucial insight for the risks and benefits of medication during pregnancy. The database has already yielded a better understanding of links between...

A starburst graphically represents relationships between gay liberation activists in Canada between 1964 and 1975; dots depict some 2,000 people, lines connect those who together took part in about 17,000 demonstrations and lobbying events. It was compiled by researchers at the University of British Columbia's Okanagan campus by first encoding the often euphemistic and historically specific language used to describe sex, gender and sexuality in historical documents. The graph shows active clusters of people and lets users explore how those clusters were connected to others, bringing to life...

Canada is experiencing an unprecedented change in its population; over the next two decades nearly a quarter of us will be over 65. To understand the complex interplay between the physical, social and psychological health of aging Canadians, and how this shift will impact the country's policies and economy, more than 100 researchers from 26 Canadian universities participate in the Canadian Longitudinal Study on Aging out of McMaster University. The study sets the bar globally for size and comprehensiveness for research on aging — 50,000 men and women will be followed for 20 years. Image:...

An artist's representation of "entanglement," one of the properties of quantum mechanics. Modern computers operate within classical laws of physics, but a new model is emerging that is governed by the laws of quantum mechanics, which function at the atomic scale. Quantum computers will quickly and efficiently complete tasks thought impossible for their classical counterparts. Quantum objects can be "entangled," or strongly correlated with each other, even over large distances. Researchers at the Institute for Quantum Computing at the University of Waterloo are working to harness...

With the help of video recordings and in-person interviews, researchers in sports psychology at Laurentian University are studying the mental journeys of athletes from different cultural backgrounds to create a coaching system that reflects the diversity of this country's elite athletes. The goal is to create more culturally appropriate and inclusive training regimes that help Olympic hopefuls come together as a team, whether they are Aboriginal, new Canadians or mainstream. That research informed sports psychologists' plan to mentally prepare our Canadian boxers for the 2016 Olympics in...

While 15 percent of Canadian soldiers are female, and nearly 10 percent of Canadians deployed during the 2001 to 2014 war in Afghanistan were women, Captain Anne Pham (above) among them, most research on veterans focuses on men. The little we know of female veterans' experiences suggests they suffer a greater drop in income after service, and according to at least one study, are more likely to experience post-traumatic stress disorder. They are also often not recognized as veterans in the face of stereotypically feminine ideals. To shed light on these issues, researchers at Mount Saint...

The first step toward protecting Earth's biodiversity as pollution and habitat loss force plants and animals into extinction is to identify every species before it is lost. But so far we know only a tiny fraction of the planet's living things. To fill in the blanks, scientists with the International Barcode of Life project at the University of Guelph use short segments of DNA to quickly, cheaply and accurately identify species — similar to the way grocery stores use barcode scanners. As this map shows, they have collected and identified species from all over the world in a race against...

Community is the place we live, the shared experiences that bind us to other people. It's where we come from, it shapes where we are headed. And community is built of many things: the physical spaces around us, the roads and communication lines that connect us, the beliefs and policies that guide us, and above all, that intrinsically human desire to reach out, to be supported by others, to understand our neighbours, to help. Research, ultimately, is one way we do all of these things better. In the social sciences and humanities, we delve into who we are, what makes us human, what drives us,...
Stay connected
Keep updated on:
Funding programs
Stories on cutting-edge research
Events ... and more.
Stay connected
You're all set!
Just keep an eye on your inbox for a confirmation email.