Diving off the Datça
How one maritime archaeologist from Brock University explores ancient shipwrecks for evidence of old-world trade systems
Mud clouded the water as Elizabeth Greene dug her way through the sediment at an underwater archaeological site during a 2015 excavation in southwest Turkey.
Despite working almost blind, she saw something poking out of the ground. She felt it with her finger tips: the tines of a small wooden comb peeking their way through the sand. The comb was probably part of a delousing kit used 2,500 years ago.
This ancient artifact was found in a harbour on the Datça Peninsula in Burgaz, a Turkish archaeological site overlooking the Mediterranean sea.
"We can imagine this sailor who was combing the lice out of his hair and either the comb broke or he was so disgusted by what he found, he tossed it into the water," says Greene, an associate professor specializing in Greek art and archaeology at Brock University.
As a maritime archaeologist, Greene studies the physical remains of ancient civilizations related to seafaring. In collaboration with Middle East Technical University in Ankara, Turkey and Stanford University in California she has excavated four harbours in Burgaz since 2011.
Greene and her team scuba dive to find underwater evidence of the peoples that existed there throughout the Archaic, Classical, Hellenistic, and Roman periods. 
"We get little glimpses into the goods they lost in the harbours and probably used on board," she says.
After seven years of exploring the harbours for the remnants of ships, Greene and her collaborators are working with the Institute of Nautical Archaeology and the Bodrum Museum of Underwater Archaeology, both located in Bodrum, Turkey, to preserve these ancient treasures.
Greene thinks tourists would be interested in many of their finds. One idea is to build trails for visitors and local residents to explore the stone structures that were part of the ancient harbours at Burgaz some of which peek out of the water.
Another is to build an underwater shipwreck display in the Bodrum Museum where tourists could dive on a replica of one of the wrecks excavated off the Turkish coast.
"One of our main interests is to bring people to see these ancient sites and have them think about connectivity and movement in the ancient world and how that relates to people today."
Burgaz was occupied by a residential settlement in the sixth century BC, but the public buildings and houses were replaced with workshops and facilities to process agricultural products around the middle of the fourth century BC, Greene says.
The harbours in Burgaz were also used for trade and seafaring but the main cultural centre moved to Knidos, a site on the west tip of the peninsula, due to the expansion of the Greek world and the conquests of Alexander the Great. 
"The world in the Hellenistic period was getting much bigger and so the regional port at Burgaz was not as useful for the international scale of trade that was introduced in the fourth century and later."
Burgaz continued to produce important products like olive oil and wine, which were then sent to Knidos and shipped overseas to Egypt, Greece, Cyprus and the western Mediterranean.
Greene says that by observing the changes in ancient cities such as Burgaz, we can find insight into the changes occurring in our industries and economies today.
She points to her own city as an example. St. Catharines, located in the Niagara Region of Southern Ontario where Brock's main campus is located, has undergone tremendous change since it was first settled in the 18th century. It started as an important producer of lumber and grain, then turned to fruit cultivation. Much later it evolved into a major automobile manufacturing hub. Now it serves as a regional centre of education, medical care and wine production.
"I think people see the impact of economic change as detrimental and leaving cities forced to just die out," says Greene. "But instead, in a lot of cases, we see how regions and cities can really adapt to the ongoing changes in their populations, in their economic contacts and in their relationships."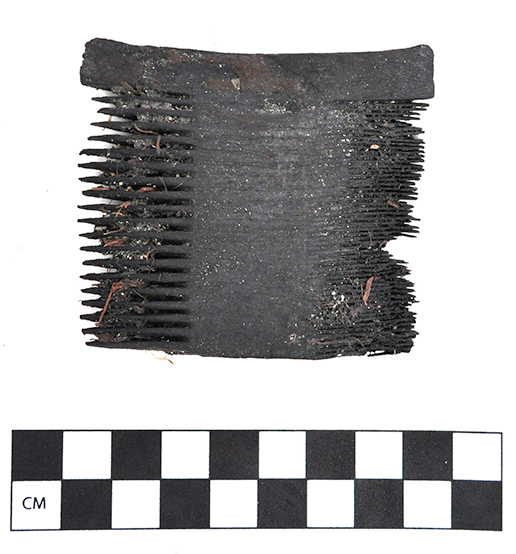 A 2,500-year-old wooden comb found in a harbour at Burgaz, Turkey
Image:  Courtesy of Burgaz Harbors Project
You may also be interested in:
Stay connected
Keep updated on:
Funding programs
Stories on cutting-edge research
Events ... and more.
Stay connected
You're all set!
Just keep an eye on your inbox for a confirmation email.