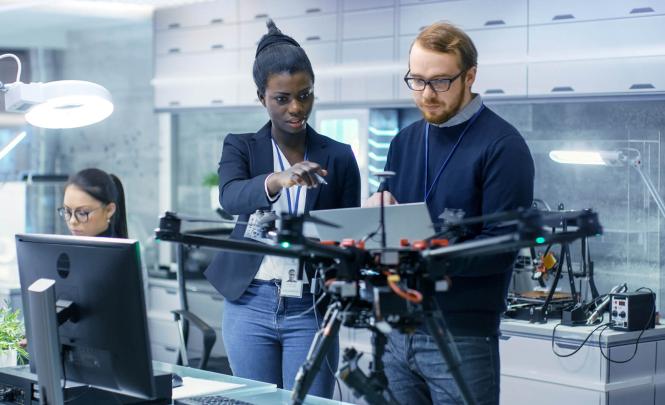 Fostering commercialization
Part of our mandate is to enhance the capacity of universities and colleges to support private sector innovation and commercialization. In CFI-supported research facilities, Canadian companies and entrepreneurs find the expertise and state-of the-art equipment they need to thrive and compete globally. This includes large industries like aerospace, forest products and mining, which create thousands of jobs across Canada. And it's also small- and medium-sized enterprises looking for business solutions. Here's some of what we've done to help support our mandate.
In our opinion
Turning the tide for innovation in Canada: Twenty years ago, Canada was faced with a difficult question: "How can we elevate Canadian research to compete, even lead, on a global scale?" Today, we are faced with an equally thorny and important question: "How can we elevate Canadian innovation to be competitive in the world?" (Canada's Innovation Leaders 2016, November 2016)
Research is a contact sport: How collaborations in the name of science are driving innovation (The Hill Times, November 9, 2015)
Innovation can help to close the 'infrastructure gap': Canada has a massive bill for new roads, bridges and pipes coming due, and it will take new technologies to close the gap. (Toronto Star, May 27, 2014)
Our home and innovative land: Bringing research and business together sparks new ideas that can be commercialized (The Hill Times, February 24, 2014)
No small matter: The engineering and technology solutions for answering fundamental questions in science find applications far beyond their specific research projects (Globe and Mail "Research and Innovation" feature, November 2015)
Tools and talent: World-class facilities enable Canadian researchers to collaborate in the pursuit of solutions for today's pressing challenges, including climate change, health issues, food security concerns and economic downturn (Globe and Mail "Research and Innovation" feature, November 2015)
Studies
Socioeconomic study: Canadian innovation in medical imaging is transforming healthcare. The study, conducted in conjunction with the Canadian Institutes of Health Research, highlights the importance of an open and competitive research system to move innovation along the continuum from new ideas, to working prototypes, to products which benefit Canadians.
Report on results 2015: An annual summary of the outcomes of investments in research infrastructure.
Celebrating Canadian innovation
CFI supports the new Governor General's Innovation Awards: The CFI has been selected by the Office of the Governor General of Canada to manage the adjudication for an award celebrating inspiring and entrepreneurial Canadians
Research helps industries grow
Research helps businesses stay competitive
Research provides access to the latest equipment and expertise
Research fosters relationships