Diagnosing COVID-19 instantly with artificial intelligence
Diagnosing COVID-19 instantly with artificial intelligence
A Vancouver company's handheld ultrasound devices are becoming an indispensable tool for quick diagnosis of COVID-19 in remote areas
Researchers in British Columbia are adapting handheld ultrasound devices — developed by Clarius Mobile Health — to use artificial intelligence technology to diagnose COVID-19 infections in remote areas.
The devices were originally developed in 2017 as tools to diagnose conditions such as heart disease or traumatic bleeding at the bedside. Since inexperienced users often have trouble creating and deciphering ultrasound images, Clarius set out to incorporate the power of artificial intelligence to help.
The company worked with CFI-funded researchers Purang Abolmaesumi and Robert Rohling at the University of British Columbia, as well as Teresa Tsang, Director of Echocardiography at Vancouver General Hospital and UBC Hospital, to develop the artificial intelligence component, which draws on ten years of clinical imaging data.
Incorporating artificial intelligence into the devices makes it easy for both experts and non-experts to understand what they are seeing; capture better images; and perform automatic measurements. The handheld scanners can wirelessly transmit high-quality images to consumer cell phones or tablets. Since the technology is simple to use, portable and affordable, it is particularly useful for medical professionals working in rural and remote areas.
This work led to the creation of Intelligent Network Point of Care Ultrasound (IN-PoCUS), a consortium of healthcare organizations that is part of B.C.'s Digital Technology Supercluster aimed at improving health care diagnosis in rural B.C. Providence Health Care leads the consortium, and members include UBC, Clarius, Change Healthcare and the Rural Coordination Centre of BC.
Ultrasound technology adapted to provide quick diagnosis of COVID-19
When the pandemic began this winter, the consortium recognized an opportunity to apply the same concepts to COVID-19 diagnosis. UBC researchers and Clarius are working with IN-PoCUS to create a bank of ultrasound images of lungs of patients infected with COVID-19. The collected images can be used to create artificial intelligence that will quickly recognize the patterns of a COVID-19 infection in the lungs, allowing for an almost-instant diagnosis.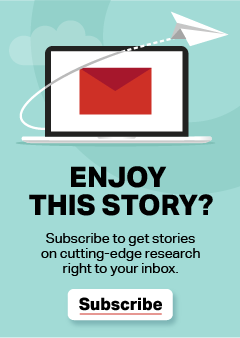 Such quick diagnosis means patients can receive better care and be better monitored during treatment. More than 80 of the devices have already been deployed across the province. IN-PoCUS aims to deploy the technology to all corners of the province, including to family doctors and acute care centres in rural B.C.
Handheld ultrasound also has applications in emergency medicine
As well as providing an indispensable tool in the fight against the pandemic, the technology is an example of how research helps businesses like Clarius stay competitive. "UBC has been an important partner for Clarius," says Kris Dickie, Vice President of Research & Development for the company. "Their expertise in ultrasound technologies and machine learning complements Clarius' expertise in high-end portable devices, helping to create a powerful medical imaging product."
The company expects to find additional markets for their smart devices in emergency medicine, telemedicine and remote training.
Stay connected
Keep updated on:
Funding programs
Stories on cutting-edge research
Events ... and more.
Stay connected
You're all set!
Just keep an eye on your inbox for a confirmation email.