Article
CFI named among top employers of the National Capital Region for 2022
As organization celebrates its 25th anniversary, award recognizes the skills and dedication of employees and celebrates achievements that contribute to a positive work environment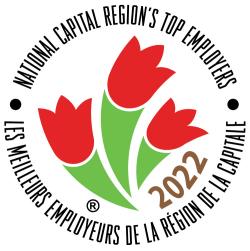 OTTAWA, ONTARIO — For the sixth year in a row, the Canada Foundation for Innovation (CFI) has been named among the Top Employers in the National Capital Region. The award is of particular significance this year as the CFI celebrates its 25th anniversary.
The award also recognizes the resilience and dedication of CFI staff during the second year of the pandemic. Despite working remotely, the staff found innovative ways to keep making the CFI a great place to work.
"CFI staff are truly inspiring," says Roseann O'Reilly Runte, President and CEO of the CFI. "Once more, despite the challenges of the pandemic, their dedication, creativity and energy have supported important research across the country. I applaud their special contributions to effective teamwork, caring and kind relations, and a supporting and encouraging environment where we all endeavour to model the excellence we promote. This award recognizes the strong contributions of every member of the team."
Read more about the CFI's 25th anniversary
First launched in 2006, the National Capital Region's Top Employers is an annual competition organized by the editors of Canada's Top 100 Employers. This special designation recognizes employers in the Ottawa-Gatineau metropolitan area that lead their industries in offering exceptional places to work. Some of the criteria the editors evaluated include:
Work atmosphere and social
Health
Financial and family benefits
Vacation and time off
Employee communications
Performance management
Training and skills development
Community involvement
Read in the Ottawa Citizen: National Capital Region's Top Employers Winners' list
Among the reasons the CFI was selected for the honour include:
It offers excellent family-friendly benefits, which include maternity and parental leave top-up for mothers, fathers and adoptive parents;
Along with four weeks of starting vacation allowance, the CFI helps employees balance work and their personal lives with a number of flexible working arrangements and up to seven paid personal days off each year;
As part of the organization's health benefits plan, the CFI offers a wellness spending account that can be used for related expenses such as gym memberships and fitness equipment.
A promising future, now
25 years of investing in ideas that change our world