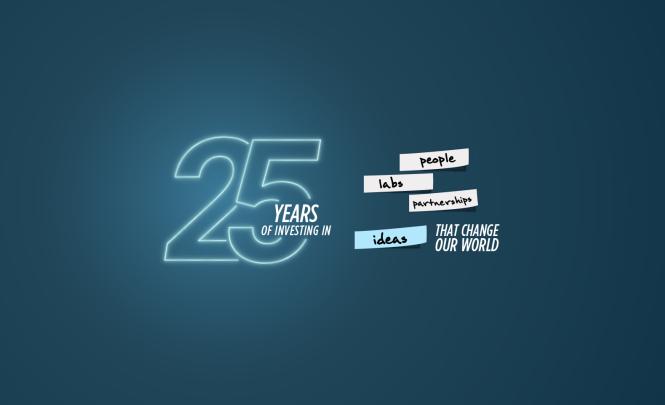 Celebrate with us
Since 1997, the CFI has committed more than $9 billion in support of 11,989 infrastructure projects at 170 research institutions in 80 municipalities across Canada. These investments have helped attract and retain talented researchers from around the world by providing the state-of-the-art tools they need to think big, which in turn helps create high-quality jobs across the country.
In November 2021, the Canada Foundation for Innovation (CFI) launched its celebrations to mark 25 years of investing in transformative research across the country. Among the activities planned to mark the CFI's 25th anniversary:
Refreshed website and brand
To kick-off its 25th anniversary, the CFI has launched a refreshed brand and website, Innovation.ca.
Download the new CFI logo
Rebranded Research Facilities Navigator
The CFI also rebranded its Research Facilities Navigator, injecting new energy into what has become Canada's most comprehensive online resource of publicly funded facilities interested in collaborating with industry, government and academic partners.
Online: See the new Navigator look
The CFI will undertake additional activities throughout the coming months to mark this milestone.
For updates, follow us on Twitter @InnovationCA , LinkedIn, Facebook and subscribe to our YouTube channel to find videos about the CFI and its transformative research projects. Follow our 25th anniversary activities through #PromisingFutureNow.
 
A promising future, now: 25 years of investing in ideas that change our world
The Canada Foundation for Innovation has supported cutting-edge research in Canada for 25 years. In these videos, researchers reflect on how CFI funding has advanced their work and how future generations will benefit. They tell passionate stories of curiosity, commitment and innovation.
My name is Professor Ian Beausoleil-Morrison of Carleton University.

We use a lot of energy in our houses in Canada. About one third of all the electricity we generate in the country and about one quarter of all the natural gas we burn is to power our houses.

My research is focused on how we can make use of the abundant amount of solar energy that's available in the summertime to supply the energy needs of our houses in the winter, because that's when we require most of our energy.

So we have some concepts we're trying out. These are unproven concepts that are still at the research stage. They would be too risky to try out in occupied houses. So we've built a full scale research house on the Carleton campus.

It looks from the exterior like a house it has covered with solar collectors. It has buried seasonal storage tanks under the ground next to the building, and we're able to conduct long term experiments to assess and refine these ideas in the hopes that one day we'll be able to implement these in occupied houses and drastically reduce the energy consumption and the environmental impact of our housing.

We could not have constructed this unique facility without the generous support of CFI and our other industry partners, so it was instrumental in allowing us to move this research beyond the lab and beyond computer simulations to test out the concepts so that we can prepare them for implementation in real buildings.
More videos you may enjoy
Watch more videos in our collection, which celebrates 25 years of investing in ideas that change our world
Sharing the Canada Foundation for Innovation story nationwide
To help celebrate our 25th anniversary, The Globe and Mail and Le Droit produced features with stories from CFI-funded research institutions