World-class research funded through the John R. Evans Leaders Fund
World-class research funded through the John R. Evans Leaders Fund
From horse asthma, to rotator cuff injuries to the origins of life on Earth, many of the world's top researchers are probing the leading edge at institutions across Canada
The John R. Evans Leaders Fund is, in a sense, a celebration of remarkable people. Its fundamental goal is to help Canadian universities support the world's top researchers by giving them the tools they need to push the boundaries of their work. Their research covers a full range of expertise, from health to agriculture, the environment, to the humanities and social sciences, to the fundamentals of nature.
Each of their stories is a testament to Canada's ability to attract and retain the globe's brightest minds. The researchers funded under the John R. Evans Leaders Fund are curious, creative and above all, collaborative; They are an asset to Canadian research, to our economy, and to our wellbeing. Here are five of their stories.
NEWS: Government of Canada investments keep researchers globally competitive
University of Saskatchewan - Mobile Equine Field Laboratory for Sample Collection and Processing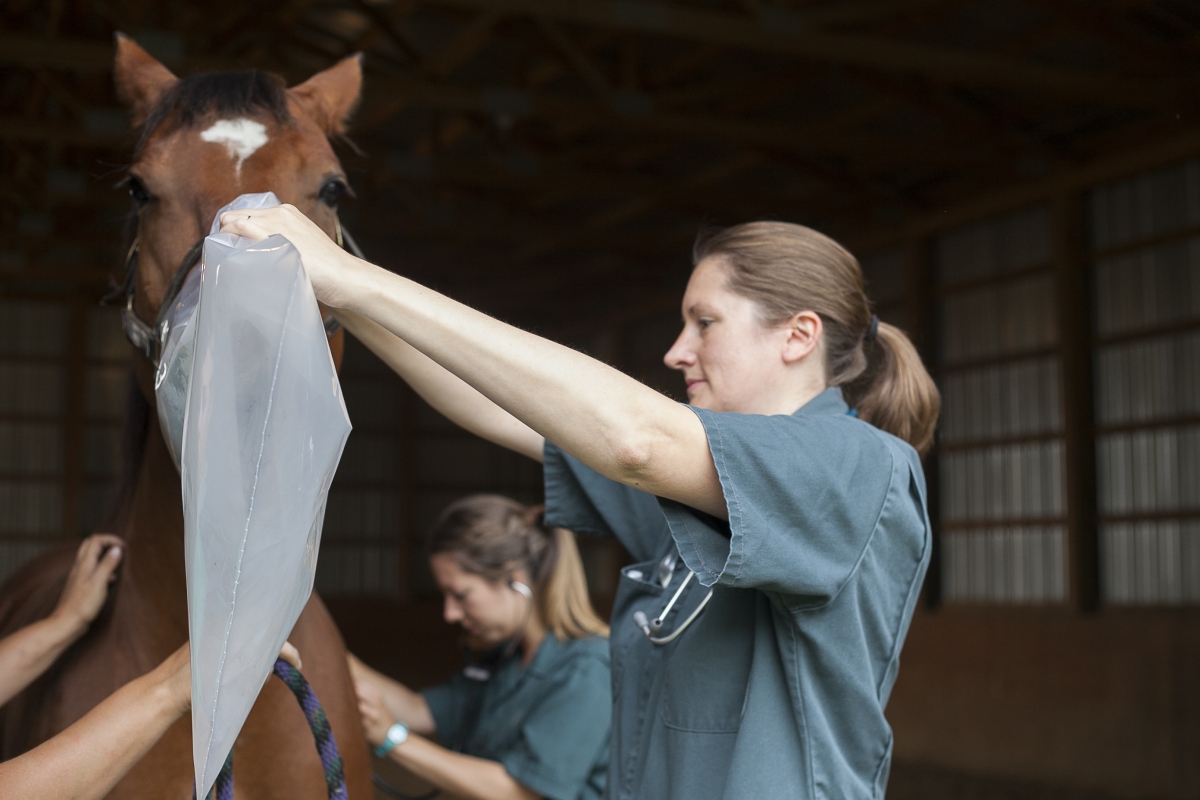 The University of Saskatchewan's Julia Montgomery samples the airway of a horse on a farm east of Saskatoon.
Credit: Christina Weese, portraitsofsaskatoon.com
When University of Saskatchewan veterinary medicine researcher Julia Montgomery drives to farms to take airway samples from horses affected by inflammatory lung diseases, she has to get back to the lab within a couple hours, otherwise the live cells deteriorate. Support from the CFI will enable Montgomery to set up a Mobile Equine Field Laboratory — a customized horse trailer with a fridge, freezer, generator, incubator, microscope and a Cytospin for transferring samples from tubes onto slides. "This will really increase the number of farms we can visit," says Montgomery, who hopes to develop more effective diagnosis and treatment for airway inflammation in horses. "Right now, distance and time-sensitive procedures are our biggest limiting factors." Acute and chronic lung ailments frequently impact the performance of horses, whether they're working farm animals or compete in dressage, jumping and racing events. Both of these industries create jobs and contribute to the economy, says Montgomery, who is from Germany but came to Canada for a veterinary residency 10 years ago and is staying for the opportunity to build a research program. In addition to the direct applications of her work, there are similarities between airway diseases in horses and human asthma, and advances resulting from the mobile lab could lead to a better understanding of this complex, debilitating condition that affects roughly three million Canadians.
University of Lethbridge - The Vision Cross Digital Library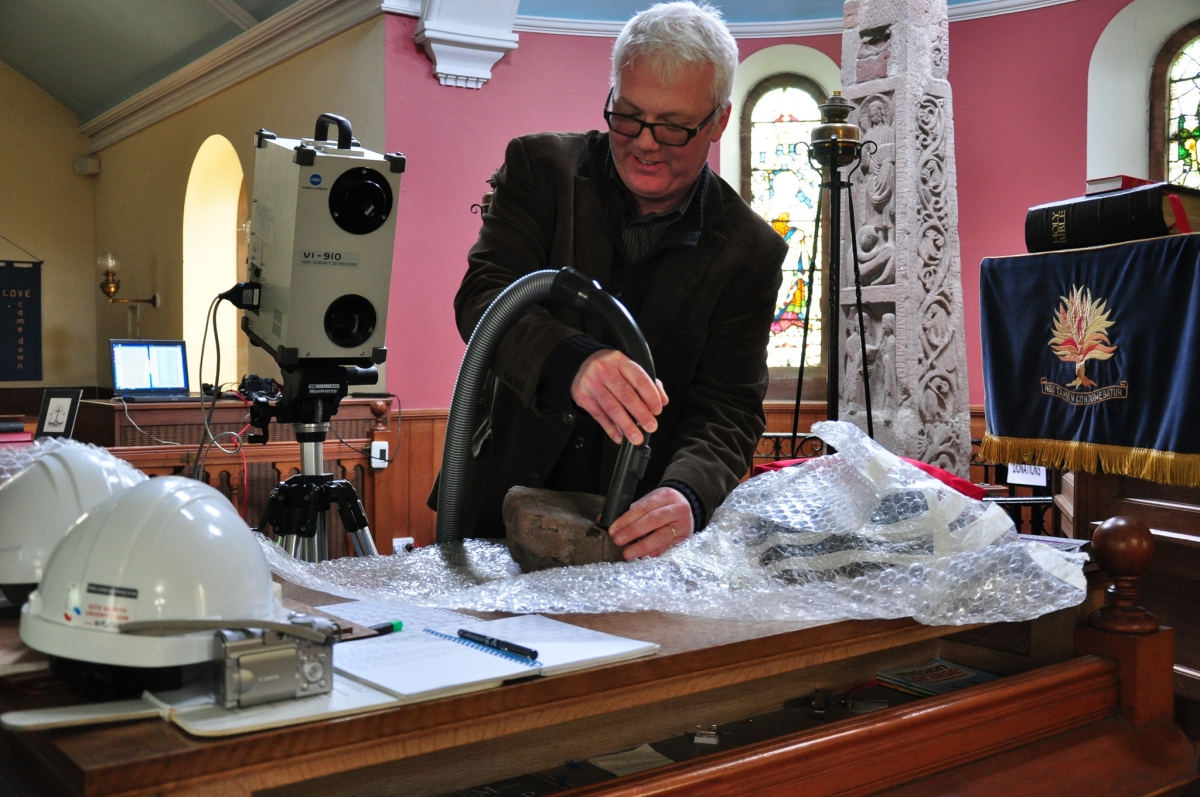 The University of Lethbridge's Daniel O'Donnell uses a 3-D laser scanner to scan a fragment of the Ruthwell Cross at the Ruthwell Church in Dumfriesshire, Scotland, in 2012.
Credit: The Visionary Cross project
The inscriptions carved into the Ruthwell Cross, an eighth-century, 17-foot-tall stone monument on display in a Scottish church, may be the oldest surviving Anglo-Saxon poem on the planet, and with the help of the Visionary Cross Digital Library, researchers from around the world will be able to analyze and interpret its significance without leaving their desks. Daniel O'Donnell, an English professor and digital humanities expert at the University of Lethbridge, together with his colleagues James Graham and Wendy Osborn, will use CFI support to purchase computers with large, high-resolution screens, fast graphics cards and extra RAM that are powerful enough to process 3-D laser scans of the cross and other important texts and objects in Anglo-Saxon England. "This funding allows a small university on the prairies to have a large footprint," says O'Donnell, who moved to Lethbridge nearly 20 years ago after attending graduate school in the U.S. and working in the U.K. "This is a new way of understanding cultural heritage material," he adds, explaining that the open-access, fully searchable and annotated digital archive will be a resource for both scholars and a popular audience. "The more you put it out there and let people play with it, the better we will be able to explore and understand." The digital library project is also training students for and generating interest in cultural tourism, a growing industry in Canada and beyond.
View photos of O'Donnell and his research team scanning the Ruthwell Cross in Dumfriesshire, Scotland in 2012.
Université Laval - Comprehensive assessment of musculoskeletal disorders: from the laboratory to the workplace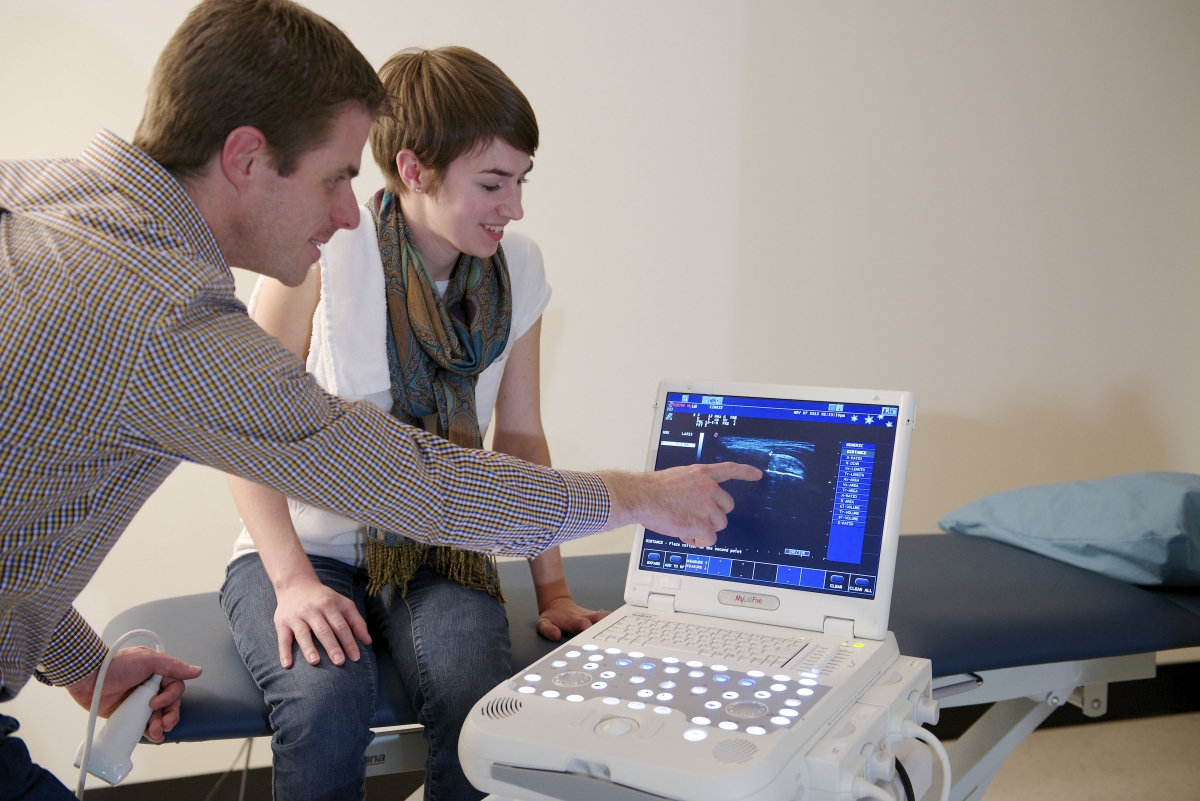 Researcher Jean-Sébastien Roy demonstrates an ultrasound imaging system to graduate student Corinne St-Pierre in his lab at the Université Laval's Center for Interdisciplinary Research in Rehabilitation and Social Integration.
Credit: Center for Interdisciplinary Research in Rehabilitation and Social Integration
Lower-back pain and other musculoskeletal disorders can feel like workaday concerns, but they are the leading cause of disability in Canada. Jean-Sébastien Roy, a researcher in Université Laval's Faculty of Medicine and at the Center for Interdisciplinary Research in Rehabilitation and Social Integration, wants to better understand the causes and evolution of these disorders, and develop more effective treatments. CFI support will allow Roy, together with his colleagues at Laval, Laurent Bouyer and Catherine Mercier, to purchase state-of-the-art equipment, including an ultrasound imaging system, which can be used to get a real-time view of tissue damage in muscles and tendons. Roy will pair the quantitative information collected with the subjective response of a human evaluator to find ways to more accurately predict the outcome of interventions. He will also acquire small wireless electrodes that people can wear under their clothing that he'll use to determine how specific activities lead to musculoskeletal disorders in real-world workplaces. "Usually, you bring people to a lab and evaluate them, which is artificial," says Roy, whose research focuses on upper body and shoulder disorders. "Now we can better understand how people get hurt and try to reduce the prevalence of injuries." Workplace injuries lead to absenteeism and lost productivity and have a huge economic cost, not to mention their impact on wellbeing. So, while Roy's work is partially focused on new rehabilitation techniques, "the overall goal is prevention," he says, "because it's better to prevent than to treat."
Royal Roads University - Metal Bioavailability in Canadian Urban Parks
Matt Dodd holds a jar of soil from a beach near his lab at Royal Roads University in Victoria, B.C.
Credit: Dan Anthon, Royal Roads University Media Services
When Matt Dodd's kids were young, he would watch them crawl around playgrounds and wonder about contaminants in the ground. Those thoughts have motivated his work as an environmental analytical chemist at Royal Roads University in Victoria, B.C. They are also at the core of his Metal Bioavailability in Canadian Urban Parks project, which will search for toxic chemicals, such as lead and arsenic, in parks and beaches throughout Alberta and B.C., and help researchers develop more efficient ways to remediate polluted locations. Funding from the CFI will support the purchase of an inductively coupled plasma-mass spectrometer and other equipment to assess the bioavailability — the ability to enter the bloodstream — of metals in soils collected from parks and beaches. In the past, arsenic was used in wood preservatives, and lead paint was used on playground structures; parks in heavy-traffic areas or near industrial sites are also exposed to these and other metals. If ingested or inhaled by children, lead can impact neural development, while arsenic produces a range of health effects. Soil properties, such as pH and the amount of organic matter present, influence the bioavailability of these metals. Dodd's project will assess which types of soil and soil amendments make potentially toxic substances more inert, and this knowledge could lead to improved remediation techniques. "The key will be to identify hotspots and reduce the bioavailability of metals," he says. "If we can deal with problem spots now, we won't expose kids to lead and arsenic."
McMaster University - The Origins of Life Laboratory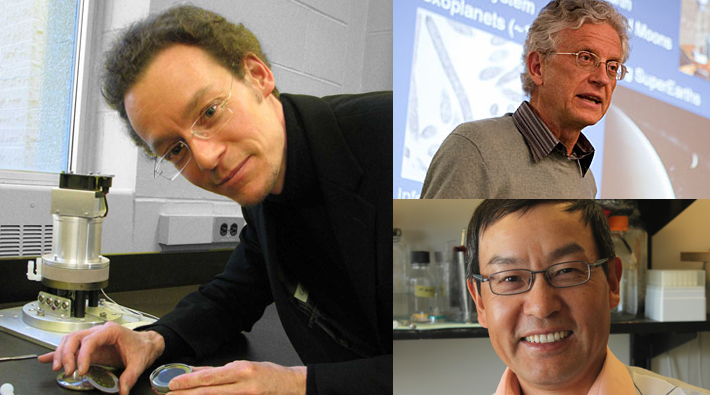 Clockwise from left, biophysicist Maikel Rheinstädter in his lab, astrophysicist Ralph Pudritz and biochemist Yingfu Li, all of McMaster University.
The Origins of Life Laboratory at McMaster University's Origins Institute has an ambitious goal — a quest to understand how cellular life emerged on Earth around 3.5 billion years ago — but to biophysicist Maikel Rheinstädter, the project is fairly simple. You need three things to create a cell, he says: a membrane, enzymes to facilitate certain reactions, and molecules such as DNA and RNA to store information. Put these things together inside a simulation chamber that replicates the volcanic conditions on early Earth, adjust and cycle the temperature, humidity level, radiation and other factors, and you may be able to solve a mystery that has puzzled scientists for more than a century. Rheinstädter has teamed up with astrophysicist Ralph Pudritz and biochemist Yingfu Li, and the trio from McMaster will use CFI support to custom build two unique-to-Canada chambers that will be able to mimic daily and seasonal cycles and simulate hundreds of years in a couple of days. The results of their experiments could answer fundamental questions about the evolution of life on Earth and the ability of other planets to support life, and lead to a better understanding of functional RNA, which has many medical and biotech applications. "Interdisciplinarity is the key to this project," says Rheinstädter, who was drawn to Canada in 2009 by a CFI grant after stints in Germany, France and the U.S. "By learning how cellular life first formed, we will create so much knowledge about how things work at a molecular level."
Ottawa-based writer and editor Dan Rubinstein is the author of Born to Walk: The Transformative Power of a Pedestrian Act (borntowalk.org).
Stay connected
Keep updated on:
Funding programs
Stories on cutting-edge research
Events ... and more.
Stay connected
You're all set!
Just keep an eye on your inbox for a confirmation email.