Walking safely on icy sidewalks
Walking safely on icy sidewalks
An insole that improves balance, developed at the Toronto Rehabilitation Institute and Wilfrid Laurier University, is now sold across Canada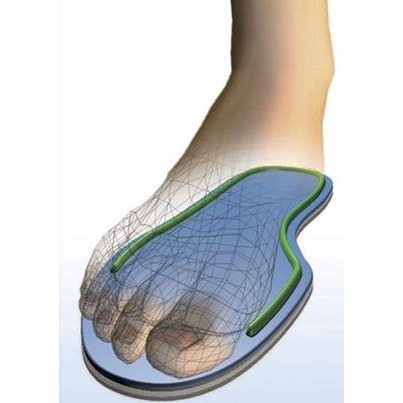 Thousands of pressure sensors on the soles of our feet provide information
that help balance our body weight. As we age, we lose sole sensitivity and
risk falling more easily. Sole Sensor, an insole developed by Stephen Perry
at Wilfrid Laurier University, enhances sensory perception on the soles of our
feet, improving balance and reducing risk of falling and injury.
In Canada, fall-related injuries cost the economy an estimated $2.8 billion annually. But few people are aware that 20 percent of people who break a hip die within a year. Toronto Rehabilitation Institute and Wilfrid Laurier University researcher Stephen Perry is collaborating with colleagues at both institutions to improve the statistics.
The team created the Sole Sensor as part of Perry's Ph.D. dissertation. It is a simple footwear insole that improves balance by stimulating tiny sensors along the outer edges of the sole — an area that loses feeling with age. The Sole Sensor is licensed and produced in Canada by the AJ Hart Group, a private company based in Kleinburg, Ont., which employs 20. Sole Sensor sells for $29.99 through select pharmacies and home health care stores across Canada and it has recently entered the Australian market.
You may also be interested in: