Tiny particles, big questions
Tiny particles, big questions
As nanoparticles become more pervasive in consumer products, researchers rush to figure out what happens to them once they are in the water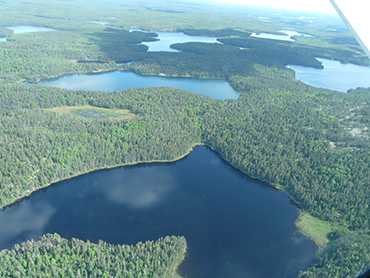 The movement of silver nanoparticles in water and into sediments, plankton, insects, fish and other creatures is being studied at Lake 222 (shown here in the foreground) at Ontario's Experimental Lakes Area.
Credit: Marguerite Xenopoulos, Trent University
One of the greatest technological trends in the past 15 years is the rise of engineered nanoparticles. Typically smaller than a virus, these tiny particles can be programmed to deliver cancer drugs directly into tumours, clean pollutants from lakes or create ultrafast computers. Today, nanoparticles are used in thousands of consumer products. Silver nanoparticles, for example, have antimicrobial properties and can be found in socks, shoes, cutting boards and baby bottles.
However, while nanoparticles seem to offer endless societal benefits and industry is spending billions of dollars to create them, there's been comparatively little research into their potential risks. When socks, clothing or bottles containing silver nanoparticles are washed, for instance, some of the particles are flushed down the drain and enter the water supply. They are small enough to pass through cell membranes, but no one knows how these bacteria-killing silver nanoparticles affect aquatic food webs or how long they persist in the environment.
For the past three years, Marguerite Xenopoulos, a biology professor at Trent University, has been trying to answer critical questions like this through the Lake Ecosystem Nanosilver Project, based at the Experimental Lakes Area in Northern Ontario. The project involves releasing precise amounts of silver nanoparticles into one of the lakes and monitoring their movement in water and into sediments, plankton, insects, fish and other creatures.
A better understanding of nanoparticle life cycles in aquatic ecosystems will be crucial as governments develop policies for nanoparticle manufacture, use and release. It will also be essential for safeguarding environmental and human health.
"If nanoparticles have the potential to be detrimental to the aquatic environment, maybe we should be putting the brakes on," says Xenopoulos. "Right now, the most worrisome aspects of nanoparticles are the unknowns."
Main image: Silver nanoparticles shown in yellow. Credit: Investigación y Desarrollo
Originally posted June 2014