Safety haven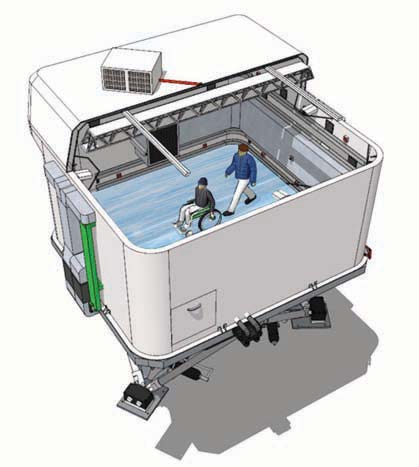 If Canadian postal workers were to design the perfect winter boot, it would help them avoid slipping on icy walkways, stop them from missing their truck brakes while driving and keep them from getting their crampon spikes stuck in wooden porches.

If the hearing impaired were looking for a hearing aid that would help them easily cross busy streets, it would respond to rapidly changing weather, traffic and visual conditions.
And if seniors were struggling with mobility problems, they would look for stairway configurations that would help them safely and efficiently get to the next level.

Researchers at the Toronto Rehabilitation Institute (Toronto Rehab) now have a facility to tackle all these problems. The Challenging Environmental Assessment Lab (CEAL) opened in November as part of the new $36 million iDAPT Centre for Rehabilitation Research.

iDAPT, which received more than $13 million in funding from the Canada Foundation for Innovation, is the most technologically advanced rehabilitation research centre in the world and defines "challenging environment" in the broadest sense. The StreetLab, for example, is a room-sized chamber whose walls visually reflect the actual street life and street sounds of University Avenue, on which Toronto Rehab is situated. "People can see real graffiti and look inside store windows to see what is being sold," says Geoff Fernie, a mechanical engineer and vice-president of research at Toronto Rehab. 
But more important, the StreetLab includes treadmills and platforms whose elevations can be changed to reflect the real conditions that both walkers and people in wheelchairs actually experience when trying to get around, extremely useful for companies trying to develop such new products as visual hearing aids for safer movement.

In the WinterLab, floors can be turned to ice and covered with snow, while huge fans blow gusty winds. Movable harnesses hooked to the ceiling prevent subjects from falling and breaking bones during testing.

The StairLab allows staircases to be customized with different treads, inclines, handrails and twists. Cameras record every misstep and near fall as people in safety harnesses test the usability of new designs.

Falls, both inside and outside, are a significant issue for our health-care systems. In 2005, the Public Health Agency of Canada reported that falls were the second leading cause of injury-related hospitalizations in Canada after car accidents.

Falls can lead to a loss of independent living, autonomy and mobility or even death. They are also costly. "Stair falls cost us a million dollars an hour in Canada,"  says Fernie, adding that with CEAL, iDAPT (Intelligent Design for Adaptation, Participation and Technology) now has nine research teams, 200 graduate students and 30 researchers.

Part of what makes iDAPT unique is a specially designed hydraulic motion-simulator base on which different testing chambers can be placed. While the chambers generate various weather, terrain and slope conditions, the simulator changes incline and height. In the future, researchers also hope to simulate the bumps and drops experienced while driving and flying.

There is a growing need for this kind of facility, says Fernie. In an era where baby boomer aging is on everyone's mind, CEAL is a way of "raising the profile of rehabilitation research," he says. "I wanted an environment that not only did good science but also allowed me to attract the best students."

But Fernie also knows that good ideas and good science must be applied to benefit those in need of rehabilitation.

"Ideas don't mean anything in our field until you can translate them into something tangible," he says. "So the big emphasis here is moving ideas to inventions and products and doing it quickly and efficiently."