Rethinking waste water
The University of Calgary is partnering with its home city to make drinking water safer through next-generation wastewater treatment systems
Though it looks as clear and clean as drinking water, the effluent flushed daily from municipal wastewater treatment plants contains hundreds — perhaps thousands — of chemicals from residential, commercial and industrial sources. Scientists believe some of these compounds may be responsible for abnormalities in fish, amphibians and other wildlife that inhabit freshwater streams, rivers and lakes.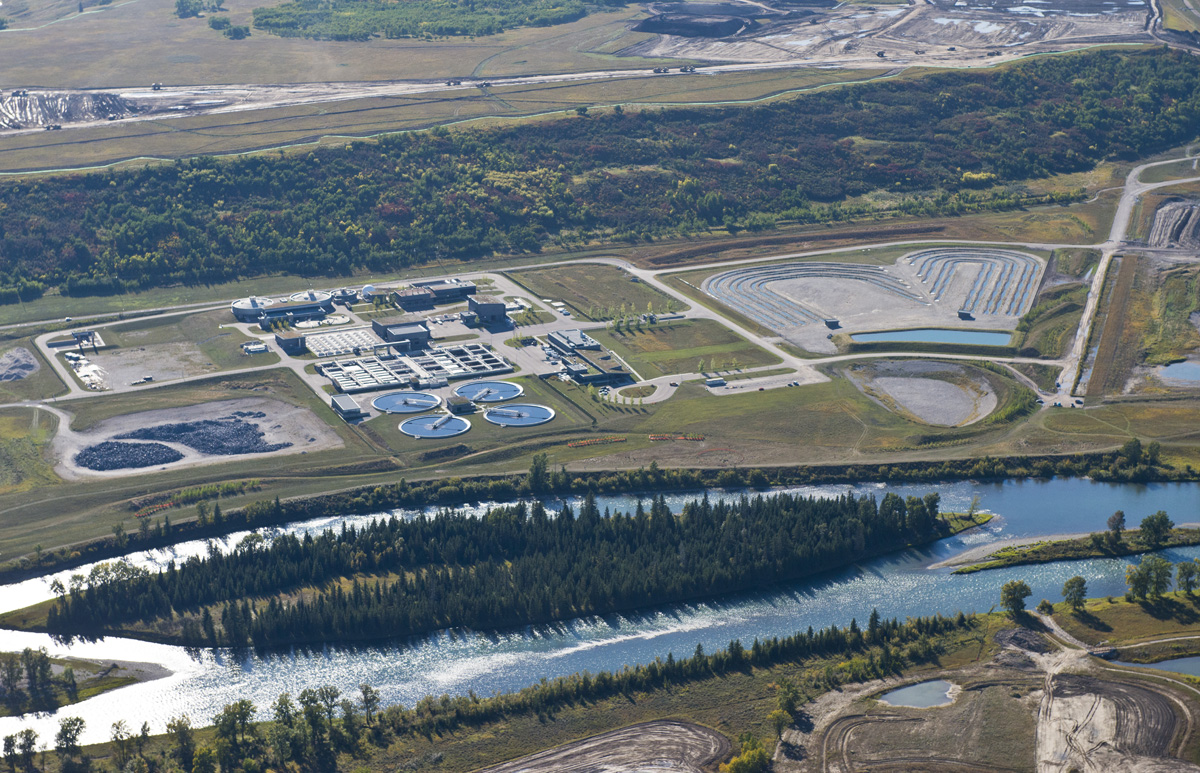 Calgary's Pine Creek Wastewater Treatment facility includes twelve
J-shaped research streams (middle ground, right) which replicate
hydrological features of nearby Jumping Pound Creek.
Credit: Keith Walker, Peak Experience Imagery
Traces of these chemicals also wind up in municipal drinking water and researchers suspect they could be causing a number of serious human health problems, including early onset of certain types of cancers and lowering sperm counts for men, which leads to difficulty conceiving.
Researchers in several countries are studying these issues, but few are working on quite so grand a scale as those involved with the Advancing Canadian Wastewater Assets (ACWA) facility, located on the banks of the Bow River in southeast Calgary. 
The $38.6-million project, funded by the Canada Foundation for Innovation and the Alberta government, is a unique joint venture between the University of Calgary and the City of Calgary, but will be put to use by research partners from Dalhousie University in Halifax, the University of New Brunswick in Fredericton, Trent University in Peterborough, Ont., and the University of Alberta in Edmonton. The work done here will help in the   development of alternative wastewater treatment systems that municipalities can use to remove potentially harmful contaminants from effluent to make drinking water safer and protect the ecology of water bodies.
READ: University of Calgary opens the Advancing Canadian Wastewater Assets (ACWA) facility in partnership with the city to develop new wastewater treatment technologies
ACWA scientific director Leland Jackson, a professor in the Department of Biological Science at the University of Calgary, says the facility includes three renovated laboratories on the university campus that include equipment for biological and chemical analyses of water samples, but the centrepiece of the research facility is located at the city's five-year-old Pine Creek Wastewater Treatment Plant.
There, Jackson and his team have created an enormous outdoor laboratory — one easily visible to passengers on commercial aircraft approaching Calgary International Airport. Twelve J-shaped trenches are carved into the surface of a large clay pad measuring 200 metres by 400 metres and ranging from two metres to nine metres thick. The streams are each 320 metres long, about twice as long as a football field, and include sequences of riffles and pools. These features replicate the hydrological conditions of a nearby waterway called Jumping Pound Creek, which the researchers chose as a model to create a more true-to-life environment than typical lab-scale experiments provide. The research streams have been filled with water drawn from the Bow River, and populated with algae, amphibians, small fish and insects typical of the Bow.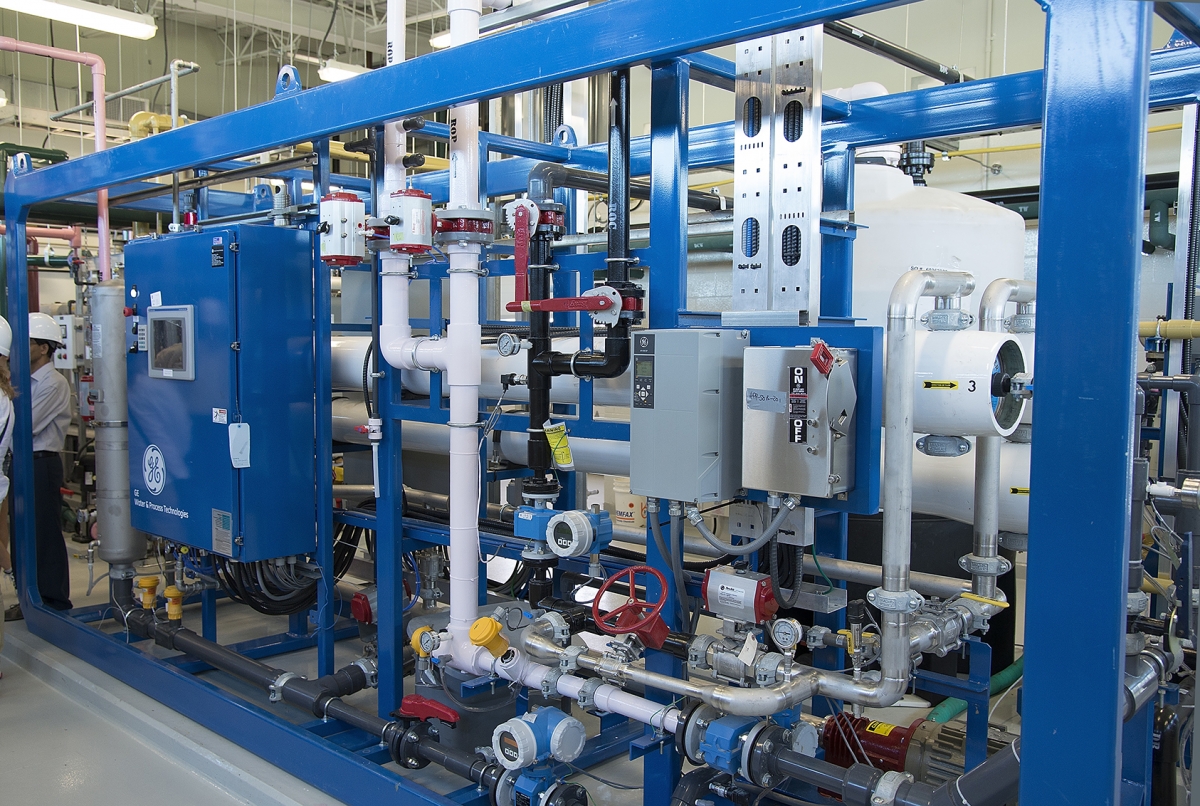 The Advancing Canadian Wastewater Assets' (ACWA) wastewater
treatment plant is scaled to treat volumes of water characteristic
of a town of about 5,000 people. ACWA researchers will use the
reverse osmosis system shown here, and three other systems, to
treat effluent from Calgary's Pine Creek facility.
Credit: Leland Jackson
The researchers have also built a small-scale wastewater treatment plant on site where effluent treated by the Pine Creek plant will be analyzed to determine what chemical compounds it contains. The effluent will then be treated by one of four processes not normally found in municipal wastewater plants which are designed to either filter out or chemically break down those contaminants.        
As a final test, the effluent will be pumped into the research streams under various controlled conditions depending on what type of experiment is underway, and Jackson or other researchers will attempt to assess the impact of certain chemicals on the flora and fauna in the streams. The size of the whole operation is a far cry from the small-scale, indoor labs to which waste water  researchers have typically been confined.
"We're trying to connect the dots in a mechanistic, experimental way," says Jackson, "to determine which of the contaminants in that broad mixture we should be most concerned about, based on the responses of the organisms."
Jackson hopes that some of what they learn will inform municipal decision makers about the effectiveness of advanced wastewater treatment technologies as well as the public health risks of releasing effluent contaminated by certain chemicals.  
Meantime, municipal officials in Calgary anticipate a number of benefits from the partnership with ACWA including immediate access to leading researchers and cutting-edge breakthroughs in municipal wastewater technologies. "We're a big city on a small river and we already have advanced wastewater treatment," says Nancy Stalker, manager of water quality services. "Partnering with ACWA allows us to be proactive and to stay at the forefront of further advances."
You may also be interested in:
Stay connected
Keep updated on:
Funding programs
Stories on cutting-edge research
Events ... and more.
Stay connected
You're all set!
Just keep an eye on your inbox for a confirmation email.