Preserving knowledge, empowering communities
Preserving knowledge, empowering communities
Mapping software brings Inuit oral culture to life
For decades, cartographers have made maps of northern Canada, portraying it as a big, empty space with European place names so that people around the world, most of whom would never visit the Arctic, could imagine cold, exotic locations.
But if northerners made their own maps, what would they look like? What would Inuit put on them? Inuktitut place names, for one, and traditional trails. They'd map sea ice and play the voices of elders talking about animal migrations. Inuit come from an oral tradition: They would want their maps to talk and to move.
For Fraser Taylor, who coined the term "cybercartography" to describe a new form of multi-sensory, multimedia, interactive atlas, this was the perfect challenge.
An award-winning and world-renowned geographer at Carleton University's Geomatics and Cartographic Research Centre in Ottawa, Taylor has been working with colleagues since 2005 to help Inuit map their land, their way.
"Our multimedia cybercartographic techniques fit so well with their oral culture," says Taylor. "Print is totally inadequate to capture the Inuit storytelling traditions."
Taylor recently received funding from the Canada Foundation for Innovation (CFI) to support much-needed hardware replacement and upgrades to his open-source map-making software he calls Nunaliit ("settlement," "community" or "habitat" in Inuktitut). Nunaliit has been used to map everything from the risk of urban homelessness in southern cities to snowmobile trails.
For his northern work, Taylor teamed up with Claudio Aporta, an associate professor in Carleton's department of sociology and anthropology who specializes in northern indigenous knowledge. With Aporta's connections and a host of northern partners, they helped Inuit create several online atlases that allow users to experience Nunavut from the inside out.
Taylor says it is crucial to record that perspective now, since language and local knowledge — of the land, the weather, the animals and more — are disappearing due to rapid social, climatic and economic changes.
"In an oral tradition, knowledge dies with the holder of the knowledge," says Taylor. "We need to escape from our silos of specialization into more holistic views of realities not just in northern communities but in all communities and all science."
It's Nunaliit's flexibility that makes it so special. It can handle multiple forms of data, including video, audio, office documents and mapping documents. In this way, users can map whatever, and however, they want.
The Inuit siku (sea ice) Atlas, for example, contains a wide range of information about the ice around Baffin Island, including translated interviews with hunters on the importance of sea ice and travelling and their observations on how the ice is changing and why.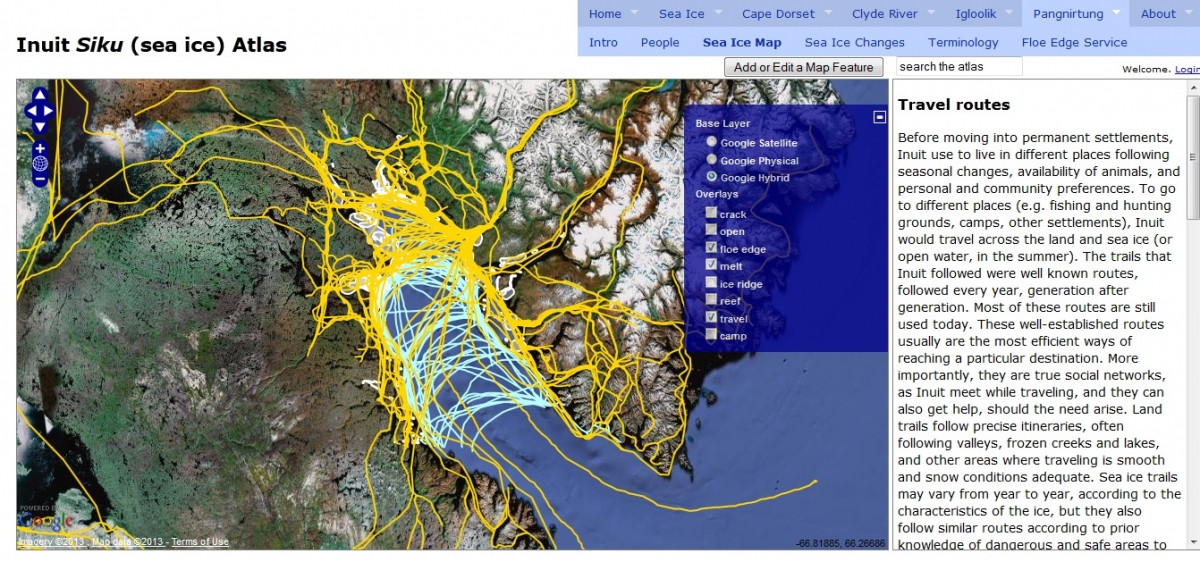 Carleton researcher Fraser Taylor has developed mapping software that enables Inuit to make their own online maps to help preserve their oral culture and traditions. The map shown above documents a variety of things, from ice cracks to trails and camp locations.
Photo credit: Inuit siku (sea ice) Atlas
Sea ice data is critical not only for Inuit, says Taylor. Localized observations are valuable to researchers around the globe who study the Earth's cryosphere.
Some of the CFI funding will go to building local servers — the "distributed data" portion of the project — so that residents can store and retain control over their content. This concept of indigenous empowerment is key to Taylor's work. He wouldn't do it otherwise.
Cindy Cowan, Director of Community & Distance Learning programs at Nunavut Arctic College in Iqaluit, met Taylor through the Arctic Bay Atlas project. The college now uses Taylor's cyber atlases to teach students and adults how to participate in external research and conduct their own research using Taylor's software to collate their data.
The atlases also help demystify science for adult learners, says Cowan, many of whom live in small communities, speak Inuktitut as a first language and may not have had the opportunity to graduate from high school. Inuit discover how they can pursue topics they find relevant and useful.
And the atlas projects also create a profound power shift, since they allow Inuit to switch roles from specimen to scientist. "To my mind, it's a profound tool for reversing discrimination," says Cowan. "Whose knowledge is privileged? Whose world view is privileged? There have been colonizing relations between Canada and Inuit, between researchers from the South and those who have been researched, and I think we need to decolonize that process. Fraser's work, Nunaliit software, and his vision for how it might be used, is a decolonizing methodology."
As an added bonus, says Cowan, the atlases appeal to youth who yearn for a connection to their elders and the past but who live in a digital world. In building atlases of their communities, they are building bridges between the two worlds.
You may also be interested in:
Stay connected
Keep updated on:
Funding programs
Stories on cutting-edge research
Events ... and more.
Stay connected
You're all set!
Just keep an eye on your inbox for a confirmation email.