New app system eases the pressure
New app system eases the pressure
U of T industry collaboration produces tool to alert wheelchair users of developing pressure zones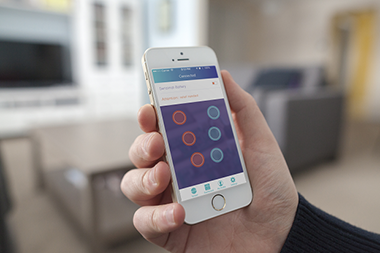 ENSIMAT is a novel app that helps wheelchair users avoid developing harmful pressure sores. The system is made up of a pressure-sensing wheelchair seat cushion connected to a phone app that alerts users of pressure building up in areas of the body, reminding them to move positions.
Photo credit: David Mravyan, Sensimat Systems Inc.
In Canada, pressure sores are the leading cause of infection, hospitalization and mortality for wheelchair users, but a new system that links a pressure-sensing cushion to a smartphone application can help.
Pressure sores are triggered by poor circulation and increased pressure in parts of the body typically due to sitting or lying down in one position for too long. The annual healthcare cost to treat them is estimated at more than $14 billion. David Mravyan of Sensimat Systems Inc. and the University of Toronto's (U of T) Milos Popovic, hope to reduce these figures by helping wheelchair users manage the build-up of pressure.
The system they developed, SENSIMAT, consists of a sensor-lined mat placed beneath the seat cushion of a wheelchair. Once the user sits in the chair, Bluetooth technology sends signals from the pressure-sensing mat to a smart phone app that alerts the user when and where pressure has begun to build up. With these alerts, users know to shift position and perform different movements. The app even allows users to set goals and keep track of progress for the number of actions made each day to relieve pressure.
Alerts can be monitored remotely, so the system is ideal for caregivers of people with limited or no mobility. Occupational therapists can also use the app to track their patients' level of activity outside clinical settings.
SENSIMAT, which was patented in 2012, has undergone validation testing with wheelchair bound users at the Toronto Rehabilitation Institute, a teaching hospital affiliated with U of T. Mravyan says this testing was critical to his business. The relationship with Toronto Rehab is an ongoing one and it is very important for the company because Toronto Rehab has access to Sensimat Systems' desired end users. To make sure the product has the biggest impact, the company has to make sure it works.
Thirty units have already been pre-sold as SENSIMAT works on manufacturing specifications. The app will be sent to Apple's app store in June and then to Android's store before a web portal is built for an official launch later this year.