Life after service
Mount Saint Vincent University's Maya Eichler is establishing a new centre to study military affairs across disciplines, including the particular challenges women face when returning to civilian life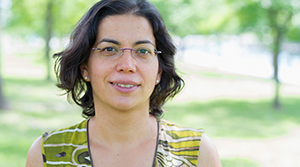 Maya Eichler is a professor of political and women's studies
at Mount Saint Vincent University in Halifax. This summer
she will establish the new Centre for Social Innovation
and Community Engagement in Military Affairs, funded in
part by the Canada Foundation for Innovation.
Credit: Youssef Sawan
One January day Mary Claire Caine, a U.S. Air Force veteran, found an angry note under her windshield. Its author was incensed that she'd parked in a veterans-only space. "I think they took one look at me when I got out of my car," Caine told her local TV station, "and saw that I was a woman and assumed I wasn't a veteran."
When Maya Eichler, a professor of political and women's studies at Mount Saint Vincent University in Halifax, caught wind of this story, she was dismayed but not surprised. "If you think of a veteran in your mind, you probably see a man," she says. "Women are not present in our stories of veterans."
Eichler ought to know. Author of Militarizing Men: Gender, Conscription and War in Post-Soviet Russia, Eichler's academic expertise encompasses global gender issues, military reform spurred by women (particularly mothers of Russian soldiers) and the persistent connection between masculine and military ideals. She's now applying her understanding of gender norms to the reintegration of veterans into Canadian society.
This summer, Eichler, who holds the Canada Research Chair in Social Innovation and Community Engagement, will establish Mount Saint Vincent's new Centre for Social Innovation and Community Engagement in Military Affairs, funded in part by the Canada Foundation for Innovation. The centre will be a place, Eichler hopes, "for new conversations across the military-civilian divide." It will also be ground zero for her own investigations, in particular a new study, the first of its kind, about how gender may affect the shift from military life for Canadian soldiers. "There will be overlap," she says. "Male and female veterans will grapple with the same issues around mental health, finding employment, and so on. But there will also be gender-specific issues. It's a question about how ideas around what it means to be a 'real' man or a 'real' woman influence how a soldier can transition back to civilian life."
Groundbreakers: a podcast series
From the laboratory to the library stacks to the deep sea: Three women reflect on breaking down barriers in research
Aside from her own research, Eichler has brought together a group of Mount Saint Vincent academics interested in military issues across disciplines. "We want to collect a more diverse set of stories of war," she says. "Not just the story of soldiers and veterans, but of refugees, peace activities, family members. People's experiences make the story of war more complicated. That's what bringing gender into the debate accomplishes. It's a more realistic, more empirically accurate account of the waging of war: the public and private long-term costs, the social and human costs. It's not just about bringing women in."
But "bringing women in" is a start. Research on veterans in Canada has ballooned in the past five years, since the 2010 founding of the Canadian Institute for Military and Veterans' Health Research (CIMVHR), a network of 36 universities. However, though 15 percent of Canadian soldiers are female, and nearly 10 percent of Canadians deployed during the 2001-2014 war in Afghanistan were women, most of that research focuses on men. "We're thrilled with the work Maya's doing," says CIMVHR's director, Alice Aiken, chair of the physical therapy department at Queen's University in Kingston, Ont., and a veteran herself. "It's novel for gender to be explored in terms of transition. I do think it's important. You have different experiences when you're in. You have different experiences when you're out." Aiken believes that Eichler's findings might be counterintuitive, however. "My guess is women have an easier time of it: we're better at selling ourselves, we've always had to, especially in a male-dominated environment."
Women's work
A video that looks at the state of women in the fields of science and technology in Canada, produced to mark the centennial of International Women's Day on March 8, 2011
Medric Cousineau, an outspoken Canadian forces veteran and founder of Paws Fur Thought, a nonprofit organization that pairs service dogs with Canadian Forces veterans, has his own hunch. He thinks Eichler will find that the isolation veterans face in mainstream society — "No common experience is a great place to start" — is intensified for women. "Fifty years ago women in the military were clerks and nurses," says Cousineau. "Now you've got women doing some pretty intense things. When they transition back to the mainstream of society, people aren't going to understand what it is they've done."
The little we know of female veterans' experiences, gleaned from Veterans Affairs "life after service" surveys, suggests they do have particular struggles. Women on average suffer a greater drop in income, and according to at least one study, are more likely to suffer post-traumatic stress disorder. A recent rash of U.S.-based studies, meanwhile, reveal that former women soldiers are less likely to seek the benefits they are entitled to, and more likely to suffer trauma related to sexual assault during their service. They also struggle in the face of stereotypically feminine ideals. "Female veterans might have adjusted their gender identities to fit in and prove themselves," says Eichler. Outright invisibility is a factor, too: "Female soldiers' own families don't necessarily acknowledge that they were at war. They don't recognize them as real soldiers." As for men, U.S.-based research tells us that a need to conform to masculine ideals can deter male veterans from seeking help. "It's seen as weak," says Eichler.
Cynthia Enloe, a political science research professor at Clark University in Massachusetts with a specialty in military and gender issues says that analyzing post-military life in this way can break open our perspective on society as a whole. "The subject is not just the veteran but Canadian civilians. What they expect or don't expect of male and female veterans. What they don't want to hear or are eager to hear," she says. "What comes out are the ideas and pressures that come from the people with whom veterans live their lives: workmates or bosses or family members or friends."
Maya Eichler  is project leader on a project funded through the Canada Foundation for Innovation's Leaders Opportunity Fund (now named the John R. Evans Leaders Fund). She will attend the 2015 Congress of the Humanities and Social Sciences to present "The struggle over veterans policy: neoliberalism, the third sector, and the new veterans movement" as part of a session called "Social Economy, Voluntarism and Measurement"  at the Canadian Political Science Association conference on Thursday, June 4. This article was originally published in March, 2015.
This story was originally published in May 2015.
You may also be interested in:
Stay connected
Keep updated on:
Funding programs
Stories on cutting-edge research
Events ... and more.
Stay connected
You're all set!
Just keep an eye on your inbox for a confirmation email.