A helping hub
Collaborative research centre unites academia and industry to strengthen B.C.'s materials science and engineering sector
When walking into Simon Fraser University's 4D LABS, you would be forgiven for thinking you had stepped off campus and into an ambitious start-up tech firm. 4D LABS is a collaborative research centre that houses some of Canada's most advanced research infrastructure for materials science and engineering. It is a space where both academic researchers and entrepreneurs can connect, collaborate and create.
Philippe Schick, Vice-President, Engineering at Burnaby-based Cooledge Lighting Inc., says he and his team got their company off the ground by working with the labs' researchers.
"We started off as an experienced team of solid-state lighting professionals with a great idea," says Schick. "We were immediately in search of the right facilities for us to execute on our vision, to explore new ideas and market feasibility."
After a global search for the best partner to help them bring their thin-film technology to market, Schick and his team turned to the labs to get their vision and product off the ground. Schick says it is key for a technology start-up to have the flexibility to test different ideas in a short amount of time. 4D LABS provided Cooledge with a ready suite of tools, facilities and people to accelerate early development and help the company find the right combination of materials and processes faster and at a lower cost than it could have on its own.
Since the lab opened in 2007, Neil Branda, the labs' Executive Director and Canada Research Chair in Materials Science and his team have been working in nanomaterial fabrication, imaging and advanced spectroscopy. With more than $7 million in investment from the Canada Foundation for Innovation (CFI), 4D LABS has become a force in British Columbia's growing materials science and engineering sector. Its research capacity has attracted investments and world-class talent to the province.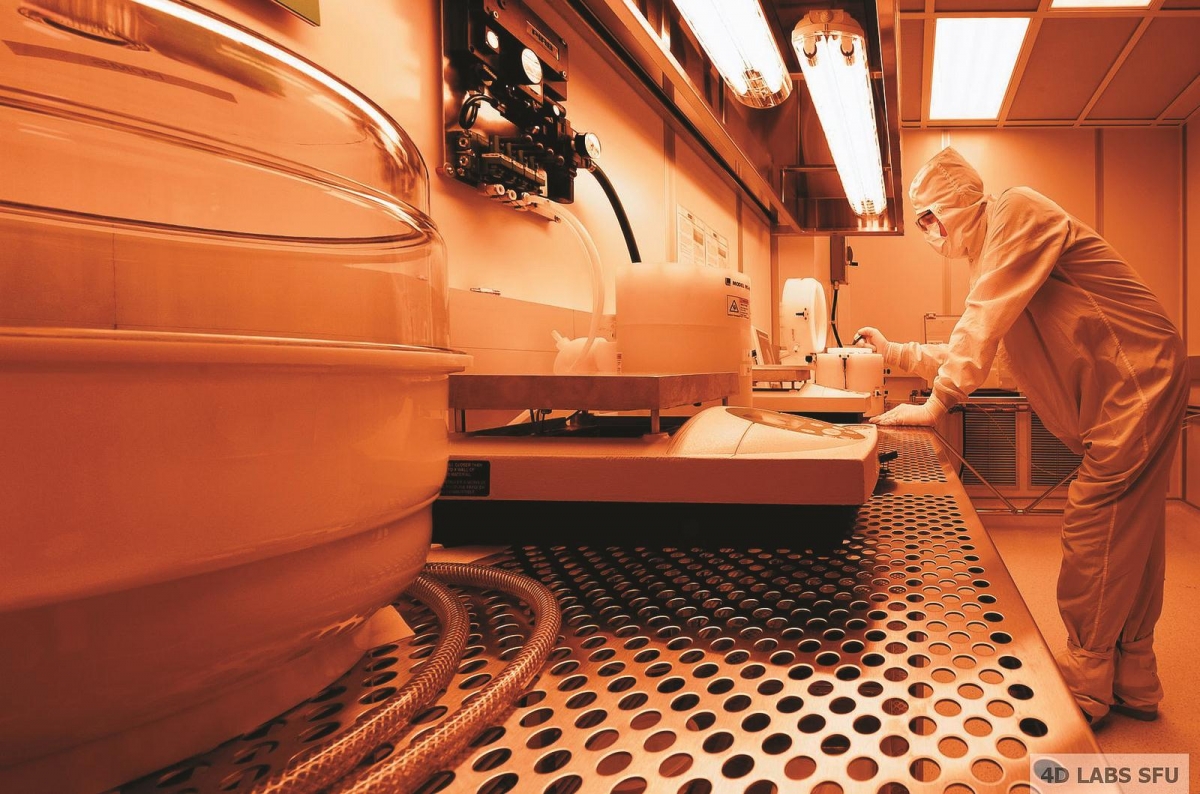 In a clean room at 4D LABS at Simon Fraser University,
a researcher processes PDMS (polydimethylsilane), a
common polymer used in microfluidic chips, tiny circuits
that can be used in biomedical research. 4D LABS is a
collaborative research centre that houses some of
Canada's most advanced research infrastructure for
materials science and engineering.
Photo credit: 4D LABS/Simon Fraser University
4D LABS and a team of collaborators across B.C. are now working to expand the scope and scale of this success. Simon Fraser University, the University of Victoria, the University of British Columbia and the British Columbia Institute of Technology have teamed up to create the Prometheus Project — a research hub for materials science and engineering innovation and commercialization.
"Our goal with the Prometheus Project is to turn our world-class research capacity into jobs and growth for the people of British Columbia," says Branda, who is leading the project. "We know that materials science is changing the way we create energy and fight disease. We think it can also help B.C.'s economy evolve."
Prometheus builds on 4D LABS' legacy of industry collaborations. Researchers involved in the project have already created 13 spin-off companies, filed 67 patents and have generated 243 new processes and products. Branda himself has founded a company called SWITCH Materials Inc. that seizes the power of advanced chemistry to create smarter and more efficient window coatings.
Schick says expanding the labs' successful model through the Prometheus Project will benefit other businesses. "It will provide a great deal of support to small companies such as Cooledge, and will yield great things for Vancouver, for B.C. and for Canada."
You may also be interested in:
Stay connected
Keep updated on:
Funding programs
Stories on cutting-edge research
Events ... and more.
Stay connected
You're all set!
Just keep an eye on your inbox for a confirmation email.