Fixing our lifelines
Queen's University civil engineers have the pulse on the water pipes, gas lines and sewers that lie beneath our feet
We all know it's there, but it's easy to take for granted. Buried beneath the ground is a network of pipes that not only makes your life bearable but also keeps you alive. Just like other types of infrastructure, these old water pipes, gas lines and storm sewers are starting to break down, and fixing them is an expensive undertaking.
The hidden nature of buried infrastructure makes it difficult to maintain. Every underground pipe is affected constantly by the composition of the soil it passes through, as well as the weight and pressure of the soil and vehicle loads above. Any combination of these factors can cause decay and deterioration.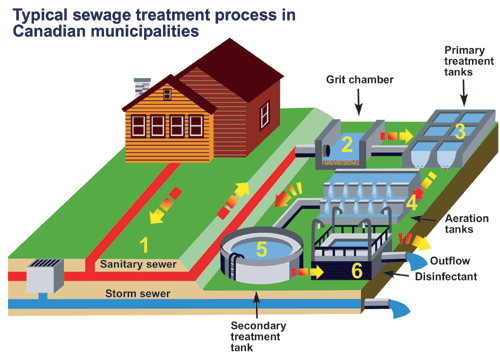 Source: http://www.ec.gc.ca/eau-water/default.asp?lang=En&n=3377BC74-1#quality
"We have to learn how these buried pipes break down and how old pipes behave in their environment," says Ian Moore, a civil engineering professor at Queen's University, in Kingston, Ont. "If we understand what happens with these structures and why, then we can better predict deterioration in the future."
To put those ideas to the test, Moore has developed a one-of-a-kind facility at Queen's to help researchers determine how buried culverts and sewers behave under the earth. Essentially a 3-metre-deep pit roughly 16 by 8 metres, the facility was created, as Moore puts it, "to learn how buried structures fail." It had to be big enough that researchers could have full access and control of all environmental factors affecting the buried infrastructure being studied.
Using the test facility, researchers can learn how buried infrastructure changes and degrades over time due to factors such as soil erosion, microbial action or other physical stresses. The facility features heated baths to accelerate the aging and deterioration of pipe systems, as well as equipment to monitor the dynamics of soil erosion around leaky pipes and the impact on water quality.
By understanding how deterioration happens in a buried environment, engineers can improve design and technology accordingly, while making strategic decisions about when and how best to inspect, repair and replace waste-water systems and other underground infrastructure.
In a sense, Moore's work sums up the overarching challenge of addressing Canada's infrastructure gap. Like bridges, roads and other forms of public infrastructure, these pipes might become almost "invisible" to us when they are properly maintained, but we should never lose sight of how crucial they are in our daily lives.
Stay connected
Keep updated on:
Funding programs
Stories on cutting-edge research
Events ... and more.
Stay connected
You're all set!
Just keep an eye on your inbox for a confirmation email.