Imagine a device that can create electricity, store nuclear waste, remove carbon dioxide from the atmosphere, bring the carbon cycle back into balance, and meet Canada's Kyoto Protocol.
Sounds too good to be true—but is it? Dustin Hughes can tell you that it is possible—in fact, this 17-year-old from South Porcupine, Ontario, has already built the prototype.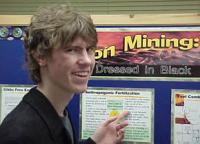 Zoom
Dustin's interest in science began at a very young age, likely because his parents studied science at university and always ensured that there was a National Geographic or a Popular Mechanics magazine on the kitchen table. "In my house," he says, "science is unavoidable—but in a good way!"
Dustin's father, George, will tell you that his son was curious from the time he could speak. "He asked questions about everything in what seemed to be a never-ending stream," recalls George. And it looks like things haven't changed much. Nowadays, "he bubbles enthusiasm, invigorates conversation, interprets his surroundings with insight, has innovative ideas and grand plans about what needs to be done, and takes command of most situations. In a word, he is vivacious!"
In his first experiment at the age of 11, Dustin wanted to know whether his lack of restraint for sweets was normal behaviour. Much to his dismay, after placing several of his peers alone in a room with candy, he found that none of them exhibited the same lack of control around the tasty treats. He learned that he did have an abnormal weakness for sugar!
Although he continues to be fascinated by the study of human behaviour, Dustin now focuses his research on the environment. "To some, the Earth is a simple ball of dirt that sustains life, but to me, it's an amazing structure that regulates and maintains hundreds of natural processes," he says.
The idea for his most recent science project came to him while reading about NASA's manned Mars mission. It was a scientist's suggestion to create fuel by extracting carbon dioxide from the Martian atmosphere that caught Dustin's attention. Aware of the excess of CO2 in our atmosphere, he began to wonder if we could do the same thing here on Earth, and if so, how?
In his preliminary research, he learned that wind columns—structures similar to chimneys—were designed to transport CO2 from industrial plants into the atmosphere, which led him to question if there was a way to reverse this process. On a quest to find an answer, Dustin learned about mine ventilation and inverted wind columns. From there, he was able to engineer the prototype for a device capable of bringing carbon dioxide from the atmosphere back down to Earth.
With an exterior built from coffee cans, he created a wind column like no other. It can remove 26 giga-tonnes of CO2 from the atmosphere per year and convert it into two types of gaseous fuel. In doing so, Dustin's wind column alone has the potential to bring the global carbon cycle back into balance in 50 to 100 years, and meet Canada's Kyoto Protocol within a year. It can also store 50 tonnes of radioactive waste, and generate enough power to sustain the daily electrical needs of a town the size of Timmins, Ontario, with a population of approximately 50,000.
Dustin's research has earned him much recognition, including a silver medal in the Earth and Environmental Sciences category at the Canada Wide Science Fair, and a spot on the Youth Science Foundation's Team Canada 2005. As a part of this team, he travelled to Phoenix, Arizona, for the Intel International Science and Engineering Fair where he won third place in the Environmental Sciences category. But above all, he takes comfort in the knowledge that one day his research may help others. "I am a people person inside and out!" he says.
Dustin will continue to try to answer the infinite number of questions he has about the environment, while following the advice of Ms. Frizzle—a teacher on one of his favourite science-based television shows called The Magic School Bus. Her philosophy is to "go out, take chances, make mistakes, and get dirty!" Dustin firmly believes in this motto. In science, things may not always go as planned, but knowledge is always gained that will be helpful in the future. "It's alright to try and fail," he says, "so long as you try and try again!"
Learn more:
Learn more about Dustin.
Read his research report: "It's Raining… Carbon?"