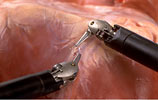 Three days after heart surgery, Randy Klatt was able to get out of his hospital bed, and walk up and down a flight of stairs unaided. Not bad for a man who just had a double coronary bypass. "The nurses were surprised," Klatt remembers with a chuckle.
That was more than two years ago, on October 15, 2004, when Klatt became the first person in Canada to receive a double bypass performed with the help of a da Vinci surgical robot. Dr. Bob Kiaii, a coronary bypass surgeon at CSTAR (Canadian Surgical Technologies and Advanced Robotics) in London, Ontario, did the honours.
Klatt's operation was not the first time CSTAR and Kiaii had made medical history, and it's likely not the last. "In London, we've been pioneers in using the system," explains Kiaii, Director of Minimally Invasive and Robotic Surgery at the London Health Sciences Centre, which houses CSTAR.
In September 1999, Dr. Douglas Boyd, who trained Kiaii, completed the world's first robotically assisted, closed-chest, single coronary bypass operation on a beating heart. Now Kiaii is continuing the work, and Klatt's operation was the first robotically assisted double bypass on a beating heart. It's a trend Kiaii believes will grow, as robotically assisted surgery proves its worth by decreasing patient recovery time and hospitalization costs.
"This technology is a highly specialized surgical tool, and it's going to become an essential tool of the surgeon," Kiaii says. Robotic surgery involves the surgeon sitting at a computer console, where a camera held by one of the robot's three or four arms provides three-dimensional pictures of the organ being operated on. The surgeon guides the remaining robotic arms- which hold specially designed surgical tools-throughout the procedure.
During Klatt's surgery, the console and the robot were located in the same room. But robotic telesurgery opens the door to operations where the distance between the surgeon and the patient could be far greater. The technology could ultimately expand the reach of specialists whose surgical skills are in demand in remote areas, making it ideal for telehealth applications.
While robotic surgery may sound dicey, for Klatt, it meant less risk. An ordinary double bypass operation involves splitting open a patient's chest and stopping the heart while the surgeon performs the bypass. Meanwhile, a heart-lung bypass machine oxygenates the blood and keeps the heart viable.
In comparison, robotic surgery gives surgeons better visibility and dexterity, which is critical to a bypass procedure where delicate arteries must be harvested and sutured together. The surgeons don't have to stop the patient's heart because the technology includes stabilizing devices that hold the heart steady during suturing. In conventional surgery, the surgeons must stop the heart because it's the only way to keep it from moving. Robotic surgery also means making a much smaller incision instead of cracking the chest, as the opening only has to accommodate the small robotic surgical tools instead of a surgeon's hands. "Robotics allow us to perform the same procedures less invasively," says Kiaii. "That translates into better delivery of care."
Benefits
For patients like Randy Klatt, receiving robotic coronary bypass surgery meant a faster recovery time, quicker return to work, and better quality of life.
Instead of spending five to six days in hospital- the typical stay following conventional bypass surgery-patients can go home after three days if they have no complications. Since Klatt had only small incisions instead of a cracked breastbone, he suffered less pain and was more comfortable than patients who had the conventional bypass surgery. Within six weeks after his surgery, Klatt, a power engineer, was back to his regular duties as project manager at a plant in Sarnia, Ontario. A year later, he was scuba diving in Hawaii. "There are no long-term effects at all other than being healthier," Klatt affirms.
While not every heart patient is a suitable candidate for robotic surgery, there is still huge potential for the technology. If more patients received robotically assisted surgeries, the benefits would reach well beyond them, helping ease the costs of Canada's health-care system. Reduced complications and shorter hospital stays save big money.
At the moment, buying a robot between $1 and $1.5 million is a costly prospect. But as surgeons work with manufacturers to improve the robots, they hope costs will eventually go down, so more institutions will have the technology. Dr. Bob Kiaii hopes more hospitals will invest in robots and train their surgeons to use them. "Hopefully we will have better robotic technology in the future," Kiaii says. "As it improves and allows us to approach more diverse groups of patients, it will increase the number of procedures." And that means more happy hearts.
Partners
CSTAR is a collaborative research and education program of London Health Sciences Centre, Lawson Health Research Institute, The University of Western Ontario (UWO), and St. Joseph's Health Care, London.
For CSTAR's telesurgery project, researchers approached Bell Canada to provide expertise and some of the necessary equipment such as a sophisticated wireline and wireless network that feeds images and sound to remote locations. "For us, it was a matter of proving some of the technology and understanding the application well enough to integrate the right pieces together," says Charles Burt, associate director of enterprise sales for Bell. Burt and his colleagues worked with an earlier version of the da Vinci surgical robot in Bell labs to understand how it responds. They also helped researchers at UWO to modify the technology. "I believe that the work CSTAR and others are doing in this area is going to play an important part in health delivery," says Burt. "It's a tremendous tool for support of health care in Ontario and across Canada."