Confucian quest
How a clear vision and long hours in the lab helped Ting-Yim Lee move his new idea in medical imaging from concept to clinical trials
Interview by Stephen Strauss
Ting-Yim Lee is a leader in Canadian medical-imaging research and a great example of the value of brain gain to science in this country. After earning a PhD in England investigating the use of gamma cameras to image blood flow in the brain to determine how it is affected by strokes and head injuries, Hong Kong-born Lee found himself in the midst of the labour unrest and economic uncertainty that characterized Britain in the late 1970s and early 1980s. Seeking a more stable place to raise his family and do research, he was eventually drawn to London, Ont., where hospitals and Western University had begun actively promoting imaging research.
At almost the same moment, a revolution was taking place in computed tomography (CT) scanning that permitted images to be generated in a single second instead of the many seconds required previously. This advance allowed Lee to develop computer algorithms that enabled CT scanners to quickly, clearly and safely image blood flow in the body.
His research so impressed U.S.-based GE Healthcare that it eventually licensed his CT perfusion concept, and the software, now in its fifth incarnation, is currently in clinical trials for imaging blood flow not just in the brain, but in other organs too.
Writer Stephen Strauss spoke with Lee about how he navigated the hurdles to take his idea to market.
Q: Did you always think you were going to be a medical physicist?
A: No. I graduated from Hong Kong University in physics and mathematics, and my career goal then was theoretical physics. But I quickly realized that that was too esoteric and that the medical applications of physics would be more relevant to daily life and more satisfying to me.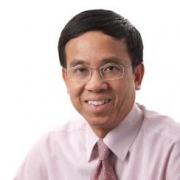 Ting-Yim Lee is a Medical Physicist at St. Joseph's Health Centre, Principal Investigator at the Lawson Health Research Institute and Professor of Medical Biophysics, Diagnostic Radiology and Nuclear Medicine at Western University in London, Ont.
Photo credit: Robarts Research Institute
Q: I read that you had the idea at graduate school for using CT scans to do blood-flow imaging before it was technologically possible.
A: I remember one night I was thinking that if we could make use of a CT scanner, we could get around the blurred images from gamma cameras. I got so excited, I could not sleep that night. Next morning, I inquired at the radiology department but was told politely that it could not be done, as we needed to acquire images of the brain every second or so and CTs couldn't do that.
Q: After getting your PhD, you spent eight years working as a medical physicist in hospitals in the UK and then in Canada. Did that make it hard to get back into research again?
A: On one hand, it was a big disadvantage, because I had years of a career life with no publications and basically no research of any sort going on. But the advantage of all my clinical exposure was that from the very beginning, I set my mind on doing something that was going to be easily and quickly translatable into a clinical setting.
Q: Was it easy in London to get access to hospital CT scanners for your experiments?
A: Yes, with a time catch. We were welcomed to use hospital CT scanners when they weren't being used on patients, and that was basically from nine in the evening to seven in the morning. And for the first 10 years or so, that was my and my students' research work schedule.
Q: How did you get into writing software for analyzing CT scans to produce images of blood flow in different body organs? That sounds more like the skill set of a programmer than of a medical physicist.
A: From my PhD project, I was highly familiar with scientific numerical calculations and software, and because of my desire for perfection, I spent several years working to improve the first version of the CT perfusion software. That led me to develop contact with a GE [Healthcare] applications scientist. When I bumped into him at scientific meetings, I would tell him what I had done and ask him to support more research. And the company generally came up with some money.
Q: Sounds like face to face can sometimes be a better connector than email to email.
A: Yes. After three or four years of this gestation period, my GE contact said that GE wanted to license my CT perfusion approach because it saw the merits of my software, but we had to sign a licensing agreement in a month.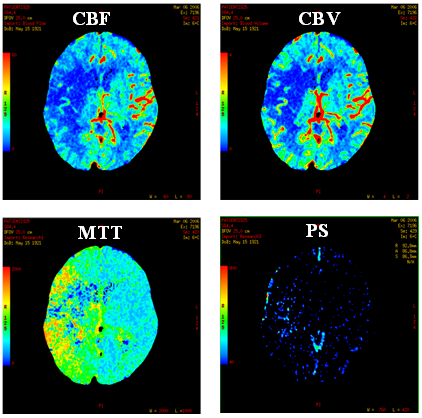 Physicians using CT perfusion technology for stroke victims look at four things happening in the brain at a given time: cerebral blood flow (CBF), how quickly blood is flowing in the brain; cerebral blood volume (CBV), the volume of blood in a particular volume of brain tissue; mean transit time (MTT), the ratio between CBF and CBV, which indicates how well blood is circulating in the brain; and permeability surface (PS) maps, the permeability of the barrier between blood flowing in the brain and the brain itself. High readings for CBF and CBV (shown in red in this image) are a good sign for the patient; low readings (shown in blue), as well as high MTT readings, are the result of a stroke.
Photo credit: Courtesy of Dr. Richard Aviv, Sunnybrook
Health Sciences Centre, Bayview, Ont.
Q: And you could convince the lawyers to sign something that quickly?
A: This was a strange time because I was starting something that nobody had previous experience with. The scientific director at Western's Robarts Research Institute looked me directly in the eye and said, "Ting, what do you think the market size of this would be?"
And I said, "As a scientist, I don't know."
So the director said to the lawyers, "Even Ting, who has a vested interest in this, doesn't have a sense of its impact, so it must be small. Let's go for it." I later learned that internally, GE had the same view and thought that maybe a total of not more than 100 licences would be sold. At that time, no one was able to see the potential of the software in stroke and cancer applications.
Q: How many have been sold?
A: A few years ago, I estimated that it was nearly 7,000, and 700 to 800 new licences are sold each year.
Q: Are there life lessons from all this?
A: I have sayings on my wall. One is from French scientist Georges-Louis Leclerc, Comte de Buffon that "genius is only great patience." As someone who started late in his research career and who sees his real talent as working very hard, I identify with the notion that persistence and patience pay off. My truest genius is spending long hours in the lab.
Q: Sounds very Confucian.
A: Hong Kong when I was growing up was very Confucian. I was greatly influenced by my teachers to abide by the Confucian principle that "a gentleman should always try to improve himself every day."
Q: What lies in your Confucian-guided research future?
A: We are very excited because a recent CFI grant has enabled us to buy a next-generation CT scanner that will allow us to scan the whole heart in less than 0.3 seconds and do it at a significantly lower radiation dosage. Our purchase means we can begin perfecting the use of the new device before it has been approved for patient use. And there are also a series of experiments going on at various institutions in both Canada and the United States where we are hopeful that we can associate changes in blood flow with the effectiveness or ineffectiveness of cancer treatments. We should have results on this within six months. In the longer term, I hope to demonstrate that CT perfusion can be used to measure blood flow in all the body's major organs. Our work will not be complete until this final frontier is reached.
Stay connected
Keep updated on:
Funding programs
Stories on cutting-edge research
Events ... and more.
Stay connected
You're all set!
Just keep an eye on your inbox for a confirmation email.