Canadarm technology helps manufacturers be more efficient
Canadarm technology helps manufacturers be more efficient
Seven years after Canadarm-2 went into outer space, a Université Laval spin-off company is using similar technology to create robotic hands that help factories keep their bottom lines down to Earth
Technology that was developed to extend the capabilities of NASA's Canadarm-2 in the 1990s is now helping manufacturers across the globe be more efficient, thanks to an enterprising group of graduate students from Université Laval. In 2008, robotics engineers Samuel Bouchard, Vincent Duchaine and Jean-Philippe Jobin created ROBOTIQ, a spin-off company based in Quebec City that now employs 20 people and specializes in creating robotic hands capable of gripping a wide variety of objects of different shapes, sizes, weights and textures.
WATCH: ROBOTIQ's robotic hand can grasp many different shapes
The trio were graduate students under Clément Gosselin, director of the Laboratoire de robotique de l'Université Laval and one of the researchers who developed the SARAH robotic hand for the Canadarm-2. Bouchard, Duchaine and Jobin tweaked and licensed the SARAH technology for robotic hands with applications ranging from manufacturing to disaster relief and mitigation of chemical spills.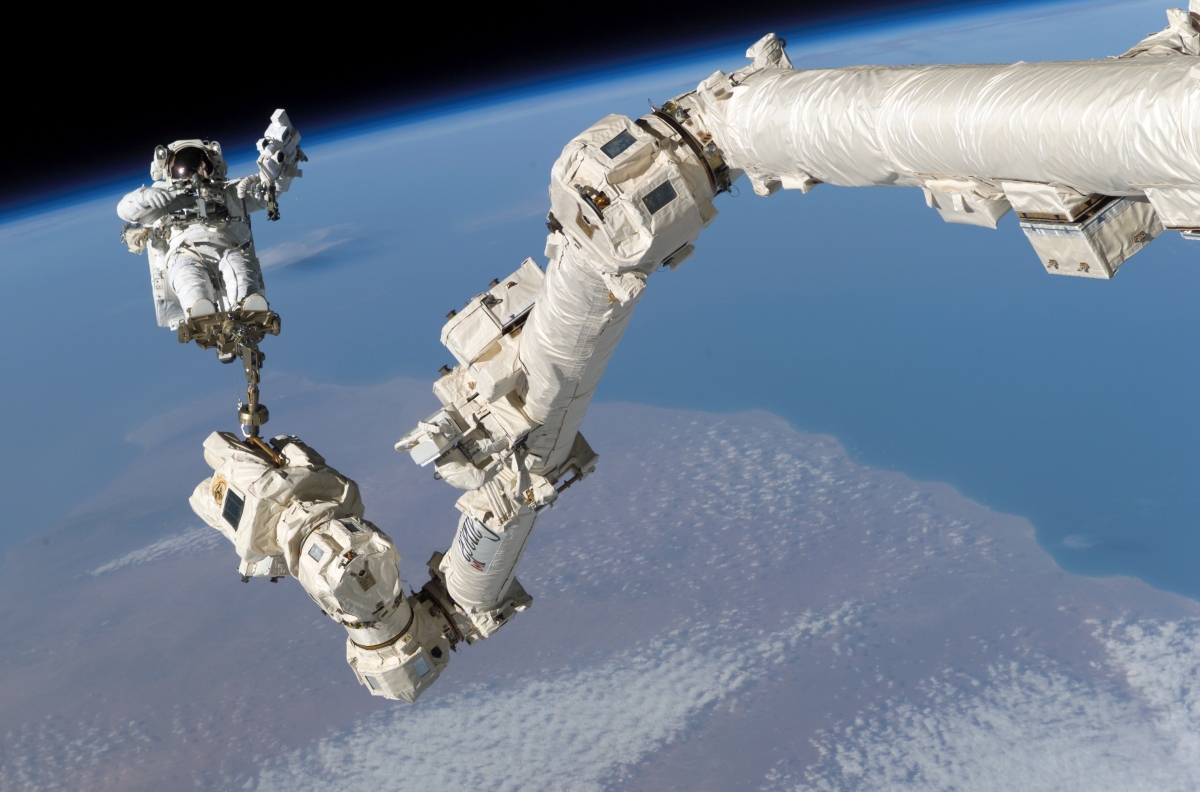 Astronaut Steve Robinson attached to Canadarm-2, the 17 metre-long robotic arm that assembled the International Space Station (ISS) while in space. First launched in April 2001, it is routinely used to move supplies, equipment and even astronauts.
Credit: NASA
Designed with either two or three mechanical fingers, the devices can handle anything from a heavy car part to a delicate egg. They are also responsive to change and can adjust their finger position as well as the speed and force of their grip. These customizable features can save companies time and money by reducing the setup and cycle times of a given manufacturing process.
Several hundred units of ROBOTIQ's robotic hand have been sold in more than 30 countries, to companies ranging from SMEs to Fortune 500 manufacturing companies, to top research institutes. Some of ROBOTIQ's better-known clients include BMW, Bose, GE, Philips and Boeing.
You may also be interested in:
Stay connected
Keep updated on:
Funding programs
Stories on cutting-edge research
Events ... and more.
Stay connected
You're all set!
Just keep an eye on your inbox for a confirmation email.