At Thompson Rivers University, Lauchlan Fraser studies the effects of cattle on the wetland and grassland forage areas around Kamloops, B.C.
Marc Jones, Thompson Rivers University
It's a little-known fact: Half the Earth's surface is foraged by domesticated animals, which has enormous impacts on our increasingly precious fresh water. In British Columbia alone, about 50 percent of mostly crown land is licensed to ranchers who need forage and water for their 400,000 head of roaming cattle.
"Cows need water, so they spend a lot of time in our wetlands, streams and rivers," says Lauchlan Fraser, an ecologist and a Canada Research Chair in Community and Ecosystem Ecology. "There is little protection of our water bodies when cows are out on the range."
Across the world's rangelands, thirsty livestock disturb shoreline areas and compress soils; they forage wetland plants; and the manure they deposit can create excess nitrogen and phosphorus, polluting surface water and groundwater.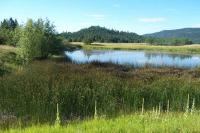 At Thompson Rivers University in Kamloops, Fraser studies the effects of cattle on the wetland and grassland forage areas around this community — the heart of cattle ranching country in British Columbia's Interior — and is probing how these forage areas will respond to climate change.
Fraser conducts many of his experiments in Lac du Bois Provincial Park, just 20 minutes from campus. Focusing on phytoremediation — the study of using plants to remove excess nutrients from waste water — he recently compared the ability of different native grassland plants to reduce the high levels of nutrients found in wet areas with heavy cattle use. Such plants are ideal for use in "constructed wetlands" — holes dug in the ground, layered with an impermeable barrier and then planted with water- and nutrient-loving plants. The use of this system in dairy cattle and swine operations has been around Canada and the United States for over a decade, but its application to beef cattle on the range is in its infancy. To this latter end, Fraser has identified three plant species that can be used to maximize this water-treatment function in rangelands in the B.C. Interior.
Beyond the grasslands of British Columbia, Fraser says that common plants such as bulrushes and cattails are also ideal for treating agricultural waste water, because they are fast-growing and vigorous and thrive in wet environments with high nutrient levels. "We can strategically plant some of these species in certain areas of our ponds and wetlands," he says, "to help improve the nutrient loads in our waterways."
Fraser aims to find practical applications for his research. "I see my work informing and developing policy on cattle use of wetland systems, including ways to provide water for cows without disturbance to the systems and to use our understanding of plant species to reduce these nutrient loads."
Fraser's connection to the rangeland he studies runs deep: His ancestors were pioneer farmers of the B.C. Interior, and growing up, he distinctly remembers being awestruck by the sight of "real cowboys" on the range. Over the past decade, he has applied the theoretical ecology he learned as a student to the grasslands of British Columbia, with an increasing interest in the "interaction" of livestock disturbances and climate change. His latest research interest is exploring how carbon is stored in grassland soils — a potential future revenue stream for B.C. ranchers like Dave Zirnhelt. "If we are going to get into carbon trading, we need to put some values on carbon in the soil," says Zirnhelt, who runs about 40 head of cattle in the B.C. Interior. "It's absolutely essential work, and Fraser is laying the foundations for that. "
In 1999, Fraser moved to the University of Akron in Ohio, where he first began working on phytoremediation. But he is a classic case of reverse brain drain. When he was offered the Canada Research Chair, he returned to British Columbia with his young family in tow.
He plans to continue studying how the cattle-grazed B.C. rangelands will adapt to the predicted increases in winter rain and summer drought, conditions he is now mimicking in his outdoor lab. "Grassland is just one percent of British Columbia today, but in 100 years, it could be as much as eight percent," says Fraser. "The consequences for the province could be huge."
The CFI factor
CFI funding provided the infrastructure Fraser needs to carry out his research on wetlands and climate change. In a 185-square-metre, climate-controlled greenhouse, he mimics the future effects of climate change, and he uses 30 "cattle tanks" to measure the impacts of cattle in wetlands. He has also received funding for a 140-square-metre laboratory and a 4x4 pickup truck for lugging his equipment into the field to conduct research.