Against the odds
Explaining the simple statistics behind the chances of winning at a slot machine can help curb gambling addiction
The Rideau River Casino looks like a typical gaming establishment, with hundreds of slot and draw-poker machines, blackjack and roulette tables and lights and sounds that bombard patrons as they move around the floor. But to do that, the patrons have to wear goggles and turn their heads, because this is a virtual reality (VR) casino.
"It's very much like what people experience these days when they gamble online," says Michael Wohl, associate professor of psychology at Carleton University, in Ottawa. For Wohl, however, the VR casino is a laboratory where he researches tools to encourage responsible gambling. It's an important endeavour, given that an estimated 1.2 to 3.4 percent of the population in Ontario suffers from "problem gambling," defined as the loss of more money than a player can afford. This is in the same range as the proportion of Canadians who abuse prescription drugs.
Even though casinos are in the business of making money from gamblers, the Ontario Lottery and Gaming Corporation (OLG) "has a statutory, regulatory and policy mandate to promote responsible gambling," according to Paul Pellizzari, OLG's executive director of policy and social responsibility. To help realize that mandate, OLG has partnered with Wohl to try to curb gambling addiction.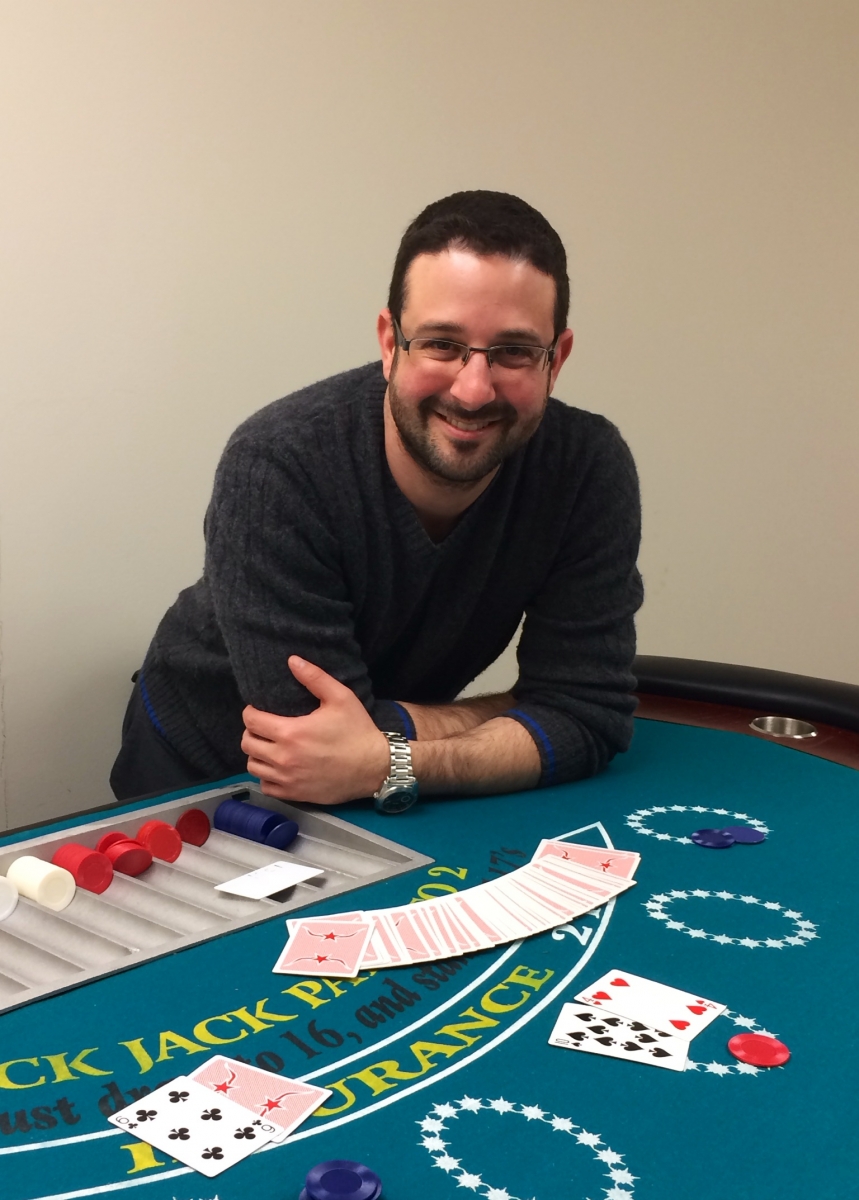 Michael Wohl is associate professor of psychology at
Carleton University in Ottawa. His research includes
the effects of emotions such as angst and guilt on
psychological and physical health.
Credit: Travis Sztainert
In 2007, Wohl developed a nine-minute animated video called "Slot Machines: What Every Player Needs to Know." The video debunks false beliefs gamblers often have, such as the notion that the longer you play, the more likely you are to win. "We explain why persistence at a slot machine does not pay off," says Wohl. "The odds are, you will lose your money."
This video is especially suitable for regular gamblers and those in counselling and is played at casinos in Canada, the United States and Australia and at addiction centres across Canada. A three-minute version that targets a broader audience of more casual gamblers is also available.
OLG shows the videos at all 24 of its gambling sites in Ontario and on its website. The organization "has been very satisfied with the research that informed this video," says Pellizzari. Wohl was "absolutely responsible for the content. We couldn't have done it without him."
To validate the original video's effectiveness, Wohl conducted a study of clientele at the Rideau Carleton Raceway in Ottawa. Half of the study's participants viewed Wohl's animation, and the other half viewed a generic gambling video. Then the two groups played the slots.
"We asked them afterwards whether they had set a limit on how much money they would gamble and whether they had adhered to it," says Wohl. "Participants who had watched our animation were more likely to set limits and, more important, were more likely to adhere to those limits than participants in the control group."
The video's impact wanes after 30 days. "You can't expect a one-shot animation to have long-lasting effects," he says. "We plan to do a study of what happens if you give players a 'booster shot' in 30 or 60 days. The hope is that with repeated viewings, it will have a lasting impact on the gambler."
Using his VR casino in another project, Wohl explored the effectiveness of pop-up messages at slot machines. When a participant approaches a slot machine, a message pops up saying, "You have 80 credits, the equivalent of $20. How much of this money would you like to gamble in this session?"
When the player reaches the pre-set limit, a second message pops up as a reminder, asking the participant whether he or she would like to stop or continue. Wohl has compared participants who received pop-up messages with a control group that did not. "We found that participants who received the pop-up message reminding them of their pre-set limit adhered to it more often," says Wohl.
OLG intends to include the pop-ups when it introduces online gambling in Ontario later this year. It also plans to add the pop-ups to its off-line gambling sites over the next few years.
Stay connected
Keep updated on:
Funding programs
Stories on cutting-edge research
Events ... and more.
Stay connected
You're all set!
Just keep an eye on your inbox for a confirmation email.