Annual Public Meetings
The CFI's Annual Public Meeting is one of the many ways in which we inform and educate Canada's research funding community, government officials involved in the S&T enterprise, and the general public about important national and international trends in science and innovation.  This meeting provides the CFI with the opportunity to publically present our annual report, outlining our financial statements and activities during the year.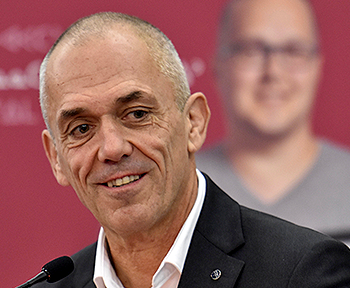 OTTAWA, ONTARIO — Antoine Petit, President and CEO of the National Centre for Scientific Research (CNRS) in France spoke about the future of artificial intelligence and the importance of global collaboration at the 2018 annual public meeting of the Canada Foundation for Innovation on December 4. Petit said it's important to include everyone in conversations surrounding the ethics of these technologies. "This will require research from mathematicians and computer scientists of course," he said, "but must also include philosophers, sociologists, historians and ethnographers."
Petit added that as one of the world's leading research institutions, CNRS prioritizes international collaboration in all fields of scientific research. Petit pointed to TRIUMF, Canada's particle accelerator centre, as an important example of how Canada and France have joined forces in establishing infrastructure for research in particle physics, materials science, nuclear medicine and more. He added that almost all CNRS institutes have at least one joint lab with a Canadian university.
Watch: Antoine Petit, President and CEO of the National Centre for Scientific Research (CNRS) in France, speaks about the future of artificial intelligence at the CFI's annual public meeting
In addition to Petit's presentation, Ingrid Pickering, the Chair of the CFI's Board of Directors, presented the CFI's latest annual report for the fiscal year that ran from April 1, 2017, to March 31, 2018. Among other things, Pickering highlighted the Innovation Fund results announced in October 2017, which awarded a total of $423.7 million to 117 projects at 61 institutions for cutting-edge research projects across Canada. Roseann O'Reilly Runte, CFI's President and CEO, reviewed the CFI's financial statements for the 2017-18 fiscal year and pointed to some important milestones over the past year, including a promise for permanent funding in the 2018 federal budget. "Budget 2018 gave the CFI permanence and renewed resolve to continue the pursuit of excellence in all we undertake," she said. "We can invite Canadians to join the conversation about what research in this country can and will achieve in the coming decades."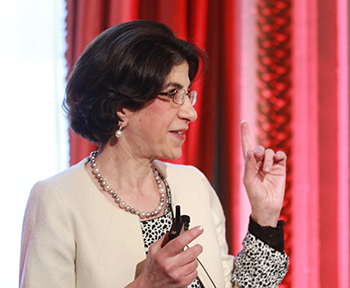 OTTAWA, ONTARIO – "Our greatest challenge is to explain to people the importance of fundamental science," said Fabiola Gianotti, Director-General of CERN, the European Organization for Nuclear Research, at the annual public meeting of the Canada Foundation for Innovation November 7. Gianotti spoke to a large audience in Ottawa about the groundbreaking research being conducted at CERN, and how its innovative  model brings together more than 3,000 scientists from 40 countries to collaborate in the quest to better understand the fundamental structure of the universe.
PHOTO CAPTION: Fabiola Gianotti, Director-General of CERN, the European Organization for Nuclear Research, discusses the role of discovery research in innovation, and the critical role the next generation of researchers plays in helping unravel the mysteries of the universe at CFI's 20th annual public meeting.
Watch: Dr. Fabiola Gianotti, Director-General of CERN, addresses the CFI's APM
In addition to Gianotti's presentation, CFI Board of Directors Vice-Chair, Margaret Bloodworth, presented the CFI's latest annual report, for the fiscal year that ran from April 1, 2016, to March 31, 2017, titled Research builds our communities. She highlighted some key activities from that year, including celebrating our 20th anniversary, managing the adjudication process for the Governor General's Innovation Awards, contributing to the Fundamental Science Review and awarding funds to world-class research projects across Canada. "With some 507 projects at institutions across Canada awarded over $470 million this past year," she said, "it is clear that the CFI continues to play a vital role in building the country's capacity for research and innovation."
The CFI's President and CEO, Roseann O'Reilly Runte, reviewed our financial statements for 2016–17. She focused on the continuing relevance of the CFI to support the research infrastructure needs of a new, ambitious generation of researchers. "Our youth want to give back to their communities and the world," she said. "They want to solve the problems of the environment, health and the economy. And surely, we need them."
OTTAWA, ONTARIO – On December 6, 2016, at the Canada Foundation for Innovation's (CFI) annual public meeting; "One of the most heart-breaking questions to ask me as a researcher is: 'So what's the application of your work?'" said TED Fellow and presenter Andrew Pelling with a chuckle at the annual public meeting of the Canada Foundation for Innovation yesterday morning. The University of Ottawa professor and Canada Research Chair in Experimental Cell Mechanics joined approximately 120 guests at the Chateau Laurier to talk about the importance of curiosity-driven research. Pelling said that an application-based approach to science can stifle new ideas and innovative approaches to research. His lab takes a unique method, finding academic and commercial success in trying to answer seemingly impossible questions and tackling projects for curiosity's sake alone.
Watch: How the Pelling Lab grew a human ear from an apple
Listen: Andrew Pelling discusses the impact of CFI support on his research
In addition to Pelling's presentation, CFI officials presented the CFI's latest annual report titled Innovation is in our nature and reviewed our activities over the past fiscal year.
Kevin Smith, Chair of the CFI Board, highlighted some key events from the 2015-16 fiscal year. Several new funding competitions and announcements, the largest Canada-wide consultation in CFI history and managing the selection process of the inaugural Governor General Innovation Awards meant the past year was both busy and productive, Smith noted.
To date, the CFI has invested more than $6 billion in more than 9,400 research projects at 147 universities, colleges and research hospitals across Canada. But the ultimate measure of the CFI's success is in the difference it makes in the lives of Canadians, said our President and CEO, Gilles Patry to attendees. "That research builds communities is a simple truth we see reflected in our work every day," he said. "This is brought into focus through stories and images of Canadians whose community has benefited in some way from research."
Some of those stories have formed our 20th anniversary campaign called "Research builds my community" and can be found by subscribing to our newsletter or following us on Twitter and our campaign hashtag #CFI20yrs.
OTTAWA, ONTARIO — On December 15, 2015, at the Canada Foundation for Innovation's (CFI) annual public meeting, Professor Bartha Maria Knoppers, Director of the Centre of Genomics and Policy at McGill University, reflected on how technology, such as cloud computing, could be used to create a massive digital library of health and genomic data.
WATCH: Professor Knoppers keynote presentation Part 1
WATCH: Professor Knoppers keynote presentation Part 2
Professor Knoppers says the cloud library would be available to researchers around the world who could use the wealth of data to rapidly map new patterns in the human genome and create novel therapies for genetic diseases. However, she says issues related to privacy, ethics, research standards and law must first be harmonized among countries before a global genomic library in the cloud can be fully operational.
VIEW: Professor Knoppers' PowerPoint slides
Professor Knoppers made her remarks shortly after Genome Canada and the Canadian Institutes for Health Research announced a $3.3 million investment in Can-SHARE — a national program led by Knoppers that will promote innovation in how genomic data is used to improve health care for patients in Canada and around the world.
READ: A new way of thinking about genomic data
Knoppers' presentation followed an opening address by Kevin Smith, Chair of the CFI's Board of Directors, who reflected on the progress made by the CFI over the past fiscal year, and another by Gilles Patry, President and CEO of the CFI, which highlighted the activities and strategic direction of the CFI over the coming year. The meeting was attended by more than 80 people, including elected officials, representatives from research funding organizations, academics, leaders in science policy and the media.
Heather Munroe-Blum on what Canada must do to lead in the next 150 years
December 8, 2014
OTTAWA, ONTARIO — More than 90 people attended the Canada Foundation for Innovation's (CFI) annual public meeting held at the Fairmont Château Laurier on Friday December 5, 2014. The event featured Heather Munroe-Blum as the keynote speaker. Munroe-Blum combined her unique perspective as the new chair of the Canada Pension Plan Investment Board (CPPIB), former Principal and Vice-Chancellor of McGill University and former Vice-President of Research and International Relations at the University of Toronto to ask the question: "What can we do better to deliver prosperity to Canadians over the next 150 years?" 
READ: Heather Munroe-Blum's keynote address
At the helm of CPPIB, Heather Munroe-Blum is responsible for the prosperity of 18 million Canadians. Being a long-term investor in a short-term investment world forces CPPIB to constantly innovate to ensure the greatest possible return for people who have spent years contributing to their pensions. In her previous roles in academia, and as an accomplished researcher in epidemiology, Munroe-Blum took on challenges of innovation of a different sort. In the following video clip, she reflects on what Canada can do to advance the nation's innovation agenda.
In advance of the meeting, Munroe-Blum offered a preview of her insights in the form of a short Q&A.    
In what ways can Canada innovate to enhance and sustain the quality of life of Canadians for the next 150 years?
In general we need to create incentives for innovation and to reduce regulatory and other obstacles. At a societal level, investing in improved levels of literacy and early childhood education will help raise standards of living and the capacity of our citizens to adapt and invent over the course of a lifetime.
As a relatively small country, Canada's success on the world stage rests on ensuring a broad base of educational and economic attainment as we do (with exceptions), and also on having global winners among our institutions, cities, programs and people, and we need to focus as well on investing strategically in these to create opportunity for Canada on the world stage.
How can we prepare the next generation of Canadians to continue these aspirations?
Canada has a global talent base that can be leveraged by recruiting talented international students and giving them a first step into landed immigrant status if they graduate here, as Quebec does currently.
Educators and recruiters must value and encourage participation in combined arts and science/engineering preparation. For example, encouraging our youth and young adults to acquire depth in either a STEM field (science, technology, engineering and mathematics) or an arts field with a minor in the other, supporting multilingualism and creating workplace experiences for undergraduate students in Canada and abroad.
You spent many years as a researcher and leader at McGill University. In what ways did the university's infrastructure, both physical and intellectual, create a culture of innovation?
It worked best when infrastructure came both in the form of actual technical infrastructure and meaningful research spaces that fostered collaboration, and did so in ways that invited exchange across disciplines and sectors, where there were services and supports that allowed McGill's academic community to focus on research and research-informed teaching rather than get bogged down by administration, commercialization (specifically, commercialization without expertise and support) and some of the onerous management activities for which researchers and scholars are generally not well-suited.
Other countries are rapidly investing in and building their intellectual infrastructure in an aggressive and strategic way. What will distinguish Canada from the rest?
Our infrastructure suffers from the fact that we have a huge geography, a small population spread across the 49th parallel, and an egalitarian sensibility that inclines us to share resources evenly across the country versus investing strategically and disproportionately in high-potential, high-performing programs, people and institutions. Canada might invest more in initiatives that grow excellence alongside those that leverage the excellence we already possess. To build a critical mass of excellence that will act like a gravitational field and attract the highly prepared and entrepreneurial to Canada, we must move away from episodic investments to sustained investments of appropriate scale. We need to be more agile in creating and responding to opportunity. And that is precisely the mission and raison d'être of the Canada Foundation for Innovation.
On December 6, 2013, David Strangway presents Innovation: Supply-driven or demand-driven?

Founder, Quest University Canada
Past President, Canada Foundation for Innovation
Innovation: Supply-driven or demand-driven?
Elyse Allan, President and CEO, GE Canada was the guest speaker at our annual public meeting on December 7, 2012. Her talk was called From ideas to execution: Canada's innovation challenge.
In an article called "Creating a space for innovation in Canadian communities" written for The Hill Times, CFI President and CEO, Gilles G. Patry made reference to her presentation as follows:
"At our annual public meeting earlier this month, Elyse Allan, President and CEO of GE Canada, spoke on the topic of taking innovation to enterprise. GE Canada recently opened The Calgary Innovation Centre, a facility to assemble GE's resources ready to deliver solutions for the local oil and gas industry. They have a similar facility, focused on smart grid technology, in Markham and are now working to build a global network based on this Canadian model. In Saudi Arabia, Korea, Japan and Europe, GE is creating a network of innovation centres ready to provide access to global experts and collaborate on solutions to local problems.
According to Allan, they have created programs to "give people needed time and space to pursue high-risk big ideas." In one of the world's most competitive and innovative companies, their leaders have the vision to create spaces where ideas can incubate and innovation can flourish."
Read Dr. Patry's full article
On November 28, 2011, his Excellency the Right Honourable David Johnston, Governor General of Canada, presents Researchers need to think big and help our nation innovate and prosper
His Excellency the Right Honourable David Johnston – Address to the Canada Foundation for Innovation
On December 3, 2010, Tom Jenkins, Executive Chairman and Chief Strategy Officer, Open Text Corporation, presented:
Managing content in the cloud: The impact of digital media and social media on societies and innovation around the world
Download presentation (PDF format, 2.5MB)
October 21, 2009
A. Charles Baillie, Chair, Alberta Investment Management Corp., Chancellor Emeritus of Queen's University, and former CEO and Chair of TD Bank
Download Presentation (PDF format)
A question of productivity
Relative to other OECD countries, Canada has many advantages that should propel it to the top of global quality-of-life rankings. But lagging productivity has been undermining our position. How can innovation, education and partnerships play a role in boosting Canada's productivity gap? Charles Baillie, one of the country's foremost business leaders and philanthropists, explores what drives Canada's economy and what is needed to strengthen its global standing.
On October 4, 2007, Eva Klein, President, Eva Klein & Associates, Ltd. and Managing Member, IDEA Partnerships, LLC, Great Falls, Virginia, USA, presents Creating an innovation economy
Download presentation by Eva Klein  (PDF Format, 1.2MB)
On October 24, 2006, Alan Leshner, CEO of the American Association for the Advancement of Science (AAAS) and Executive Publisher of Science magazine, presents Science and society
Download presentation by Alan Leshner (Microsoft PowerPoint document - 2.4 MB)
On October 17, 2005, Brian Feeney, project leader for the da Vinci Project presents
Canadian innovation in manned spaceflight
Since May 1996, Canada's entrepreneurial private sector has been developing the hardware to conduct manned spaceflight operations. The da Vinci Project is considered the number two competitor worldwide in the emerging mega market of space tourism. Brian Feeney will review the project's history and milestones, and discuss the infrastructure, facilities, and equipment for R&D and future operations.
On February 2 and October 18, 2004, special guest Bob McDonald, Host of CBC Radio's Quirk and Quarks, on the topic of Science in the Third Millennium, talks about some of the most innovative science projects underway in this country, from the dark matter at the edge of the universe to clean fuels in the tanks of our cars, and everything in between. Learn about Canada's remarkable achievements, discoveries, reputation, and challenges at the dawn of a new millennium.
On February 10, 2003, Internationally renowned professor Michael Gibbons, Secretary General of the Association of Commonwealth Universities (ACU), presents Making a difference: Canada's influence on international science
Download Professor Michael Gibbons' speech (PDF format, 75KB)
Professor Gibbons recently chaired the CFI's Multidisciplinary Assessment Committee for its $200 million International Fund Competition. Prior to his arrival at the ACU, he served as Dean of the Graduate School and Director of the Science Policy Research Unit at the University of Sussex. Prior to that he was Professor of Science and Technology Policy and Director of the Research Exploitation and Development at the University of Manchester. Professor Gibbons has authored and co-authored several books as well as many articles on science and technology policy.