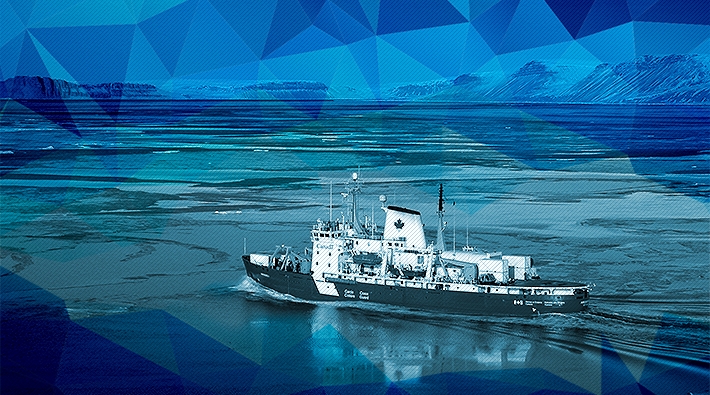 You are here
Tour the CCGS Amundsen
A multimedia exploration of Canada's dedicated research icebreaker
Since 2003, Arctic researchers have had unprecedented access to the extreme conditions of the Arctic Ocean aboard the Canadian Coast Guard Ship (CCGS) Amundsen, the only dedicated research icebreaker in the country outfitted with state-of-the-art research labs and equipment. After more than 10 years of collecting natural, health and social science data from the deck of the Amundsen, their achievements have been assessed by an independent panel in a new report for the Canada Foundation for Innovation (CFI).
Below, begin exploring the Amundsen: download the report and meet the researchers who use the icebreaker as a platform to piece together the story of the changing Arctic.
Ship to shore
Before the Amundsen, assembling a group of international scientists aboard a giant floating research platform in the Arctic sounded progressive and inspired — and almost impossible
June 10, 2009
The view from Nunavut
More than ten years after Nunavut became a territory, what are researchers learning about the changing landscape and how are they taking a different approach to science in the North?
April 1, 2009
Ice tracker
Researchers used modern climate science in their quest to locate one of Sir John Franklin's long-lost ships
December 17, 2008
Walking on thin ice
With Arctic sea ice fast disappearing, a University of Manitoba researcher helps to address issues of sovereignty, environment, and culture
March 1, 2007
Keeping our true North, strong and free
Year-long Arctic expedition's findings crucial to future development of Canada's North
November 1, 2005
This story was originally published in April 2015.