You are here
The Canada Foundation for Innovation (CFI), funds research projects at universities, colleges and research hospitals across the country. These transformative projects not only produce tangible benefits to Canadians, but inspiring stories of Canadian innovation.
In Our Opinion
How collaborations in the name of science are driving innovation
CFI On Youtube
Ten-year-old Sienna Knapp has a rare form of epilepsy that could cause prolonged — and possibly lethal — seizures.
Image Gallery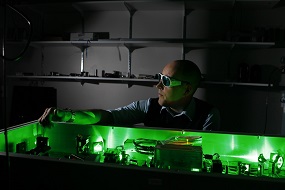 Bradley Siwick tweaks a laser in his lab in the basement of McGill University's chemistry building. Here, Siwick, the Canada Research Chair in Ultrafast Science, and his team of grad students spent nearly four years painstakingly assembling a maze of lasers, amplifiers and lenses and an electron microscope into a "molecular movie camera." Using this custom-made tool, they conduct ultrafast electron diffraction experiments to watch, at the atomic level, what happens during a chemical reaction or when materials transform their structure — a unique capability in the world. Last year, they observed what happens to vanadium dioxide (VO2) when the atoms rearrange and the material become more electrically conductive — a process that happens a trillion times faster than the blink of an eye. The results of this experiment were reported last October in Science. It was the first time researchers have been able to measure the connections between a material's atomic structure and its electronic properties during such a blazingly fast process.
PHOTO CREDIT: Allen McInnis, McGill University