Calgary, AB — April 16, 2013 - SAIT Polytechnic has received $800,000 in infrastructure funding from the federal College-Industry Innovation Fund to support applied research in clean energy.  Administered through the Canada Foundation for Innovation (CFI), the award will fund equipment involved in testing or verifying improved or new technologies that reduce energy-sector impacts on water, air and land.
In completing this project, the Environmental Technologies group in SAIT's Applied Research and Innovation Services (ARIS) department will work with industry, and other regulatory and non-regulatory stakeholders. Together, they will develop clean, technology-based solutions for the energy sector, including oil sands producers and service providers.
"Canada's colleges and polytechnics are an emerging force as innovation intermediaries, assisting small and medium-sized enterprises in bridging the commercialization gap," said the Honourable Gary Goodyear, Minister of State (Science and Technology). "Our government's research infrastructure investment, through the CFI, will help SAIT Polytechnic develop cleaner technologies to improve the health and well-being of all Canadians."
"The awarding of this CFI grant in the area of clean technologies is a testament to the success and credibility of SAIT's applied research program," says Dr. Alex Zahavich, Director of ARIS. "With this funding, not only will students have the opportunity to apply their practical knowledge to industry-based projects, but industry will get its products to market in the most expeditious, cost-effective and environmentally responsible manner."
Specifically, in collaboration with industry partners, SAIT will use this funding to acquire testing and development technologies such as:
A Frac and Produced Water Treatment Train, integrated with versatile testing platforms, to improve energy-sector water use.
 A mobile soil trailer lab to conduct on-site soil sampling and analysis, and test innovative remediation technologies.
Air quality monitoring systems capable of assessing air quality improvement technologies.
The CFI funding, combined with funding from SAIT, industry and other sources, represents a total investment of $2-million in the development and commercialization of innovative environmental technologies for clean energy production.
The project will be implemented in phases starting in the summer of 2013, with completion in 2016.
About SAIT Polytechnic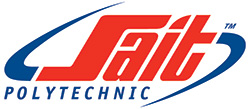 SAIT Polytechnic is one of Canada's most exciting destinations for post-secondary education, offering more than 100 career programs and over 1,000 part-time courses (including online and distance) that position people for success in technology, trades and business. A leader in innovation, SAIT also collaborates with industry on applied research and delivers corporate training worldwide. SAIT has been named one of Alberta's Top 60 Employers for 2013. www.sait.ca
About the College-Industry Innovation Fund
The College-Industry Innovation Fund (CIIF) targets projects that will enhance the capacity of colleges to support business innovation in Canada by providing them with state-of-the art, industry-relevant, research infrastructure.
About the Canada Foundation for Innovation
The Canada Foundation for Innovation gives researchers the tools they need to think big and innovate. By investing in state-of-the-art facilities and equipment in Canada's universities, colleges, research hospitals and non-profit research institutions, the CFI is helping to attract and retain the world's top talent, to train the next generation of researchers, to support private-sector innovation and to create high-quality jobs that strengthen the economy and improve the quality of life for all Canadians. For more information, visit www.innovation.ca.
For additional information, please contact:
Melanie Simmons, Public Relations Specialist
SAIT Polytechnic
Direct: 403.284.8473
Cell: 403.512.3291
melanie.simmons [at] sait.ca
Ryan Saxby Hill
Canada Foundation for Innovation
Direct: 613.943.5346
Cell: 613.294.6247
ryansaxbyhill [at] innovation.ca


Stay connected
www.facebook.com/SAITPolytechnic
www.twitter.com/SAITPolytechnic
www.youtube.com/SAITPolytechnic