Université Laval will continue to lead important arctic research aboard CCGS Amundsen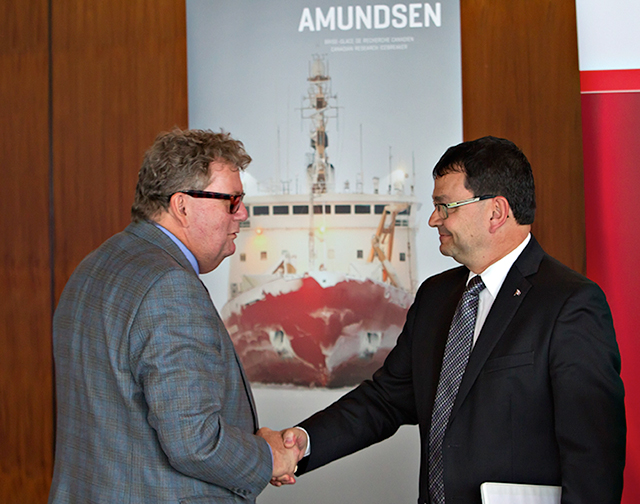 Ed Holder, Minister of State (Science and Technology)
greets Jacques Gourde, Parliamentary Secretary to the
Prime Minister for Official Languages at the CFI's Major
Science Initiatives funding announcement. The CCGS
Amundsen, Canada's only dedicated research icebreaker,
was one of nine funded initiatives.
Credit: The Canadian Press Images / Clément Allard
January 23, 2015 — Quebec City, Quebec — Today, the Honourable Ed Holder, Minister of State (Science and Technology) announced significant investments through the Canada Foundation for Innovation (CFI) to support the operation and maintenance of nine unique national research facilities that contribute to Canada's reputation as a global leader in research and innovation. 
Minister of State Holder highlighted the investment in the scientific infrastructure and operations aboard the CCGS Amundsen, Canada's only dedicated research icebreaker, as part of nine unique national research facilities receiving funds. The cutting-edge arctic research program conducted on the Amundsen, along with the science and innovation emerging from the other eight unique research facilities, reflect their importance in ensuring the country's social, economic and environmental well-being.
Quick facts
$25 million in investments are being made through a special competition of the CFI's Major Science Initiatives Fund, which supports national research facilities to enable world-class research.
Université Laval will receive over $7.5 million to support the arctic research conducted aboard the CCGS Amundsen, the Canadian research icebreaker that plies Arctic waters to advance knowledge of the country's most remote regions, and which is based in Quebec City.
Other notable facilities in Quebec which received an investment from the Major Sciences Initiatives Fund include the Advanced Laser Light Source where researchers use ultrafast lasers to explore the dynamics of matter at the subatomic level along with ÉRUDIT, a digital publishing platform that makes Quebec and Canadian peer-reviewed science and humanities journals accessible to scholars worldwide.
The successful facilities were selected through the CFI's competitive, expert-review process, which assessed eligible research facilities for scientific excellence, capacity for innovation, governance structure and ability to provide tangible benefits to Canada.
Quotes
"In our government's updated Science, Technology and Innovation Strategy, we are making record investments necessary to push the boundaries of knowledge, create jobs and prosperity and improve the quality of life of Canadians. We are providing support to some of Canada's most promising national research facilities whose research leads to important social, health, economic and environmental benefits for Canadians."
Ed Holder
Minister of State (Science and Technology)
"Our government's record support for science, technology and innovation is creating jobs and opportunities for Canadians. Today's successful projects at Université Laval and INRS further demonstrate how leading edge research benefits Quebec while training the next generation of researchers for the modern economy."
Jacques Gourde
Parliamentary Secretary to the Prime Minister for Official Languages and for the Economic Development Agency of Canada for the Regions of Québec
"These unique national research facilities have a proven record of being catalysts for extraordinary ideas. When talented scientists converge in these state-of-the-art spaces, they are inspired to push the boundaries and think big."
Gilles Patry
President and CEO, CFI
"More than a third of the money announced today has been allocated to the research vessel, CCGS Amundsen. The research conducted aboard the Amundsen, which began its scientific mission in 2002, can be continued thanks to this exceptional investment of more than $7 million."
Denis Brière
Rector, Université Laval
"The Amundsen serves as an invitation to researchers to come work in the Canadian Arctic. This funding will allow for new, high-calibre international collaborations to take place."
Louis Fortier
Scientific Leader, CCGS Amundsen; Scientific Director, ArcticNet; professor, Biology Department, Université Laval
Additional quotes
"We are grateful to the CFI for providing this infrastructure funding to help support the NCIC CTG's mission to conduct important clinical trials allowing cancer patients from across the country access to some of the most cutting edge cancer treatments available."
Janet Dancey
Director, NCIC Clinical Trials Group, Queen's University
"Space weather affects us all—from the power grids that keep our lights on to the satellites that support our information economy.This major investment from CFI in the SuperDARN radar network will help create new knowledge to cope with these challenges, while creating unique opportunities for students to be trained in making space science discoveries."
Karen Chad
Vice-President Research, University of Saskatchewan
"The strength of Érudit is the bringing together of a number of members of the Canadian scholarly publishing sector to create a large body of documents, while establishing partnerships in Canada and worldwide to increase the visibility of published content."
Dominique Bérubé
Assistant Vice-President, Research, Creation and Innovation, Université de Montréal
Related products
A full list of the funded projects is available online at Innovation.ca. For updates, follow us on Twitter @InnovationCA and tune in to our Youtube channel for videos about the difference CFI-funded researchers are making in Canada.
Associated links
Science, Technology and Innovation Strategy
The CFI Research Facilities Navigator – An online directory of CFI-funded labs and major science facilities, such as the CCGS Amundsen, that are available to collaborate with the private sector. 
Université Laval and the CCGS Amundsen
Major Science Initiatives (MSI) 2014 Special Competition
Projects Funded
| | | |
| --- | --- | --- |
| Institution | Project Title | Maximum CFI Contribution |
| McMaster University | The Canadian Centre for Electron Microscopy | $1,473,020 |
| Mount Sinai Hospital | Toronto Centre for Phenogenomics | $5,295,880 |
| Queen's University | NCIC Clinical Trials Group Central Operations and Statistics Office at Queen's University | $3,831,564 |
| Université Laval | Canadian Research Icebreaker Amundsen | $7,608,313 |
| Université de Montréal | Plateforme de recherche en sciences humaines et sociales – ERUDIT.ORG | $1,403,800 |
| Université du Québec – INRS | Advanced Laser Light Source | $1,494,546 |
| University of Alberta | The Canadian Scientific Submersible Facility - A National Platform for Accessing Canada's Oceans | $1,290,145 |
| University of Guelph | Biodiversity Institute of Ontario | $2,150,000 |
| University of Saskatchewan | SuperDARN Canada: The Canadian Component of the Super Dual Auroral Radar Network, A Global Space Weather Collaboration | $461,680 |
| TOTAL | 9 projects / projets | $25,008,948 |