OTTAWA, June 18, 2009 — The Canada Foundation for Innovation (CFI) and the Honourable Tony Clement, Minister of Industry, today announced more than $665 million for new state-of-the-art infrastructure at 41 Canadian research institutions.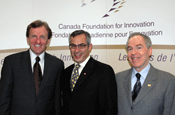 Speaking Notes - The Honourable Tony Clement, PC, MP, Minister of Industry
Supporting 133 projects through the CFI's Leading Edge Fund and New Initiatives Fund will help Canada's best and brightest researchers conduct cutting-edge research with world-class equipment and facilities. This investment in Canada's research enterprise will help stimulate the economy by employing the workers to build the labs and equipment needed to conduct cutting-edge research, as well as the technicians and scientists to efficiently run them.
"Through the CFI, our government is creating leading-edge facilities to attract world-class researchers," said Minister Tony Clement. "Our government understands that these investments provide a significant short-term economic stimulus while making a difference in the lives of Canadians."
Dr. Eliot Phillipson, President and CEO of the CFI, joined Minister Clement at the University of Ottawa in making the announcement. 
 "By investing in leading-edge research infrastructure, we are ensuring that our country continues to prosper as a nation of innovation," said Dr. Eliot Phillipson, President and CEO of the CFI.  "This new investment will substantially increase Canada's capacity to carry out important world-class scientific research and technology development that will benefit all Canadians."
This funding will lead to new discoveries and technologies that will keep Canada competitive in the global marketplace. Past funding has enabled groundbreaking advances in many areas, including spinal cord research, green building technology, quantum computing, and climate change.
Today's investment was approved by the CFI's Board of Directors following a rigorous merit-based expert review process. 
A total of $247,664,977 was awarded to 64 projects under the Leading Edge Fund, which enables institutions to build on already successful and productive initiatives supported by past CFI investments. $264,741,466 was awarded to 69 projects under the New Initiatives Fund, which aims to enhance Canada's capacity in promising new areas of research and technology development.
An additional $153,721,933 was awarded under the Infrastructure Operating Fund, a mechanism that assists institutions with the incremental operating and maintenance costs associated with the new infrastructure.
A complete list of award recipients, as well as a list of all projects funded by the CFI to date, is available here.
To learn more about Canada's Economic Action Plan, visit www.actionplan.gc.ca.
The Canada Foundation for Innovation (CFI) is an independent corporation created by the Government of Canada to fund research infrastructure. The CFI's mandate is to strengthen the capacity of Canadian universities, colleges, research hospitals and non-profit research institutions to carry out world-class research and technology development that benefits Canadians.
 For more information:
Yves Melanson
Coordinator, Media Relations
Canada Foundation for Innovation
Tel.: 613-996-3160
Cell.: 613-447-1723

Pema Lhalungpa
Press Secretary
Office of the Honourable Tony Clement
Minister of Industry
613-995-9001

Media Relations
Industry Canada
613-943-2502
REGIONAL BACKGROUNDERS / FICHE D'INFORMATION PAR RÉGION

 - Alberta


 - British Columbia / Colombie-Britannique


 - Manitoba


 - Newfoundland & Labrador


 - Nova Scotia / Nouvelle-Écosse


 - Ontario


 - Quebec / Québec


 - Saskatchewan
Leading Edge Fund / Fonds de l'avant-garde
New Initiatives Fund / Fonds des initiatives nouvelles
| Project Title / Titre du projet | Maximum CFI Contribution / Contribution maximale de la FCI |
| --- | --- |
Leading Edge Fund / Fonds de l'avant-garde
Athabasca University Geophysical Observatory Upgrades of Research Infrastructure (AUGOURI)
$661,297
| | |
| --- | --- |
| 1 project / projet | $661,297 |
Center for Addiction and Mental Health
New Initiatives Fund / Fonds des initiatives nouvelles
Transforming Lives: NeuroIMAGENE, the Convergence of Genetics and Brain Imaging in Mental Health and Addictions
$2,806,899
| | |
| --- | --- |
| 1 project / projet | $2,806,899 |
Fonds de l'avant-garde / Leading Edge Fund
Infrastructure for the Development of Advanced Composites and Nanocomposites
1 048 340 $
Institute for Research-Creation in Media Arts and Technologies (HEXAGRAM), Phase 2
1 833 955 $
Fonds des initiatives nouvelles / New Initiatives Fund
High Performance Mass Spectrometer for Metabolite Profiling, Reaction Monitoring, and Biomolecule Analysis
466 107 $
| | |
| --- | --- |
| 3 projets / projects | 3 348 402 $ |
Leading Edge Fund / Fonds de l'avant-garde
Equipment Enabling New Materials for Energy Production, Energy Storage and Sustainability
$724,248
| | |
| --- | --- |
| 1 project / projet | $724,248 |
École Polytechnique de Montréal
Fonds de l'avant-garde / Leading Edge Fund
Design, Test, Assembly and Packaging Platform for the Construction of Innovative Microsystems
1 563 600 $
Extended Facility for Advanced Millimeter-Wave Engineering (E-FAME)
2 713 143 $
High-Performance Multi-Directional Structural Component Hybrid Testing System
3 392 650 $
Fonds des initiatives nouvelles / New Initiatives Fund
A Facility for Verification and Validation of Simulations and Simulation-Based Optimisation of Fluid Flow Systems
1 084 350 $
FABULAS: Laser Assisted Fabrication and Sensor Characterisation Facility
1 429 700 $
Plateforme de recherches innovatrices en ingénierie de la santé musculo-squelettique
2 854 878 $
Smart Coating Systems for Advanced Surface Engineering Solutions
1 067 986 $
| | |
| --- | --- |
| 7 projets / projects | 14 106 307 $ |
Fonds de l'avant-garde / Leading Edge Fund
Laboratoire de calcul et d'exploitation de données
1 203 136 $
| | |
| --- | --- |
| 1 projet / project | 1 203 136 $ |
Hospital for Sick Children (The)
Leading Edge Fund / Fonds de l'avant-garde
Integrative Genomics for Health Research – Phase II
$4,276,707
New Initiatives Fund / Fonds des initiatives nouvelles
Disruptive Technologies in Paediatric and Foetal Intervention
$2,200,000
| | |
| --- | --- |
| 2 projects / projets | $6,476,707 |
Fonds de l'avant-garde / Leading Edge Fund
Laboratories for Broadband Optical and Wireless Systems (LBOWS)
5 518 560 $
MIRGED: McGill/IRCM Research Group on Embryology and Disease
4 307 709 $
McGill University Life Sciences Complex: Disease to Therapy Initiative
10 632 949 $
Fonds des initiatives nouvelles / New Initiatives Fund
Metabolism and Cancer: from Obesity to Cachexia
3 869 519 $
Toward a Healthy Environment: Green Chemistry and Green Chemicals
8 320 447 $
| | |
| --- | --- |
| 5 projets / projects | 32 649 184 $ |
Leading Edge Fund / Fonds de l'avant-garde
Auditory Interaction and Communication in Complex Environments: Neural, Developmental and Applied Aspects
$2,346,412
Laboratory for Advanced Photovoltaic Research
$5,123,758
New Initiatives Fund / Fonds des initiatives nouvelles
Biointerfaces Institute
$7,227,158
Centre for Advanced Nuclear Systems
$9,172,600
McMaster Intense Positron Beam Facility
$2,326,166
The Canadian Longitudinal Study on Aging:Understanding the Complexity of Aging Health Through Interdisciplinary Research
$10,215,493
| | |
| --- | --- |
| 6 projects / projets | $36,411,587 |
Memorial University of Newfoundland
Leading Edge Fund / Fonds de l'avant-garde
Infrastructure for Cold-Water and Deep-Sea Research
$6,525,570
| | |
| --- | --- |
| 1 project / projet | $6,525,570 |
Leading Edge Fund / Fonds de l'avant-garde
A Clinical Phenotyping and Computational Facility for the Study of Complex Disease
$442,951
Quantitative Cell Biology and Proteomics
$11,542,412
The CMHD: An Integrated and Regional Platform for Mouse Models of Human Disease
$7,341,094
| | |
| --- | --- |
| 3 projects / projets | $19,326,457 |
Ontario Institute for Cancer Research
New Initiatives Fund / Fonds des initiatives nouvelles
Pancreatic Cancer Genome Project and Data Coordination Centre for the International Cancer Genome Consortium
$12,503,258
| | |
| --- | --- |
| 1 project / projet | $12,503,258 |
Perimeter Institute for Theoretical Physics
Leading Edge Fund / Fonds de l'avant-garde
Building on Success: Perimeter Institute Expansion for Global Leadership
$10,012,043
| | |
| --- | --- |
| 1 project / projet | $10,012,043 |
Leading Edge Fund / Fonds de l'avant-garde
A Comprehensive Approach to Identifying Genes for Complex Genetic Disorders: Autism Spectrum Disorders & Beyond
$1,709,465
Effects of the Geosphere-Biosphere Interface on Element Migration in the Near-Surface Environment
$1,996,087
Integrated Technologies for Bone and Joint Health: Multi-Centre Infrastructure Development Program Phase 4
$696,481
emSYSCAN - Embedded Systems Canada
$19,303,622
New Initiatives Fund / Fonds des initiatives nouvelles
Particle Astrophysics Experiments at SNOLAB - SNO+ and DEAP/CLEAN
$10,561,628
Testing of Nuclear Materials in a Simulated Reactor Environment
$6,997,920
Thin Film Coating Initiative: Advancing Technology Development and Industrial Applications
$1,452,360
| | |
| --- | --- |
| 7 projects / projets | $42,717,563 |
Leading Edge Fund / Fonds de l'avant-garde
WindTech R&D: Expansion of the Laboratory for Electric Drive Application and Research (LEDAR) to Advance Wind Technology
$729,771
New Initiatives Fund / Fonds des initiatives nouvelles
EDGE: Experiential Design and Gaming Environment
$424,538
| | |
| --- | --- |
| 2 projects / projets | $1,154,309 |
New Initiatives Fund / Fonds des initiatives nouvelles
ISAC Charged Particle Spectroscopy Station (IRIS)
$535,598
| | |
| --- | --- |
| 1 project / projet | $535,598 |
Sunnybrook Health Sciences Centre
Leading Edge Fund / Fonds de l'avant-garde
An Integrated Breast Cancer Research Biomatrix
$737,246
| | |
| --- | --- |
| 1 project / projet | $737,246 |
Fonds de l'avant-garde / Leading Edge Fund
Extention of Bio-Imaging Platform for Vaccine Development and Investigations on Host-Pathogen Interactions
1 218 051 $
Laboratoire sur le développement durable des infrastructures publiques
7 000 000 $
Fonds des initiatives nouvelles / New Initiatives Fund
Laboratoire de physiologie intégrative en sciences animales
2 203 653 $
| | |
| --- | --- |
| 3 projets / projects | 10 421 704 $ |
Fonds de l'avant-garde / Leading Edge Fund
A Multi-Site, Integrated National Technology Platform for Mapping Protein Interaction Networks in Health and Disease
9 161 648 $
Innovations in Cardiovascular Imaging and Image-Guided Therapy to Improve Patient Management
3 999 245 $
Linking Basic, Clinical & Population Health Research to Prevent & Treat Diabetes, Metabolic Syndrome & Complications
6 200 164 $
Rehaussement de l'observatoire du Mont Mégantic et développement d'instrumentation astronomique d'avant-garde
4 680 048 $
Research Platform on Nanostructured Materials and Devices for Optoelectronics
2 949 485 $
Fonds des initiatives nouvelles / New Initiatives Fund
Communication and Imaging Infrastructure for the Canadian Atherosclerosis Imaging Network (CAIN)
8 655 594 $
Discovery, Development and Validation of Biomarkers and Theragnostic Approaches
9 164 850 $
New Infrastructure for a Continuous Flow Synthesis Laboratory
1 769 719 $
Regional Center for Arrhythmias in Adult Congenital Heart Disease (ACHD)
2 468 000 $
Xénobiotiques et nanoparticules: nouvelles approches pour la caractérisation, l'expologie et la biosurveillance
1 838 583 $
| | |
| --- | --- |
| 10 projets / projects | 50 887 336 $ |
Fonds de l'avant-garde / Leading Edge Fund
Advanced Superconductivity Initiative
3 953 700 $
Fonds des initiatives nouvelles / New Initiatives Fund
Laboratoire de métrologie de l'environnement par télédétection
533 686 $
Vibroacoustics of Large-Scale, Complex, Multi-Material Structures in Aerospace and Terrestrial Transport
1 644 691 $
i-MOVI - Interactive MOlecular MOdelling and Visualization Infrastructure
2 377 939 $
| | |
| --- | --- |
| 4 projets / projects | 8 510 016 $ |
Université du Québec en Outaouais
Fonds de l'avant-garde / Leading Edge Fund
Infrastructure for "Laboratory-on-the-Fiber" Photonic Sensor Research and Development
663 697 $
| | |
| --- | --- |
| 1 projet / project | 663 697 $ |
Université du Québec à Chicoutimi
Fonds de l'avant-garde / Leading Edge Fund
Développement de l'infrastructure de recherche forestière du GR3MB
583 172 $
| | |
| --- | --- |
| 1 projet / project | 583 172 $ |
Université du Québec à Montréal
Fonds de l'avant-garde / Leading Edge Fund
NT2 : Valorisation, interfaces et visualisation
898 649 $
Fonds des initiatives nouvelles / New Initiatives Fund
Innovations in the Chronology of Global Changes: Dating Earth Surface Processes and Geological Hazards
839 188 $
| | |
| --- | --- |
| 2 projets / projects | 1 737 837 $ |
Leading Edge Fund / Fonds de l'avant-garde
Ontario Regional Center for Cell and Vector Production
$7,377,525
New Initiatives Fund / Fonds des initiatives nouvelles
NanoMed Fab: A Nanofabrication Centre for Personalized Medicine
$2,486,515
Robotic Positioning for Image-Guided Surgery and Radiation Therapy
$5,558,903
| | |
| --- | --- |
| 3 projects / projets | $15,422,943 |
Leading Edge Fund / Fonds de l'avant-garde
Canadian Writing Research Collaboratory
$1,195,064
New Initiatives Fund / Fonds des initiatives nouvelles
Cell and Tissue Innovation Research Centre (CTIRC)
$10,573,340
ENVIRO-Net: Sensing our Changing Environment
$726,479
Essential Infrastructure for the Centre for Prions and Protein Folding Diseases
$3,956,872
Geomechanical/Reservoir Experimental Facility (GeoREF): A Multidisciplinary Testing Environment for Geologic Materials
$1,630,060
Instrumentation for Molecular Breeding for Specialty Oils
$2,498,516
| | |
| --- | --- |
| 6 projects / projets | $20,580,331 |
University of British Columbia (The)
Leading Edge Fund / Fonds de l'avant-garde
Advanced Structural Biology for Re-emerging Infectious Diseases (ASTRID)
$4,097,211
Expansion of ICICS Facilities in Biomedical Technologies, Emergency Decision-Support, and Global Communications Systems
$5,177,560
Innovative Technologies for Improved Functional Outcomes and Quality of Life After Spinal Cord Injury
$357,246
Laser-Ultrasonic System for Innovative Microstructure Design
$436,911
Pacific Centre for Isotopic and Geochemical Research (PCIGR)
$2,981,589
Ultra-High-Throughput DNA Sequencing Platform for Large Scale Genome Analysis
$10,065,940
New Initiatives Fund / Fonds des initiatives nouvelles
Bridging Life and Lab: Research on Embedded Attention Laboratory (REAL)
$296,991
Center for High Through-Put Phenogenomics
$3,770,352
Centre for Biointerface Characterization (CBiC): From Molecular to Cellular and Macroscopic Properties
$2,572,512
Centre for Research on Ultra-Cold Systems (CRUCS)
$2,594,960
Child & Family Research Imaging Facility
$4,848,759
Low-Temperature Picometer Spatial Resolution Spectroscopic Scanning-Tunneling Microscope
$1,031,413
| | |
| --- | --- |
| 12 projects / projets | $38,231,444 |
New Initiatives Fund / Fonds des initiatives nouvelles
Regeneration Unit in Neurobiology (RUN)
$1,296,372
The Resolute Bay Incoherent Scatter Radar: A Space Science Initiative in Nunavut
$9,737,353
| | |
| --- | --- |
| 2 projects / projets | $11,033,725 |
Leading Edge Fund / Fonds de l'avant-garde
Centre For Biodiversity Genomics
$7,240,524
New Initiatives Fund / Fonds des initiatives nouvelles
Centre for Public Health and Zoonoses
$1,018,836
Gamma-Ray Infrastructure For Fundamental Investigations of Nuclei (GRIFFIN)
$4,237,763
| | |
| --- | --- |
| 3 projects / projets | $12,497,123 |
New Initiatives Fund / Fonds des initiatives nouvelles
Southern Alberta Group for Epigenetic Studies (SAGES) - Epigenetic Regulation of Cell Memory and Stress Responses
$3,209,270
| | |
| --- | --- |
| 1 project / projet | $3,209,270 |
Leading Edge Fund / Fonds de l'avant-garde
The Manitoba Centre for Health Policy's "LEADERS" Initiative: Leading-Edge Access and Data Enhancement Research Strategy
$1,453,780
Three-Dimensional nanoBioMedical Imaging Node (3D-nBMIN)
$1,226,064
New Initiatives Fund / Fonds des initiatives nouvelles
Manitoba Integrated Cell Purification and Analysis Unit
$596,246
| | |
| --- | --- |
| 3 projects / projets | $3,276,090 |
University of Ontario Institute of Technology
New Initiatives Fund / Fonds des initiatives nouvelles
Centre for Characterization of Polymers and Cellular Polymeric Composites (CCPCPC)
$342,159
| | |
| --- | --- |
| 1 project / projet | $342,159 |
University of Ottawa / Université d'Ottawa
Leading Edge Fund / Fonds de l'avant-garde
Canadian Accelerator Mass Spectrometry (AMS) Facility
$8,409,245
New Initiatives Fund / Fonds des initiatives nouvelles
Sub-Wavelength Science
$4,296,167
| | |
| --- | --- |
| 2 projects / projets | $12,705,412 |
Leading Edge Fund / Fonds de l'avant-garde
Planetary Pollution with Organic Nitrogen and other Biomolecules: The Emerging Threat to Sustainable Water Quality
$2,799,999
Tera-Scale Informatics
$202,658
| | |
| --- | --- |
| 2 projects / projets | $3,002,657 |
Leading Edge Fund / Fonds de l'avant-garde
Advanced Thermal Spray Process Diagnostics and Coating Characterization Facilities
$1,602,731
Center for the Neurobiology of Stress
$2,105,735
Centre for Industrial Application of Microcellular Plastics
$3,644,498
Centre for Spectroscopic Investigation of Complex Organic Molecules and Polymers (CSICOMP)
$2,588,764
Deciphering Cellular Networks in Health and Disease Using Automated Genetics and Cell Biology
$2,342,442
High Field NMR Studies of Protein Molecules in Health and Disease
$4,595,843
The Canadian Aerosol Research Network (CARN): Climate, Air Quality and Health in 2020
$6,059,069
New Initiatives Fund / Fonds des initiatives nouvelles
Advanced Laboratory for Fluorinated and Other New Substances in the Environment (ALFONSE)
$712,000
BioZone: A Bioengineering Research Facility for Energy, Environmental and Economic Sustainability
$2,533,654
Center for Microsatellite Science and Technology Development and Low-Cost Space Research
$4,008,198
Centre for Microfluidic Systems in Chemistry and Biology
$3,749,954
Construction of a Centre for Collaborative Interactive Digital Media
$2,400,000
Diet, the Digestive tract and Disease: The 3D Centre
$5,437,276
Inclusive Design Institute
$6,207,874
Molecular Imaging Facility: From Single Proteins to Atomically-Resolved Structural Dynamics
$1,002,090
Ontario Initiative in Personalized Stem Cell Medicine
$9,932,011
| | |
| --- | --- |
| 16 projects / projets | $58,922,139 |
Leading Edge Fund / Fonds de l'avant-garde
A University-Based Vessel and ROV Platform for Multidisciplinary Ocean Research on Canada's West Coast
$8,945,233
Subsea Laboratories on VENUS: Enhancing the Capabilities of Canada's Cabled Ocean Networks
$4,351,131
The Multi-Object Adaptive Optics Test Bed
$2,433,172
New Initiatives Fund / Fonds des initiatives nouvelles
Superconducting Electron Accelerator at TRIUMF
$17,761,281
| | |
| --- | --- |
| 4 projects / projets | $33,490,817 |
Leading Edge Fund / Fonds de l'avant-garde
Advanced Joining Facilities for Macro, Micro and Nano Level Fabrications
$1,183,608
Smart Materials Ontario (SMO): Advancing New Functional Materials Technology
$2,903,866
New Initiatives Fund / Fonds des initiatives nouvelles
Facility for the Assessment of Engineered Rehabilitation Systems for Infrastructure Renewal
$468,909
Materials and Manufacturing for Light Weight Automotive Structures and Advanced Occupant Protection
$3,774,926
| | |
| --- | --- |
| 4 projects / projets | $8,331,309 |
University of Western Ontario (The)
Leading Edge Fund / Fonds de l'avant-garde
Enhancing the Science: Polarized Photons and Improved Endstations for the SGM and PGM at the Canadian Light Source
$1,618,902
Image-Guided Minimally Invasive Intervention and Simulation
$2,577,602
New Initiatives Fund / Fonds des initiatives nouvelles
Capacities for a Sustainable Archaeology
$3,911,058
The Wind Engineering,  Energy and Environment (WindEEE) Dome
$9,476,388
| | |
| --- | --- |
| 4 projects / projets | $17,583,950 |
New Initiatives Fund / Fonds des initiatives nouvelles
Centre for High Efficiency Clean Diesel & Hybrid Powertrain Research
$1,438,631
| | |
| --- | --- |
| 1 project / projet | $1,438,631 |
New Initiatives Fund / Fonds des initiatives nouvelles
Canadian Spallation Ultracold Neutron Source
$4,225,000
| | |
| --- | --- |
| 1 project / projet | $4,225,000 |
New Initiatives Fund / Fonds des initiatives nouvelles
Developing the Movement Disorders Research & Rehabilitation Centre: A Multi-Disciplinary Facility for Parkinson's Disease
$698,462
Improving Canadian Capacity for Predicting the Impacts of Natural and Human Disturbances on Boreal Water Resources
$1,999,712
| | |
| --- | --- |
| 2 projects / projets | $2,698,174 |
New Initiatives Fund / Fonds des initiatives nouvelles
Canadian Centre for Field Robotics
$711,696
| | |
| --- | --- |
| 1 project / projet | $711,696 |