OTTAWA, October 30, 2008 – The Canada Foundation for Innovation (CFI) celebrated excellence in Canadian Science writing as part of its Annual Public Meeting held in Ottawa.  This year's CFI Science Writing Award went to Catherine Dubé, a writer with Québec Science, for her article on Alzheimer's research.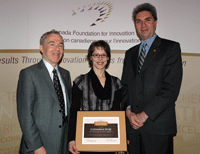 Dubé's article "Microglia launch a counter-attack," highlights the work of Dr. Serge Rivest, a researcher at the Centre hospitalier de l'Université Laval in Québec. Dr. Rivest`s scientific breakthrough, which garnered widespread media attention, showed that microglia, the main immune cells protecting the central nervous system, could actually help defeat Alzheimer's disease instead of contributing to it. The story was featured in the February 2007 edition of Québec Science.
"Science journalism poses a special challenge: You have to hook readers with the common sense of the story but still maintain a high degree of accuracy. It's a difficult art to master but it's so fulfilling! I'm very happy to have received this award, and it encourages me to continue telling my fellow citizens about the incredible wealth or research being done in Canada, "said Ms. Dubé.
"The CFI Science Writing Award recognizes the important role science writers play in communicating cutting-edge research to the public," said Dr.Eliot Phillipson, President and CEO of the CFI. "Without talented science writers like Catherine Dubé, the discoveries made in the lab would have little chance of reaching a greater audience."
"Outstanding science reportage is crucial to engage the public on the scientific issues that impact them each and every day,"said Penny Park, a producer with the Discovery Channel and Chair of the judging panel. "Catherine Dubé managed to make a very complicated subject both accessible and entertaining."
The members of the 2008 judging panel were:
Penny Park, Supervising Producer Discovery Specials, Daily Planet, (Panel Chair)
Paule des Rivières,  Director Publications, Université de Montréal
Josée Nadia Drouin, Directrice générale, Agence Science Presse
Ghislaine Tremblay, Director, Evaluation and Outcome Assessment, CFI
John Matlock, Director of External Relations and Outreach, Perimeter Institute for Theoretical Physics
Lee Greenberg, Journalist for the Ottawa Citizen and co-recipient of the 2007 CFI Science writing award;
Peter McMahon, Webproducer, Discovery Chanel and member of the Canadian Science Writers Association
Gilbert Legras, Senior Communications Advisor, Communications and Marketing Branch, Industry Canada.
For the past four years, the CFI has honoured the writer of an outstanding print story that contributes to an increased awareness and understanding of science in Canada. 
The Canada Foundation for Innovation (CFI) is an independent corporation created by the Government of Canada to fund research infrastructure. The CFI's mandate is to strengthen the capacity of Canadian universities, colleges, research hospitals, and non-profit research institutions to carry out world-class research and technology development that benefits Canadians.
For more information:
Yves Melanson
Coordinator, Media Relations
Canada Foundation for Innovation
613-996-3160
613-447-1723 (mobile)