University of Waterloo one of four centres anchoring new Cyberinfrastructure Initiative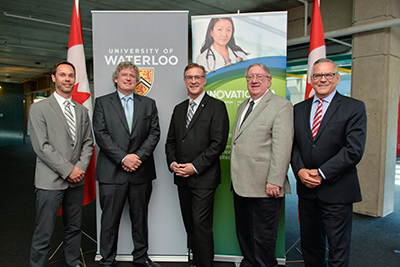 Pierre Normand, the CFI's Vice President of External Relations
and Communications (far right) joins his colleagues at the
University of Waterloo to announce the results of the
Cyberinfrastructure Initiative. From left to right: Duane Cronin,
Professor of Mechanical Engineering, University of Waterloo,
Stephen Watt, Dean of Mathematics, University of Waterloo,
Peter Braid, Member of Parliament, Kitchener-Waterloo,
George Dixon, Vice President, Research, University of Waterloo.
Waterloo, Ontario — Today, Peter Braid, Member of Parliament for Kitchener-Waterloo, on behalf of the Honourable James Moore, Minister of Industry, announced $30 million for the development of an advanced research computing platform that will enable Canadian researchers to gain a far deeper understanding of how the scientific, social, health and economic worlds connect.
READ: Five Canadian researchers who rely on high performance computing
The national platform comprises advanced hubs housed at four institutions: Simon Fraser University, the University of Victoria, the University of Toronto and the University of Waterloo. It is being managed by an independent organization called Compute Canada, and is available to researchers at all Canadian universities, regardless of location or discipline.
Duane Cronin, a mechanical engineering professor at the University of Waterloo, will harness the computational power of this large-scale platform to rapidly model the ways in which a vehicle - and its passengers - respond in crash scenarios. His results will be used to shape the next generation of safer, smarter cars.
The Government of Canada's investment, made through the Canada Foundation for Innovation's (CFI's) Cyberinfrastructure Initiative will prompt a new wave of discoveries that will improve the livelihood of Canadians, create prosperity, and reaffirm the nation's reputation for research excellence and innovation.
Quick Facts:
The CFI's Cyberinfrastructure Initiative is a funding program that supports leading-edge research by providing the necessary digital infrastructure and robust computational power required to make sense of big data.
Over the past 16 years, the CFI has invested some $360 million in cyberinfrastructure, for a total investment of about $900 million, when funds from partnering organizations are taken into account.
In Economic Action Plan 2015, the Government of Canada proposed an additional investment of $1.33 billion in the CFI, the largest single investment ever made to support research infrastructure in the country.
The Cyberinfrastructure Initiative is in line with the government's digital strategy, Canada Digital 150, and its goals of connecting Canadians and creating economic opportunities through cutting-edge research.
Quotes
"Our government understands that the country's research community needs advanced technology to investigate some of the most complex questions of the day. By investing in these world-class computing centres, such as the one here at the University of Waterloo, we are encouraging our brightest minds to seek the results that will contribute to our economy, create new jobs and improve the quality of life for all Canadians."
– Peter Braid, Member of Parliament for Kitchener-Waterloo
"Investments in Canada's research institutions are vital in order for Canada to remain a global leader in digital technology development. Today's investment in  this national network of high-performance computing hubs serves as another example of our government's  commitment to ensuring the next generation of leading researchers have the best tools possible to succeed in the digital age. The results of their research will benefit all Canadians."
– James Moore, Minister of Industry and Minister responsible for British Columbia
"For almost 20 years, the CFI has equipped researchers with the advanced facilities that enabled them to gain a deeper understanding of our world. By investing in state-of-the-art computational and data storage facilities, the CFI is providing the nation's researchers with the resources they need to continue pushing these boundaries of knowledge."
– Gilles Patry, President and CEO, CFI
"Canadian researchers tackling some of the world's most complex challenges, such as understanding how our brains work and how to build sustainable energy sources, need to rely on increasingly vast sets of information and massive computing power. I am proud that the University of Waterloo is home to some of these world-class resources that will help researchers across Canada drive innovation and discovery forward."
– Feridun Hamdullahpur, President and Vice-Chancellor, University of Waterloo
"Computer simulations that would have once taken weeks to complete could soon be done by the end of the day given the remarkable power of this advanced digital platform. The results we will generate, at a fraction of the time and cost, will help Canada's automotive industry innovate new, more fuel-efficient and safer vehicles for drivers and passengers alike."
– Duane Cronin, Mechanical Engineering Professor, University of Waterloo
Related products
A full list of the funded projects is available online at Innovation.ca. For updates, follow us on Twitter @InnovationCA and subscribe to our Youtube channel for videos about the difference CFI funding makes in Canada.
Associated links              
Cyberinfrastructure Initiative
The CFI Research Facilities Navigator – An online directory of CFI-funded labs available to collaborate with the private sector.
Science, Technology and Innovation Strategy
Digital Research Infrastructure Consultation
Contacts
Jake Enwright
Press Secretary
Office of the Minister of Industry
343-291-2500
Media Relations
Industry Canada
343-291-1777
media-relations [at] ic.gc.ca