The CFI's first Board Chair, Dr. John R. Evans, passes away at the age of 85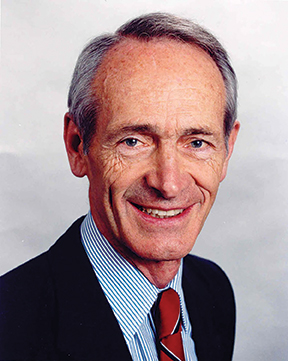 Credit: Friends of CIHR, Henry G. Friesen International
Prize in Health Research
The Canada Foundation for Innovation (CFI) is saddened by the recent passing of Dr. John Robert Evans on February 13, 2015, at the age of 85. Dr. Evans was the CFI's first Board Chair, serving between 1997 and 2007. He was a visionary leader in the fields of public health, higher education and innovation, playing an exemplary role in supporting Canada's scientific community.
In June 2013, the CFI renamed the Leaders Opportunity Fund the John R. Evans Leaders Fund to pay tribute to his outstanding contributions. In his capacity as Board Chair, Dr. Evans inspired the CFI to innovate, catalyzing the creation of novel funding mechanisms for research infrastructure that have transformed Canada's research landscape.
Dr. Evans received his MD from the University of Toronto and studied internal medicine and cardiology in London, England, Boston and Toronto. Among his many leadership roles, he was founding dean of McMaster University's Faculty of Medicine, president of the University of Toronto (1972-78), founding director of the Population, Health and Nutrition Department of the World Bank in Washington, D.C., and founding chair of the MaRS Discovery District in Toronto.
Dr. Evans was a Companion of the Order of Canada, member of the Order of Ontario, a Fellow of the Order of Ontario, a Fellow of the Royal College of Physicians of Canada and London, and a Fellow of the Royal Society of Canada.
The staff of the Canada Foundation for Innovation extends its sincere condolences to his wife, Gay, and the entire Evans family.