The new CFI program architecture, planned for 2006-2010, is the result of extensive discussions with the various stakeholders over the last year and is meant to address the changing environment as it relates to research infrastructure over the short to medium terms.
The new programming is designed to recognize the evolving research infrastructure needs and to meet the following objectives:
Enable leading edge research and technology development for the benefit of communities and Canada
Provide infrastructure in a changing environment
Attract and retain the best researchers
Create the best training environment for the knowledge society
Promote networking, collaboration & multidisciplinarity
Foster research planning at all levels
Maximize infrastructure investment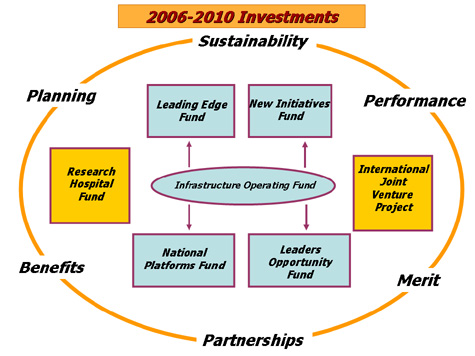 Underlying the CFI program architecture are six values shown in the oval. These underpin the following five funds:
The Leading Edge Fund enables institutions to capitalize on already successful and productive activities supported by past CFI investments (through the Innovation Fund, the University Research Development Fund, the College Research Development Fund and the International Funds by securing and enhancing further world-class research or technology development efforts, particularly in select areas of strategic priority where institutions have a competitive advantage. Past performance will be a key element of the assessment of projects.
 
The New Initiatives Fund supports new infrastructure initiatives in which the CFI has not previously invested and that enable institutions and their partners to develop and enhance their capacity in promising areas of research and technology development, as well as to improve their research competitiveness and international leadership. Institutions will be expected to address issues of duplication, complementarity and value added.
 
The National Platforms Fund provides generic research infrastructure, resources, services, and facilities that serve the needs of many research subjects and disciplines, and that require periodic reinvestments because of the nature of the technologies. The Fund is established to deal first with High Performance Computing, but may be applicable in other cases.
The Leaders Opportunity Fund builds on the New Opportunities, Canada Research Chairs Infrastructure and the Career Awards Funds. It is designed to assist universities to attract excellent faculty to Canadian universities as well as retain the very best of today and tomorrow's leading researchers for Canada.
 
The Infrastructure Operating Fund contributes to the incremental operating and maintenance costs associated with projects funded by the CFI to maximize the efficient utilization of research infrastructure.
The budget available for these five funds for the 2006-2010 period is $750M plus interest. In addition, we will continue to invest in research infrastructure through the Research Hospital Fund and the International Joint Ventures Fund.