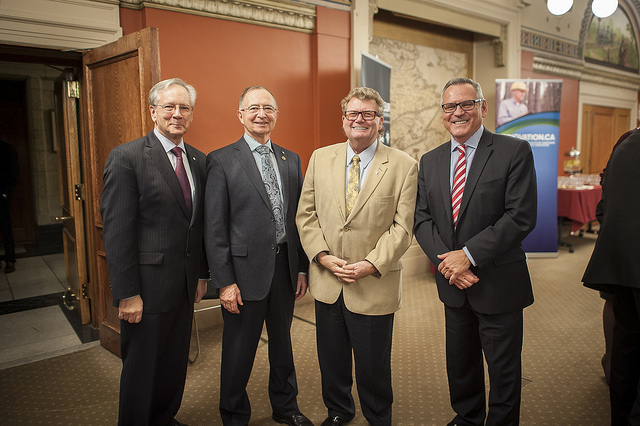 Senator Kelvin Ogilvie (second from left) hosts
Gilles Patry, President and CEO of the Canada
Foundation for Innovation (CFI), Ed Holder,
Minister of State (Science and Technology) and
at the far right, Pierre Normand, Vice President
of External Relations and Communications, CFI at
an event on Parliament Hill called Connecting
Business with Research.
Credit: Alexandre Brault
OTTAWA, November 18, 2014 —More than 60 people came out last night to find out how businesses are turning to university and college researchers to help them innovate. The Parliament Hill reception, Connecting Business with Research, was co-hosted by R&D proponent, Senator Kelvin Ogilvie and Dr. Gilles Patry, president and CEO of the Canada Foundation for Innovation (CFI).
Senators, Members of Parliament, political staff and leaders from the country's research funding community had the opportunity to discuss the research taking place in CFI-funded facilities that is benefiting industry sectors ranging from sustainable energy and aerospace engineering to pharmaceuticals and small business.
READ THEIR STORIES: 
Research makes sure you have a safe flight
Research helps companies discover new cancer-fighting drugs
Research makes bright ideas brighter    
Research helps Canadian companies take risks
Head start for oil sands technology
The facilities where these cutting-edge collaborations are happening are all listed on the CFI's Research Facilities Navigator, an online database of labs and facilities at universities, colleges and research hospitals that are open to working with business, and where businesses can locate the research infrastructure and expertise they need to develop or improve products and services.
CONNECT: The CFI's Research Facilities Navigator
The researchers and industry partners in attendance:
Vancouver, British Columbia
Maria Lantin, Director, Intersection Digital Studio, Emily Carr University of Art + Design
Graham Buksa, CEO, Rayne Longboards
Edmonton, Alberta
Sukhdeep Bansal, Senior Research & Development Scientist, Applied Research Centre for Oil Sands Sustainability, Northern Alberta Institute of Technology (NAIT)
Chris Kinasewich, President, VEK Environmental
Ottawa, Ontario
Karin Hinzer, Founder, SUNlab, University of Ottawa
Nicholas Morgan, VP Business Development and Marketing, Morgan Solar
Montreal, Quebec
Michel Bouvier, CEO, Institute for Research in Immunology and Cancer (IRIC), Université de Montréal
Donald Allard, Director, Public policies and Quebec affairs, Bristol-Myers Squibb
Fredericton, New Brunswick
John Spray, Director, Planetary and Space Science Centre, University of New Brunswick
John Coll, Principal Engineering Specialist, Bombardier Aerospace