You are here
Olympics: Going green while going for gold
Canadian company offsets carbon footprint of Canada's Olympians
The 2012 Summer Olympic Games is attracting thousands of athletes and spectators from around the world. And with each person transported to the Games comes a carbon footprint. But not for Team Canada.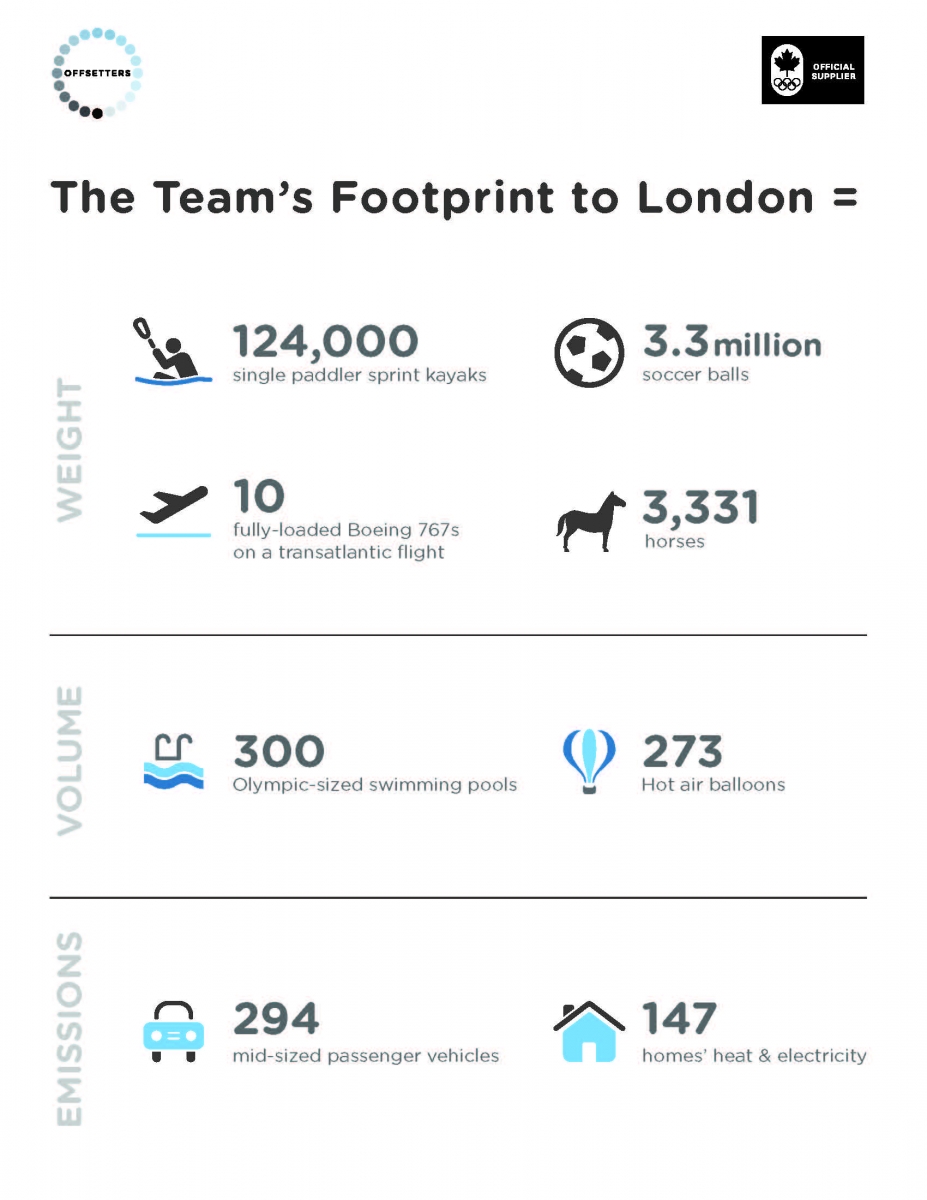 How much greenhouse gas will the Canadian Olympic Team generate when it travels to London? Here, some real-world comparisons.
.
University of British Columbia researcher James Tansey has worked with the Canadian Olympic Committee to ensure that the Canadian team is carbon neutral. Tansey's company is offsetting 1,500 tonnes of emissions — the amount generated by the Olympic Team as it travels to and from London. That's the same volume as 300 Olympic-sized swimming pools, according to Offsetters.
Tansey, executive director of UBC's ISIS Research Centre at the Sauder School of Business and collaborator at the university's CFI-funded Centre for Interactive Research on Sustainability, created a spinoff company, Offsetters, in 2005 as a result of his research on the carbon footprint of international events. Transportation isn't the only source of emissions at the Olympics. The construction of new venues also emits greenhouse gases.
So how do carbon credits make a difference? Organizations can purchase credits from Offsetters, which in turn invests in energy efficiency and renewable energy projects worldwide. Those initiatives reduce greenhouse gas emissions by preventing further emissions from occurring. "First, you work to reduce the emissions and then you offset the remaining balance," says Tansey.
Today, Offsetters is Canada's leading carbon management solutions provider, helping organizations and individuals understand, reduce and offset their greenhouse gas emissions. The firm helped the Vancouver 2010 Olympic and Paralympic Winter Games become the first carbon neutral Olympics in history, and Tansey is now working on the environmental strategy for the 2014 Winter Games in Sochi, Russia.
Main image - The Canadian Olympic Committee has partnered with Offsetters, a company founded by University of British Columbia researcher James Tansey, to offset the greenhouse gas emissions generated by the 2012 Canadian Olympic Team's travel to the Summer Games. From left: Tansey; three-time Olympic rower and 2008 Olympic silver medallist, David Calder; two-time Olympic snowboarder, Justin Lamoureux; B.C. minister of environment, Terry Lake; and chief executive officer and secretary general of the Canadian Olympic Committee, Christopher Overholt. Offsetters.