You are here
The CFI's funding architecture is designed to deliver on the CFI's mandate by meeting the current needs of the research community, its partners and stakeholders. The CFI funding architecture covers the full spectrum of infrastructure: projects to attract a leading researcher; team-led innovative projects that have a structuring effect for an institution or a region; and large-scale national projects.
Please note that only eligible institutions — and not individual researchers — may submit a proposal to the CFI. We encourage researchers to contact their institutional research office to learn more about internal application processes.
Download: PDF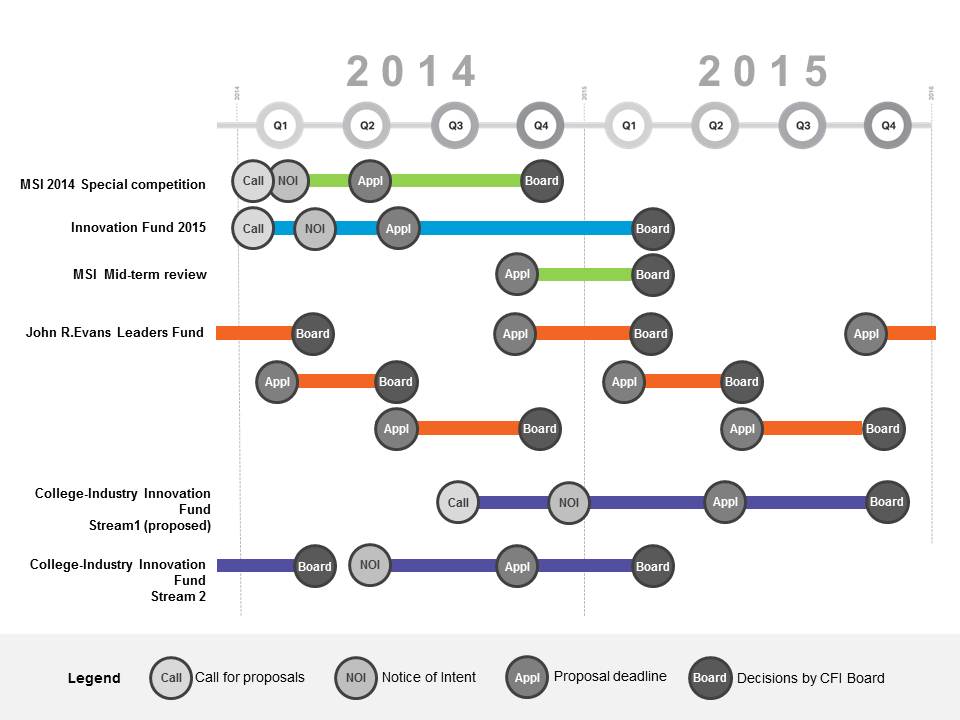 Innovation Fund
The notice of intent (NOI) and proposal forms will be available through the CFI Awards Management System (CAMS) in early February, 2014. Please note that the submission of NOI for this competition is March 28, 2014.
Major Science Initiatives (MSI) 2014 Special Competition
The Canada Foundation for Innovation (CFI) is pleased to publish the Call for Proposals for the Major Science Initiatives (MSI) 2014 Special Competition.
John R. Evans Leaders Fund
This ongoing program accepts proposals from eligible institutions at specific times throughout the year.
Automotive Partnership Canada Fund
Eligible institutions may submit proposals anytime until 2014 or until the funds are exhausted.
Exceptional Opportunities Fund
Eligible institutions should contact their CFI Senior Programs Officer to take advantage of an exceptional and time-sensitive opportunity.
Infrastructure Operating Fund
Eligible institutions may submit a claim once a year by June 15.
Advancing Big Data Science in Genomics Research
The CFI is partnering with the Natural Sciences and Engineering Research Council of Canada (NSERC), Canadian Institutes of Health Research (CIHR) and Genome Canada to fund a proposal through the Discovery Frontiers Call for Proposals: Advancing Big Data Science in Genomics Research.
Major Science Initiatives Fund
The CFI Board of Directors made the decisions in March 2012.
Digging Into Data Challenge
The CFI, along with NSERC and SSHRC, are joining a team of ten agencies from four countries to support research initiatives that will explore how computationally intensive research methods can be used to ask new questions and gain new insights.
College-Industry Innovation Fund
Stream 2 (CCI-IE competition 12) - Eligible institutions may submit Letters of Intent until May 30, 2014, 2013, with full applications due by October 31, 2014.
CFI cyber-infrastructure initiative
The CFI has long recognized that cyber-infrastructure underpins leading-edge research across all fields of inquiry, from the social sciences and humanities to the health and physical sciences through to engineering.