You are here
CFI Online
The CFI Awards Management System (CAMS) is the secure online portal that allows universities, colleges, research hospitals and non-profit research institutions to apply for CFI funding. The system is used by researchers and institutional administrators, and by reviewers assigned to assess the proposals submitted to the CFI.
CAMS has been evolving with the addition of new modules and functionalities since its launch in 2011. In December 2014, the CFI will introduce new post-award modules as a final step in the roll out of this system which will replace the CFI's legacy system. These new modules will include a number of new or improved features and functionalities that will better assist institutions in managing their portfolio of CFI-funded projects.
As institutions experience the many benefits of these new modules, they may also face some technical challenges along the way. The CFI hopes to work collaboratively with institutions to address any short-term implementation issues and to continually improve the system over the long term.
Important information about the transition to the new post-award modules in CAMS can be found in the System transition section of the sidebar. Below is a diagram of key dates and activities institutions need to consider to prepare for the transition.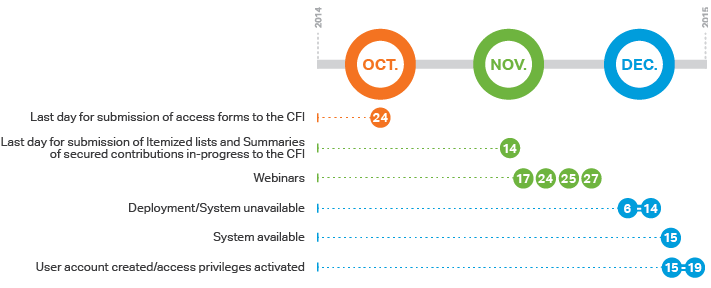 Important information on getting started with CAMS can be found in the Help section of the sidebar. Feedback and ideas on how CAMS can better assist you can be submitted to feedback.commentaires@innovation.ca.